How do I cover this furnace up? Answered
My furnace in my laundry room is an eye sore. I'm looking for a creative way to cover it up. I know I can use a curtain or shutters but I'm looking for something different and functional for my laundry room.
Any ideas?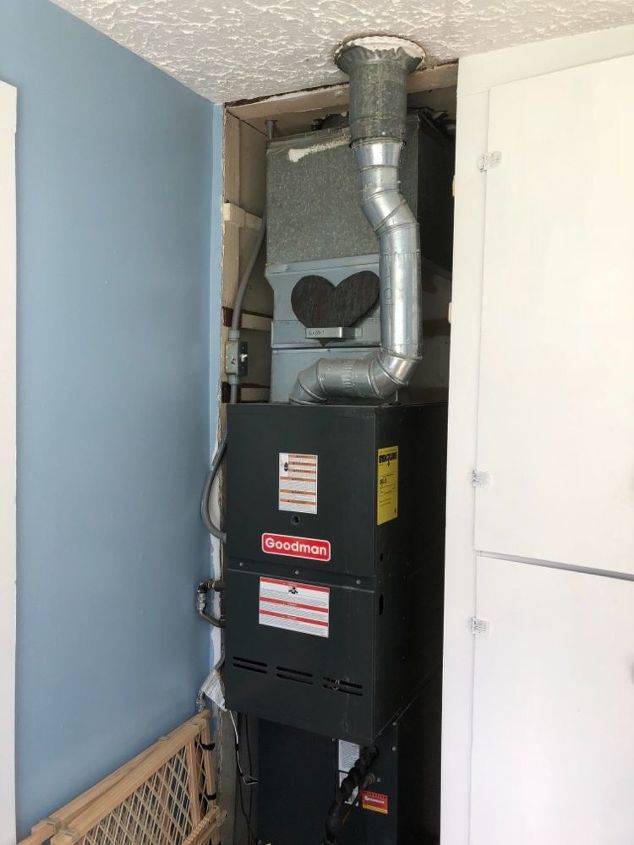 Related Discussions Kathymutter
on Oct 17, 2017
my laundry room is at the back entrance of the house and is the first thing people see when they come in. I need to do something to cover/hide the dryer pipe that ru... See more

Bubbles
on Aug 08, 2018
I have a small laundry room with a furnace in it. How do I make this room cool??? Stacey Reynolds
on Oct 10, 2017
I do not like the way the walls look but don't want to have to replace walls or just paint over them. O thought about using plaster on the walls and do texture art on... See more Susan Barutt
on Jun 28, 2019
Our laundry "room" is actually just a closet. Originally it had bifold doors, but our new washer and dryer stick out of the closet so we had to remove the doors. ... See more Anna
on Feb 02, 2021
This accent wall was done by the previous owners, by hand. I would really like to update it, maybe paint it. Possibly a charcoal color? What are your thoughts?

Robert Bartolomeo
on Jan 05, 2019

Jill Glover
on Apr 30, 2017
I have a small round table and want to make it into an outside coffee table