How can I update this pebble rock wall in my bathroom? Answered
This accent wall was done by the previous owners, by hand. I would really like to update it, maybe paint it. Possibly a charcoal color? What are your thoughts?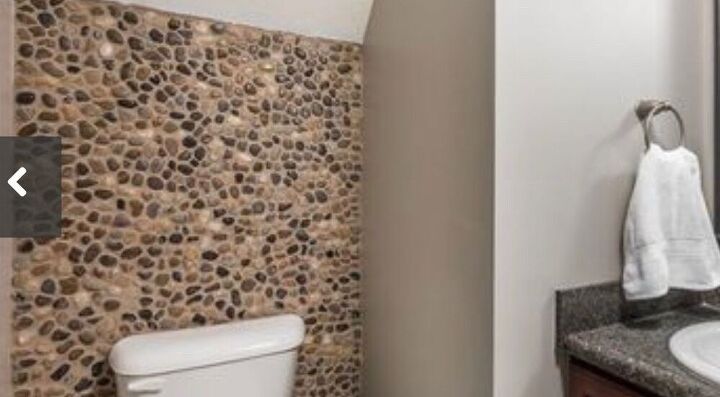 Related Discussions Jane Gies
on Jul 03, 2017
My vanity has places where the finish is worn off from water splashes. The current finish is clear on oak and looks yellow. I do not want paint it but would like the... See more

Renee'
on Feb 04, 2019
I have this empty space in my bathroom. Originally it was for a built-in laundry hamper. Please provide suggestions on how or what to do with this space?

Lisa
on Nov 03, 2019
I hav very old tiny ceramic tiles. I want to update them without having to do the hard work of removing them. A stencil sounds great but every time I see it it's on... See more

Jill Siok
on Aug 16, 2020
Thank you to all who helped me with my "orange peel" living room walls- they came out great! Onto my bathroom disaster. Love the floor, I painted behind the toilet bl... See more Job33100262
on Sep 29, 2018
Toilet, vanity and tub are bone color with brushed nickel fixtures. What color shower curtain and towels would make it pop, if possible?

Cindy Darsey Chadwell
on Jul 03, 2017
I want to update it but I have to do so on a tight budget. Mostly looking to update the tile and surround and maybe get rid of the step.

Sunnybrook
on Feb 17, 2016
Wow you did a lovely job on this French Provincial dresser. I have an old pecan finish bedroom suite that I have wanted to replace for many many years. The problem of... See more