How to deal with standing water? Answered
Hi all. I am a new homeowner, this is my first house. The house sits on the highest point of the property and everything slopes downward from thereon, so when it rains everything collects in the bottom valley near the fence (which is the neighbor's). Attached is a picture I took of the worst spot in the yard. It has turned into a miniature pond where frogs swim, until it evaporates. I'm afraid it'll become a breeding ground for mosquitoes, though. What solutions do you propose?
Thanks.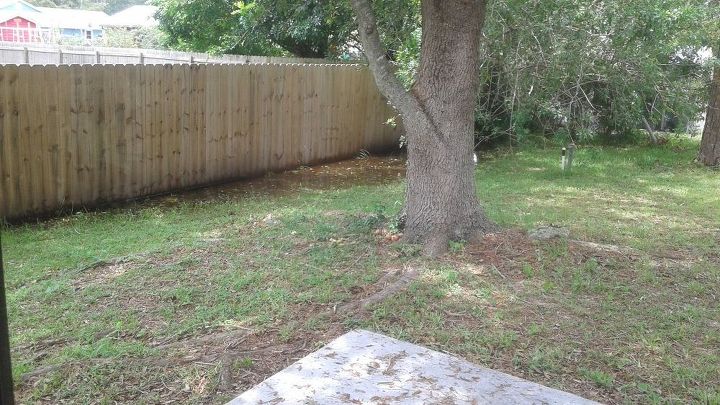 Related Discussions

Abby
on Nov 29, 2021
How to grow ginger in water?

Sharyn Mindurownbiznis
on Apr 05, 2017
hello, i have an area in my backyard ( wetlands ) that fills with standing water making it a mosquito breeding ground .. can anyone suggest help here ?? Oh this all s... See more ANDREW NALLY
on Apr 01, 2019
I purchased my home last year and cleared out alot of trees and brush to give us more space. All of last year I tried growing grass in one particular area of my yard ... See more

Jackie Byrd
on Nov 04, 2016
Just moved into a new home. There was a huge thorny bush dragon devouring the mailbox. I slayed the dragon but it is trying to rise up again. How can I make sure it's... See more

Sherry Kurtz
on Feb 23, 2015
We have the worst neighbors ever! They complain about everything! They hate dogs so they complain every time our dogs bark one time (not exaggerating) they have fabri... See more

Amy Ward Stanley
on Jun 10, 2013
grass will not go because of the pine trees. Any thoughts or ideas would help me so much. Sent from my iPad

Jean Blakeley-Cook
on Feb 18, 2015
I have 3 large dogs in a backyard. They wrestle non stop and have literally either trodden down every blade of grass, dug it up or, in the case of shrubbery, chewed i... See more