Help! The paint is peeling off of our porch, what do we do? Answered
I asked a while back what to do with our porch and everyone suggested painting. My husband bought a concrete stain and it looked great until our first rain and the stain (three coats) is peeling right off. We weren't able to get all of the three layer of previous paint after power washing and scrubbing.
Any suggestions on what to do now will be appreciated. Should we put poly on top of the stain?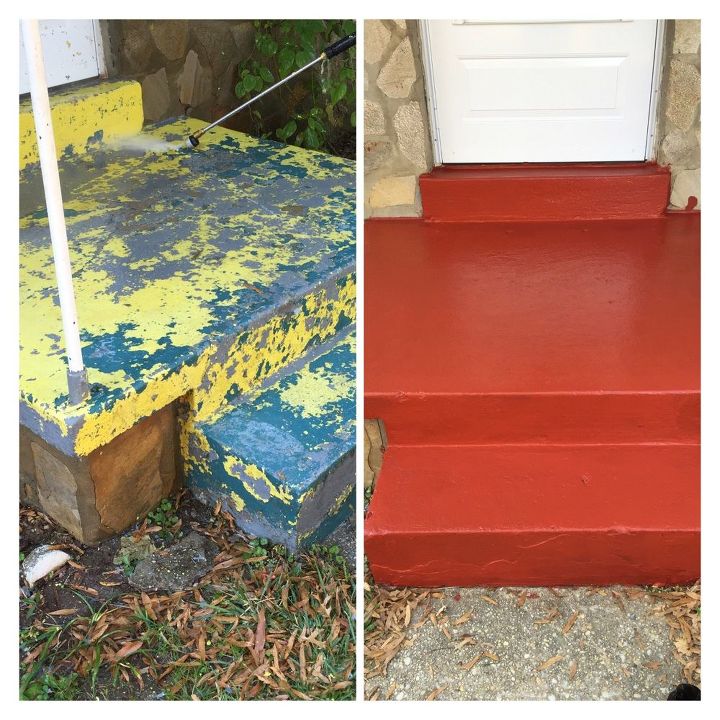 Rosie from Alabama
Pam Fannin
on Dec 04, 2016
I had the same problem with my porch after I removed outdoor carpet from a previously painted porch. Once I sanded all the adhesive off the porch I rolled on a light coat of Restore 10X- found at my local Lowes. Restore 10X is a paint with sand in it to add slip resistance to painted concrete. After that had dried for a day I rolled on another coat. Three years and one additional coat later, the porch still looks good. Joh11253077
on Dec 05, 2016
the main thing is to scrape, scrape, scrape!! you also need to make sure you are using a good primer before the painting. it's not an easy job, but take your time and do it right. like some other comments have said make sure you have plenty of days of dry weather to out concrete.
Terri Farina
on Dec 05, 2016
We have the same problem. No idea what the previous owners spilled or used on concrete porch. I cleaned with dawn, rinsed with vinegar and power washed. Dried for days and used back door to keep concrete clean. Stain still bubbled and pealed off. Our solution to build a floating deck and stars over the old with modern style deck boards. We will get the color we want and will never have to stain or paint again.

Sandra Hellewell
on Dec 06, 2016
Rather than staining the concrete perhaps you should consider painting it instead. I would clean it well and allow it to dry for several days. Then apply a primer specifically for concrete ie: for garage floors, 2 coats and allow to dry according to directions on the label. Then paint with a good quality garage floor paint. At least 2-3 coats.I'm not sure about the need for a top coat..
Sus4499217
on Dec 06, 2016
Our back porch had carpet on it when we bought our house. We had that taken up and the glue cleaned off and then had outdoor tile put on. It turned out great! We won't ever have to do anything to it again. It's been there for 4 years now. No cracks or chips due to cold,snow and freezing weather. Mary
on Dec 06, 2016
od to go Concrete stain that I have seen used relied on an acid etch first. Not sure what you would have to do with yours since not all the paint is off. You may be getting moisture coming up through the bottom of the steps. If you were able to get under there and seal them with concrete ealer, you would have a better result with paint or stain - paint at this point. Once sealed from the bottom, you will need some days of drying out, and then attempt your paint again. One other idea is to seal the top and sides of the concrete really well, and then tile the whole thing. Seal the tile and you will be go.

Shawna Bailey
on Dec 07, 2016
Let us all know what you decided to do? Paula
on Dec 07, 2016
treat it like a garage floor. there are products for garage floor painting and directions are not only what you did, scrape, power wash but also acid etch with a chemical that usually comes in a kit for painting garage floor or it can be bought separately. also i would have suggested using the garage floor paint and clear coat not a stain unless it was new/bare concrete.
Ros8225889

on Dec 07, 2016

New ideas and tile are good, but more expensive and time-consuming than painting. I agree that concrete is difficult as it retains moisture; and those products that promise to do well on concrete, just don't. Maybe garage floor paint, and/or sealing with marine-grade gloss would be the thing to try. I know so much work each time you put a new product on and have to remove it..... Good Luck to you. from, Rosie of Nixburg, Alabama...we have lots of moisture down here, and I came from damp England!

Kaye Hawthorne
on Dec 13, 2016
first remove peeling paint as much as possible, next using a pressure washer clean the concrete well. The pressure washing will also remove peeling paint in pitted areas in the concrete.
next use an oil-based concrete primer and apply 2-3 coats letting dry in between coats for bonding purposes, once dried completely apply 2 coats of Concrete paint/epoxy making sure to get into the crevices well. this should prevent any future problems with the paint peeling. Although it takes time in the long run it is worth the trouble.
if you are unsure of using a type of epoxy, make sure to go Or call your local paint supplier ( such as Sherwin-Williams, Benjamin Moore etc) as they recommend and sale various paint products that will do your renovations and provide you with great results once completed!
Related Discussions

Lauren of Mom Home Guide
on Aug 06, 2016
I was wondering if you could help me with something -- I have an entirely oak kitchen. I know it's the rage now to paint or gel stain cabinets. I've been considering ... See more

Ginny Wathen
on Sep 03, 2018
How do I paint my front door? It's metal. Ann7680670
on Jul 20, 2016
How do I paint grout to change the color? The grout is in great shape, but the color - meh. Chris jenne
on Jun 19, 2017
What is the best method to whitewash bricks surrounding a fireplace? Judy
on Jan 12, 2019
How to clean paint brushes where the paint has dried?

Ana Bacallao
on Jan 24, 2017
hi, I'm in the process of refreshing my birdbath. I have cleaned it and wanted to give it a more "stone" look. I bought a textured spray paint but then realized it pr... See more

Jen R
on May 19, 2014
We are about to repaint our home and I would love some suggestions on color. We will not be painting the brick. If there wasn't chimney with the same brick, I would b... See more