Ack! Peeling paint over laminate! What to do?!? Answered
I painted a laminate chest this weekend. I used Zinsser BIN primer first, let it dry overnight, then painted it the next day. The brush pulled the paint up (I couldn't paint over a place where I'd just laid paint- the primer was fine), but eventually I realized that I had to work quickly and let it dry completely before adding another coat.
I left it covered with a tarp, planning to finish it today. Last night we had a HORRIBLE thunderstorm- and I knew I'd have problems. The paint is now peeling in rubbery sheets. So I have two questions- 1) Did it just not dry good? It had time about 48 hours dry time before the storm. Did I not let the primer dry long enough? It had about 24 hours curing time before the paint started going on. And 2) How do I fix this? Let it dry then sand the spots that have peeled? Try to peel it all back off and start over? The primer seems to be sticking to the laminate of the furniture just fine- it's the paint that's the issue.
Thanks for all your help!
Kim in NC
PS- I KNOW the piece should not have been sitting out, but this storm came out of the blue. Ack.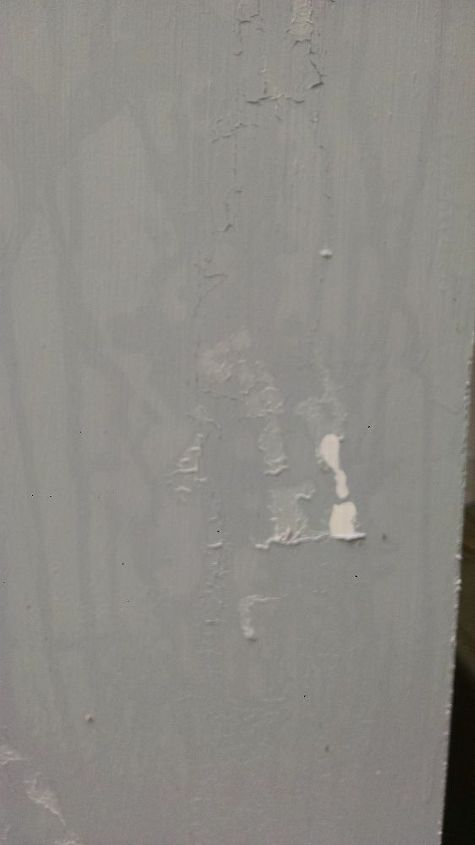 Lauren of Mom Home Guide
Answered 4 hours ago
I was wondering if you could help me with something -- I have an entirely oak kitchen. I know it's the rage now to paint or gel stain cabinets. I've been considering ... See more

Tim Gavagan
Answered on Sep 05, 2023
Can someone tell me how to match paint for a ceiling touch up job?I cut a small patch of dry wall paper out of the ceiling and had paint made at Home Depot TWICE! Sti... See more

Betty Shafer
Answered on Sep 22, 2023
Tips to stain my wood deck? MONA
Answered on Oct 31, 2023
How do I stain my wood cabinets? Do I have to remove them and put them back, or can I stain them while they are attached?

Debi @ Debi Collinson Interiors
Answered on Mar 12, 2018
I want to paint my kitchen cupboards but the skin is peeling off of some of them. I was wondering if I peel the skin off the doors that are peeling down to the MDF bo... See more Mar31627084
Answered on Dec 09, 2017
We have a mobile home with paneling and laminate cabinets...do not want to replace, just paint.

Rbo25852233
Answered on Mar 03, 2022
I have plastic chairs and I painted them a few years ago and now they are peeling. I sanded and pressure wash them and it's still peeling in some spots what eles ... See more