How do I refurbish my old cabinets inexpensively? Answered
My kitchen is in dire need of having life breathed into it, but I haven't the finances to pour into it. The cabinets were originally built into the walls, rather than units brought in and attached to the walls, so there is little insulation between the outside world and the cabinets themselves. They are hot in the summer - very bad for food storage and rodent/insect control! Plus they are so narrow, you can't slide a plate in or out without tilting them sideways and it's a struggle to extract other large items or put them away. Additionally, the exterior was painted and is currently boring and drab, repainted taupe against existing eggshell walls.
I have plans for painting the kitchen walls and ceiling a clean, crisp white and adding pops of color of spring green, poppy, sunny yellow and bright orange with chair fabric, paintings and decor, but what do I do with these cabinets? I can't afford new ones, but my husband is a handyman and I'm not afraid to stain or paint! What do you suggest?
Please help,
Cindy Edmonds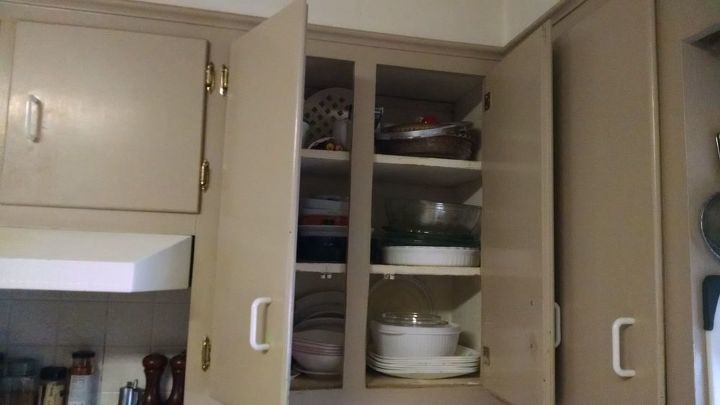 The stud between the cabinets makes it difficult to put items away and extract them. The gap is too narrow!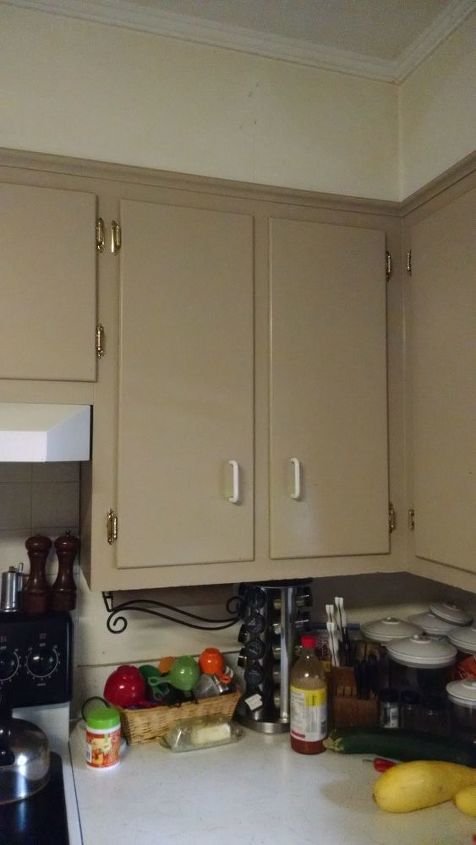 These two cabinets (openings) are - 10.5" wide x 2'4" high. One is 11" x 2'4". Five of them are 12" x 2'4". There are two small ones above the refrigerator. None of them reach the ceiling of course. That's just encased.