Hanging lamp conversion to floor lamp Answered
I would like to convert a tiffany-style hanging lamp (see pic) into a floor lamp, any ideas? Thanks in advance.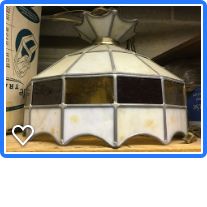 Related Discussions Linda
on Sep 25, 2015
i have a floor lamp that I would like to change to a uplight torchiere, but I'm not sure how to do this. SexiLexi
on Jul 15, 2020
I have a total of 15 of these leaf fan blades

Mary Weaver-Davis
on Nov 27, 2018
I picked this up a couple months ago. I need a dresser from my bedroom. My TV is too big for inside. I have very high ceilings so TV will be mounted on another wall. ... See more Sharleen
on Sep 10, 2020
Need ideas for repurposing old boob/circular ceiling lights Chriss Grijak
on Jul 03, 2020
I found 8 solar pathway lights in my basement but only one has a tag on it. All I know it is that they are LED solar lights that stay on white or change colors. It... See more

Nadja Stevens
on Jun 18, 2020
UPDATE!!!any ideas on how to upcycle this floor lamp...my brain is in a creative slump and I can't thinkoutside the box LoLIt does work and I'd love to have it outsid... See more

Mary Hopper
on Sep 07, 2019
replaced the ceiling fans in a couple rooms and upcycled the blades, but now I need an idea for the individual globes. Any thoughts?