Related Discussions Irene
on Mar 05, 2019
My front door is metal and the paint is peeling. How do I repaint so it doesn't peel again? Nicole
on Jul 27, 2018
I would LOVE to replace this front walkway and garden with long graduated steps. Looking for solid advice on how to implement this plan in a cost effective manner. Ou... See more Stelmour450
on Jul 19, 2018
Bought this little gem for $2.00 . It is real pottery with a working motor. Rebekahkremer
on Mar 04, 2018
Area. The previous owner painted it yellow and white trim. What would be a good color update?

Ellie Cowfer
on Jan 12, 2018
I had a green concrete porch floor in the back and wanted to repaint it. I used a primer someone told me to do first and then painted it a brick color. I also put o... See more

Brenda Daffern
on Sep 15, 2017
I have a door that leads to the garage that was painted today. It is still drying, and we want to go to bed; it's late. What can I do to keep it from sticking so verm... See more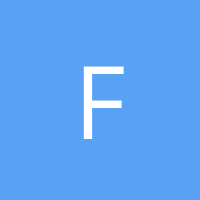 Fox21622268
on Apr 01, 2017
. It has never been painted or sealed. What do you recommend???