15 years of trying, and I still can't figure it out. Can you help me?



Answered
We have a cathedral ceiling and at one end of our living room it's wall-to-wall bookcases and a tv over fireplace. For 15 years I have been trying to figure out what to put up there. For years, it was a combination of plants, baskets, and home decor items. This picture was taken right after we moved in the house 15 years ago. Walls have color on them now and we have closed in the tv hole and it now has a shiplap wall and large mounted tv. Books are gone and replaced with other items and less cluttered. My style these days is farmhouse/cottage. The length from the peak of the ceiling to the top of the cabinet is about 30 inches. I have searched the internet and there isn't a lot dedicated to subject. Maybe nothing is the answer, but I keep looking up there and it feels like I'm missing something. I'll be glad to provide current pictures if requested. (This is the only picture I have available at the moment)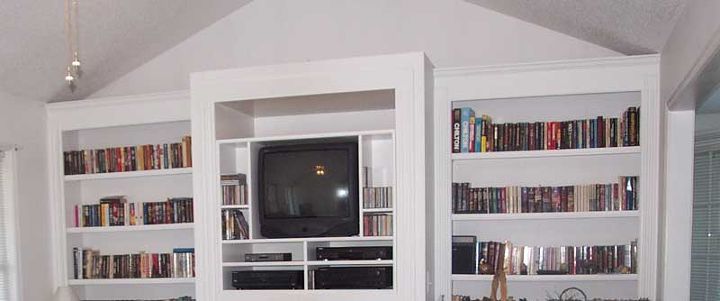 What to do? What to do? I am at a loss.