How can I make this hidden door more hidden and less hideous? Answered
I have a hidden door though it doesn't look so hidden at the moment and I like the appeal of a hidden door. We do need to use the door, but not often. This is in a bedroom and the only furniture will be a bed (it needs to be allergy friendly). It leads to a stairwell, which leads to a shelter room. The random pineapple on the wall is how you open the door. It is at ached to a piece of wire that presses the bar on the other side of the door. It is like a door you would seen in a gym with a large bar that goes from one side to the other. I am looking for suggestions to make it look more hidden and less hideous. The door swings into the room. There is also an air conditioning vent at the bottom of the door. (Half of it is in front of the door)
I also have two holes on the other wall that go to the bathroom pipes in case they need fixed. There was a huge panel over them, but wanting something more creative. Anyone have ideas?
I just repainted the room a light green and the trim white. There is a missing piece of trim at the top of the door that they had magnetically attached but it would never stay. I will be adding a matching piece there. I will also be adding thick wood trim to the entire room at the floor.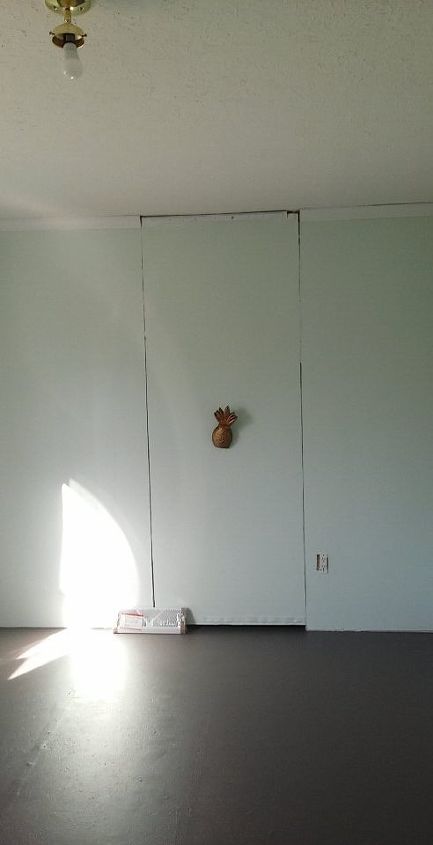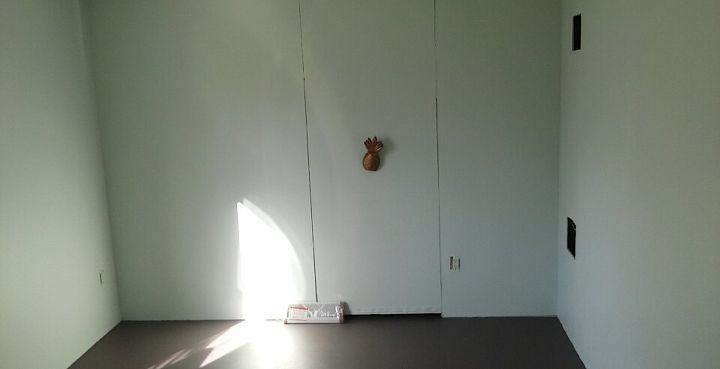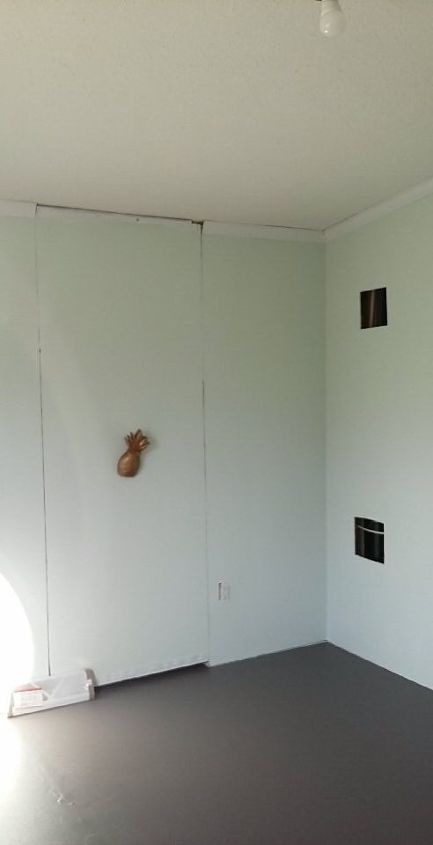 Related Discussions Diane
on Feb 03, 2016
I have two 6' patio doors, and I want to add blackout curtains to keep the sun/cold out. What is the best way to hang them, and what can I use to push the curtains ba... See more Noemi
on Apr 01, 2019
Does anyone know how to make a balloon garland or a balloon arch?

To Work With My Hands
on Jan 22, 2017
Occasionally I've had the problem of photos sticking to the glass inside frames. First, I'm not sure what's even causing it. I don't use any moisture when dusting the... See more

Diamondvalleygirl
on Mar 25, 2015
We live in a mobile and have an add-on room where a covered patio used to be. Now it's part of our living space and we would like to cover or camouflage the exposed a... See more Linda Valentine
on Mar 29, 2017
First one fell off in the bathroom - okay, maybe moisture. In the kitchen - fridge, inside cabinets and on tile walls. All fall off. Everyone else seems to love t... See more Mary
on Apr 21, 2015
I received my canvas and now I think it is too small for the space. It is 35 x 23. The wall is about 95" and the table is 48" I temporarily propped it on the chair so... See more

Heather
on Mar 18, 2014
I have leftover lattice and would like to use it for some sort of indoor decorating project. Any ideas on a good use for it? It looks like this, just plain unfinished... See more