Experience with wall mounted shoe rack? Answered
I'm loving the look of the wall mounted shoe racks that have been hitting the blogosphere for the past several years. I would love to try this and for me the best spot seems to be on the inside of our closet door. We have a traditional door on our closet. Has anyone tried this and if so, do you think the swinging of the door would cause the shoes to easily fall? I've posed the question to several bloggers who have tried this and they have not responded. I know that we will have to work to ensure they are safely mounted, but if I could get them off the floor and shelves, it would free up so much space! I could put on a wall inside the closet, but afraid they are more likely to be bumped off as we have a long narrow closet in the master bedroom. Any feedback to share?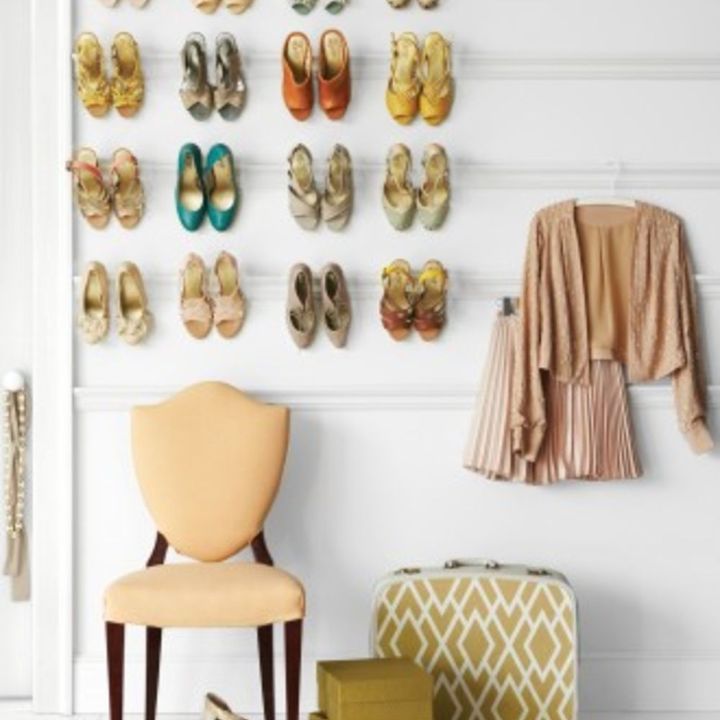 Smi19247767
Answered on Nov 03, 2023 Sharon
Answered 7 days ago
I would like to put my canned goods in some type of order so you can see what they are and get to them more easily. Right now, they are stacked on top of each other b... See more

Kari
Answered 3 days ago
I have a coat closet which is 19 1/2" D x 30" W x 90"H. The pictures show my largest frustration which is the hangers must sit sideways due to the depth of the close... See more

Hillela G.
Answered on Feb 17, 2023
I need your help!!! Jo
Answered on Feb 17, 2023
I have tied, pinned, and folded but NOTHING keeps the blankets from falling on the floor...there used to be an adjustable lightweight rail that went at the foot of th... See more

Merry D
Answered on Nov 04, 2022
Pictured is my hall coat closet. This is the floor footprint: 4.5' X 1'X 4.5' X 2.5'. But not square, sort of angled. There was a single wire rack extending across th... See more

Fow624147
Answered on Feb 17, 2023