How do I secure a patio cover? Answered
Our backyard is exposed to the setting sun which makes it very hot in the summer and bright when the sun is out. There are no trees so we purchased a patio cover to block some of the rays. The issue we have is securing the cover. We purchased pots and set poles in quickcrete, then attached the cover with the hooks to the eyelets. If there is any kind of wind, the cover moves so much, the concrete planters fall over, thus causing a mess with all the plants and furniture on the patio. There is a privacy fence, but we live on a hill and the fence would not provide us the height we need. So, I am looking for some creative ideas as to how we might secure this patio cover and be able to enjoy our backyard more! I attached a picture of what we purchased.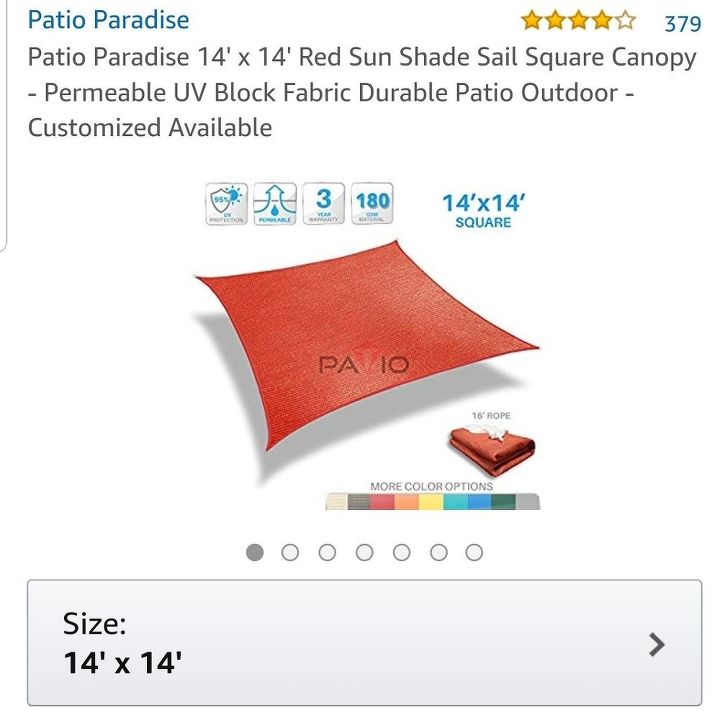 Related Discussions

Dori B
on Apr 10, 2018
My aggregate patio is ugly, cracked, old and hard to walk on. I can't tear it out ... can I cover the aggregate with something attractive like wood?

Judith A. Bowen
on Jul 01, 2019
How do I build cheap covered parking for a rental house. Harold
on Jun 10, 2018
Our front door opens on to a wooden deck about 6x6, with two steps down to the front walk. The eaves drip on us and winter winds chill the house. A covered entry woul... See more Lyn
on Aug 29, 2018
My gazebo is on my deck. There is a gap between the roof of my house and the roof of the gazebo (about 1 foot). I'd like to put something between them to block the ... See more

Christine Donaldson
on Dec 17, 2018
There is a dirt bed on one side of the driveway and asphalt on the other. We cannot disturb the asphalt because we rent.

Barbara Reinhardt
on Feb 02, 2019
I live on the first floorof an apartment building. How can I secure my patio furniture without it being unsightly? RBL1167984
on Jan 23, 2015
Breaking out slab and putting in new slab 12' x 22'. total cost of slab and patio roof is $7,000.