How do I mount a TV over a gas heater? Answered
Would it be safe to mount my tv on the wall above my gas heater? If so, can anyone offer any tips on hiding the wires, satellite box, etc?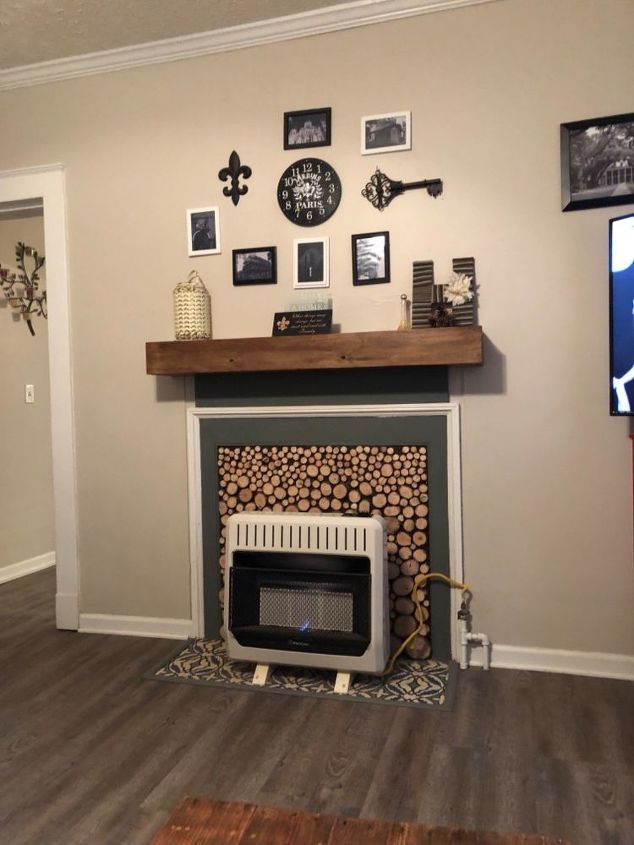 Katye
Answered on Nov 17, 2023
My gas wall heater is soooo ugly. I would like to do something to make it look more like a fireplace and remain functional as it is the only heat in that space

Penny Hughes
Answered on Jan 05, 2023
I have this gas free standing fireplace, I want the wall behind it to have more style, any suggestions would be apprietated. Thank you Mary
Answered on Jan 05, 2023
Right now I have a cream colored berry wreath over my fireplace. I will be getting the picture shown over my sofa ( that is a mock up so size won't be exact). Do you... See more

B.J. B
Answered on Apr 02, 2014
I found this pale blue baby scale in a vintage resale store and fell in love with it. It has a nicely aged patina so I don't want to do anything to destroy it. I just... See more

Anissa Taylor Proctor
Answered on Oct 07, 2015
Show me the and to decorate the mantel with a TV over it. I'm used to going all out and now I'm limited on space.

Helen
Answered on Mar 16, 2016
I would like some ideas on how to, or what to use to attach picture hangers to a fireplace made out of uneven cement type rocks?

Cheri Smyers Sharrett
Answered on Dec 07, 2017
I have a cutout over my fireplace for a tv. The problem is it will only fit a 42 in. I need some ideas of how to box this in and build amantle