Split entry homes...what is the size of your entry?



Answered
For some reason, after 36 years, we are really struggling with the size of our landing/entry. Are we older (yes)....fatter (yes)...but why do we notice the small size so much more now. For those of you with split entries, what size is your landing? We are seriously considering bumping ours out an additional 3 feet, but worry how the outside would look. Can you please share pictures of the interior/exterior of yours? I know once you enter through the door it is a different area, but how do we make the outside transition look just as good?
These are a few pictures I had on this computer to give you an idea what we have to work with. The entry actually recesses back about a foot into the main house so adding 2 additional feet to the front (for a total of 3 feet) won't encroach too much on my porch area. We can't run the new area above the roof because all the rain gutter follows the roof. The addition above the garage has the roof facing the opposite direction of the main house, so we are thinking we could do something similar to tie it all in. I wondered about extending the roof all the way to the porch railing to give us a little covered porch over the new entry addition. Please help....:) I am so concerned of making a mistake and hating it. I want the outside to look as good as I know I can make the inside. I do plan to add a transom above the door and side panels to bring in more light.
Trust me....I have looked and google at everything I can online...and driven through neighborhoods looking for examples.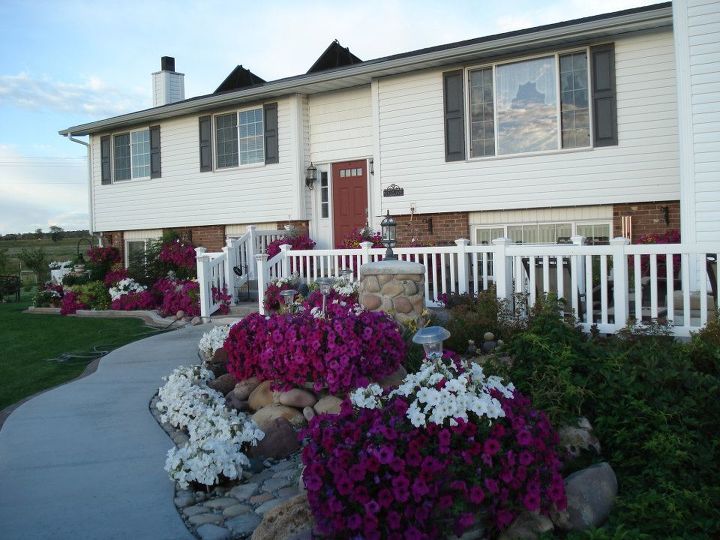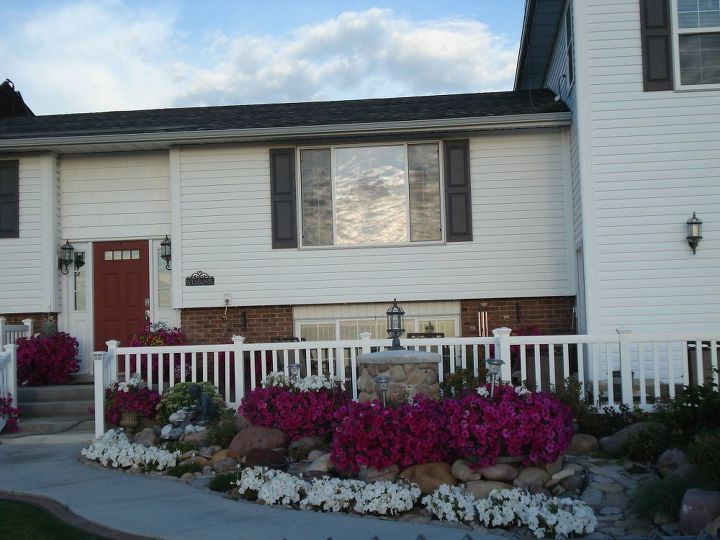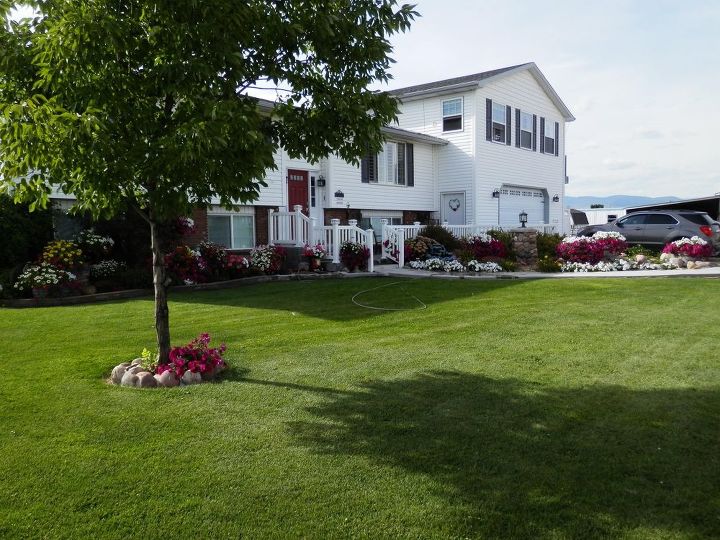 Lynn Turnbull
Answered 4 days ago
I currently have stinky dirty carpeting in my living room and I want to replace it with a durable flooring that can stand up to dogs and kids.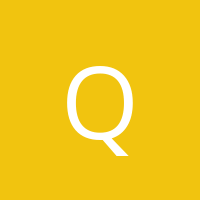 Quilter2
Answered on Oct 15, 2023
Does having a paint over a popcorn ceiling change how I'd remove the popcorn ceiling?

Kim Koster Hruba
Answered on Jan 04, 2023
We're a family of 5 kids and 2 adults and we use the front door as our main entrance. The challenge is that it's a split level entryway and the space is small with no... See more

Tammy
Answered on Aug 31, 2023
My initial thought is to strip it and stain it a darker color. The trim color around the door is new to the entire house and the brick around it covers most of the ho... See more

Clara Rivera
Answered on Aug 31, 2023
Hello, I have this hole in the wall of the main entrance of my house and do not know what I can do?

Gordon F
Answered on Aug 31, 2023
We have an oval door and someone keeps coming by our house and is trying to look in our home. I have security cameras catching them doing this. I am not sure what the... See more

Kimberly Noelle
Answered on Aug 31, 2023
We recently bought our first home. It is a bi-level or also know as a split-level. I'm having the hardest time trying to figure out storage and a cute affordable look... See more