How do I repurpose concrete culverts? Answered
We have rented a beautiful log cabin in our efforts to downsize as empty nesters. We would love to stay here for a few years but my OCD is in overdrive. On the property we rent there are these huge concrete culverts that are right across from our front porch. This is what we see everytime we walk out our door (pics taken from porch). Not to mention all our guest see this everytime they visit. Please flood me with some ideas how to make these into something cool or beautiful. Before someone says yo move them, that is impossible. They are huge and heavy and have been there for years. Remember, I rent this property so I do not want to spend a lot of money. I just want them to not look so UGLY! HELP PLEASE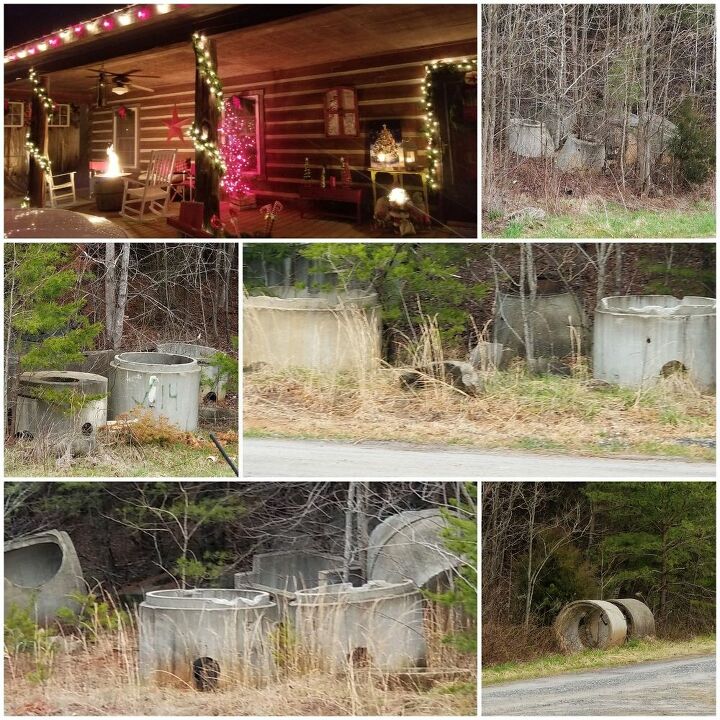 Related Discussions Janet
on Jun 09, 2020 Ken Wonderland
on Dec 11, 2018
An old wedding present, used three times- the classic heavy glass 24 cups, base and punch bowl: any ideas on what to use it for??

Sarah Allen
on Mar 23, 2020
Hello! We recently replaced our wood burning stove with a pellet stove. I would like some ideas on how to use the brick log storage corner for something as the pellet... See more

Anne Southern
on Aug 31, 2018
Luckily we no longer need several medical walkers? Instead of donating these well used items, can they be made into something different?

Jearetta Clayborn
on Jan 21, 2015
I have demo tire rims and want to do something creative with them rather than send them to salvage. They are new and shiny. One is blue, one is red, some are black, a... See more Kathryn Gutierrez
on Jul 03, 2016
I have a few concrete test cylinders and would like some ideas how to best use them. I did have them in my garden as border material for many years but the new apt. ... See more Sheiladawn
on May 03, 2019
I have an in ground storm shelter. We are getting the new kind that is in our home. Would like some really neat ideas on how to repurpose the in ground shelter.