How can I use this piece of glass? Answered
I have a beautiful piece of textured glass left from a business that I closed and I see it as a coffee table. I am having a hard time envisioning the base. It is 29" x 44" and 1/2" thick with polished edges. It is tempered glass so it cannot be drilled or cut in anyway. Attached is a picture. Any suggestions?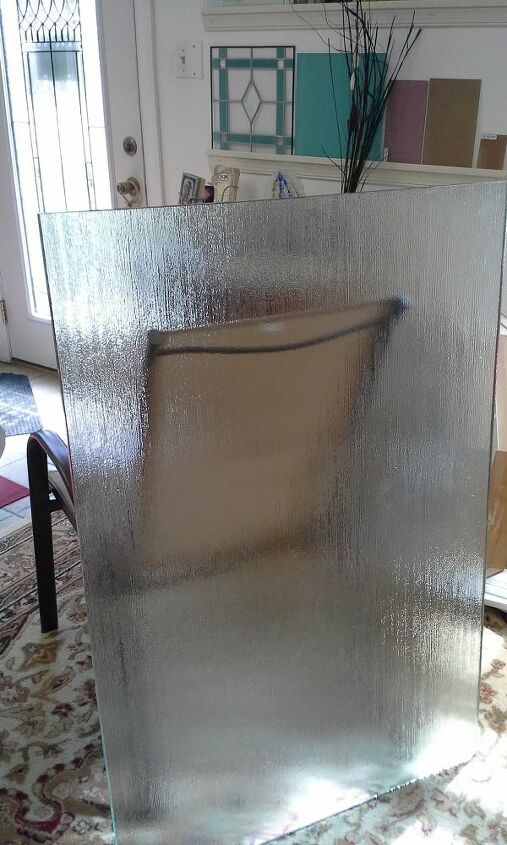 Related Discussions

Kathy Dugger
on Oct 13, 2017
I'm buying property that has chunks of cinder blocks laying around.. I'm gathering them into pilesand wondering how they can be used instead of adding to a landfill Cardinal
on Jul 10, 2019
We had just laid new flooring throughout our house with wood-look vinyl planks, when we got flooded by Hurricane Harvey in 8/2019. We saved the planks because they we... See more

Pamela Montgomery
on Jan 22, 2019
I have several concrete deck blocks not used when I replaced my deck. Other than a deck, what else can I use them for?

Ashley Contreras
on Nov 20, 2018
I have so many 6 inch wood circle cut outs leftover from making cornhole boards, just unsure what to do with them. Any ideas anyone?

Lillian Robinson
on Jan 05, 2019
My home was rehab by the federal government over 20 years ago. Like kitchen cabinets doors are falling apart and the front of the drawers have came off because wear a... See more Mari
on Mar 27, 2017
I took down my verticle blinds, got rid of the 120 ft rod, but would like to do something fun with the vinyl blinds/slats. Any ideas?????

Brenda Daffern
on Mar 04, 2020
How to up cycle picture frames glass of different shapes?