Related Discussions SUE SCHUMACHER
on Aug 08, 2017
I don't have enough money to replace the ties. So I was wondering if they could be painted by an oil-based paint? They are so old school and I would love to use those... See more Eric
on Mar 10, 2020
Should I leave the fascia light beige or paint it the same color as the garage (Mock-up included). If paint the same color as garage, can I get away with just paintin... See more Bernadette
on May 01, 2018
My siding is a faded blue and would like to paint it white but I'm concerned about how long it would look good, the peeling and chipping factor and if it would need t... See more
Mary Updyke
on Apr 29, 2018
I mistakenly painted the floor of my deck in a dark color, what can I do to lighten it or cover it without stripping it?

Darlyne
on Mar 12, 2018
I would like to move fabric indoor bar stools outdoors for the patio this summer. How can I protect the material? Angie Salerno
on Dec 02, 2016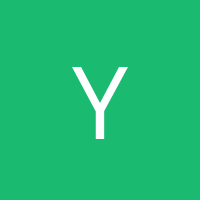 Yasmin Reyal
on Jan 25, 2015
We dump a lot in that area. The floor is discoloured. Need an idea on the best type of paint to cover up the discoloured cement.