How do I prep a rough stucco wall to put shiplap over it? Answered
My screened in porch was an afterthought. The walls are the exterior of the house. How do I "cover" them? Do they need to be sanded smooth first? I'm open to other materials & solutions as well!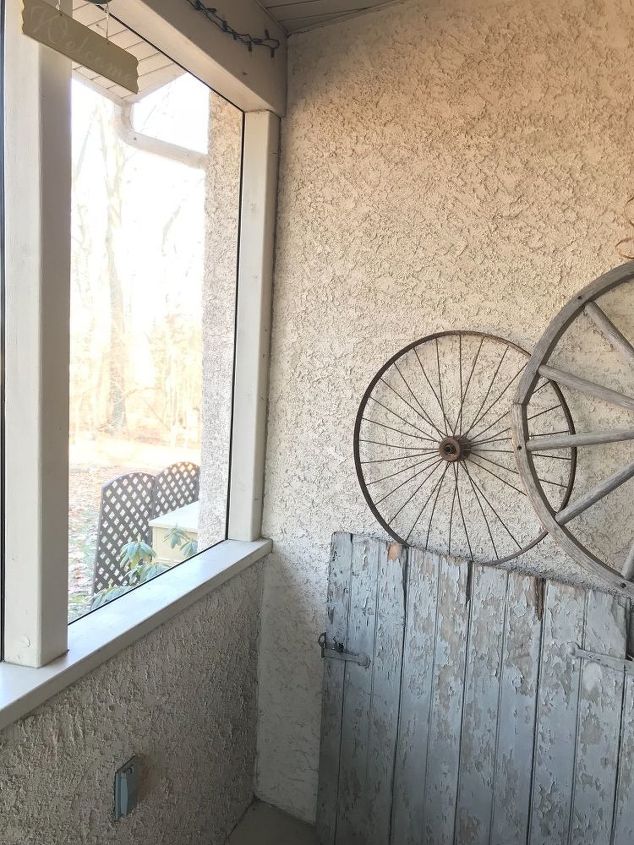 2 full stucco walls and 2 half stucco walls.
Related Discussions Mar7995795
on Nov 21, 2017 Beth
on Jan 02, 2019
I live in a house that's over 100 years old. I have a kitchen wall that I want to shiplap or put peel & stick faux shiplap, but it is plaster and the roof is uneven.... See more

Leah Thompson Fyock
on Oct 07, 2018
I have an interior basement wall I want to cover with shiplap boards. What is the best way to do so?

To Work With My Hands
on Jan 22, 2017
Occasionally I've had the problem of photos sticking to the glass inside frames. First, I'm not sure what's even causing it. I don't use any moisture when dusting the... See more

Kristy Williams Tillman
on Dec 27, 2016
I have a hidden door though it doesn't look so hidden at the moment and I like the appeal of a hidden door. We do need to use the door, but not often. This is in a b... See more

Diamondvalleygirl
on Mar 25, 2015
We live in a mobile and have an add-on room where a covered patio used to be. Now it's part of our living space and we would like to cover or camouflage the exposed a... See more Linda Valentine
on Mar 29, 2017
First one fell off in the bathroom - okay, maybe moisture. In the kitchen - fridge, inside cabinets and on tile walls. All fall off. Everyone else seems to love t... See more