Leave plain or add more interest to a feature wall?



Answered
I have an old home with VJ panelled walls and 13 foot ceilings and there is a large flat area on the lounge wall (approx 4m x 2m) above a wide daddo rail that originally had a 1950s wallpaper mural that I tore down to replace with a beautiful textured, paintable wallpaper i bought from the US in a large geometric pattern not unlike pressed metal however, once this is up, it will then still be quite bland. I can't decide if I should leave it blank or add some extra decorative feature. I should add that below the thick daddo rail is our Flat screen flanked each side by a chunky bookshelf. Sorry about the clutter - I haven't given this area much love because this chunky furniture is my husbands taste - I hate pine colonial and I always wanted to paint the bookshelves white. They just darken the whole area. Should I risk it and paint them when he's away? He he. I'm not a fan of those huge French farmhouse clocks either sorry.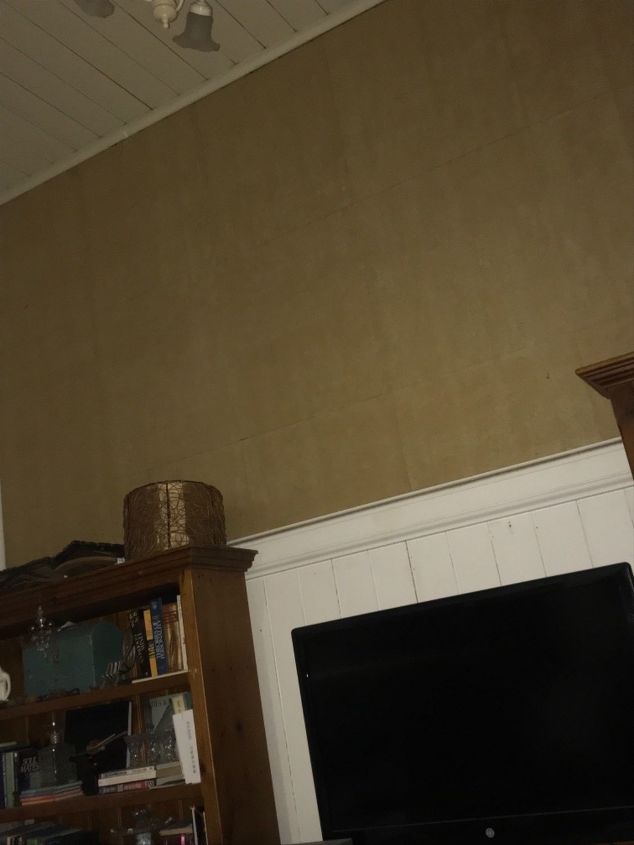 I hate the colonial early settler furniture of my husbands - heavy chunky and darkens everything.
Related Discussions Diane
on Feb 03, 2016
I have two 6' patio doors, and I want to add blackout curtains to keep the sun/cold out. What is the best way to hang them, and what can I use to push the curtains ba... See more Noemi
on Apr 01, 2019
Does anyone know how to make a balloon garland or a balloon arch?

Laura Yanni-Brown
on Jan 10, 2017
I want to paint my old ceramic tile in my bathroom but I have no clue what colors to do it in. Any suggestions are welcome. Thank you! Tdw17512915
on Jan 13, 2017
My husband and I bought this painting because both the theme and the color scheme go well with the rest of the room. When we got it home we discovered that it was muc... See more Sherry R
on Jan 27, 2013
I found these beautiful drawers (no clean-up or touch up needed) perfect condition. For some reason, I couldn't walk away. Just one of those pieces that screamed "tak... See more

To Work With My Hands
on Jan 22, 2017
Occasionally I've had the problem of photos sticking to the glass inside frames. First, I'm not sure what's even causing it. I don't use any moisture when dusting the... See more

A
on Dec 26, 2016
I want to mount my 55" flat screen from the ceiling, but give the illusion that it is mounted on the brick. I plan to run the electric/cables from the attic above. ... See more