How do I make my refrigerator fit? Answered
I bought my home 5yrs ago, since money was tight after purchase, I kept appliances that came w the home, as kitchen was beautiful besides appliances. When I'm starting to upgrade appliances, I learned that where they placed the fridge, is very narrow, w no room on either side, wall on one side/cabinets on other. I have cabinets on 3 walls, the only wall w/o them has two windows. There is no place to put a new one. Which I really need a bigger one, this is freezer on top 18 cuft. And I want a stainless steel and the only width I have to work with is 33inches! Please help, how can I ever get a larger one?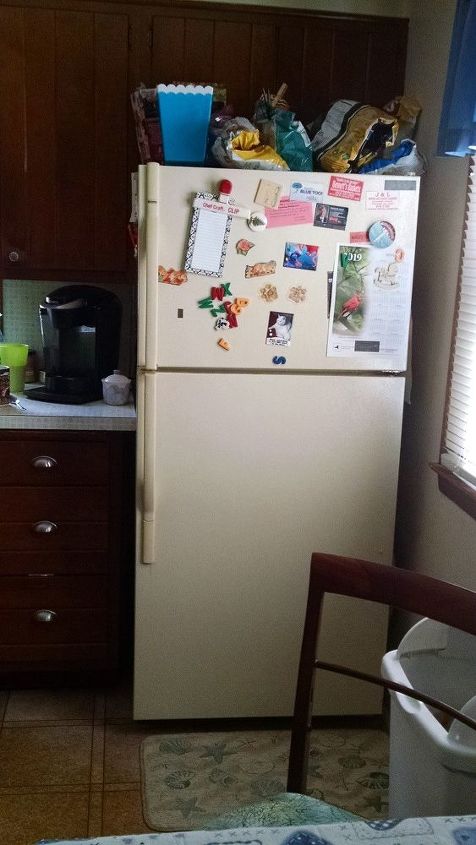 Related Discussions

Sally
Answered on Jun 12, 2017 Pam
Answered on May 06, 2019
We are installing a new bathroom vanity in our half bath. The walls are not square so it doesn't fit snug. I am worried about water and the gap. Any ideas?

Brittany Ann Hensley
Answered on Jan 05, 2020
I habe particle board kitchen cabinets and they are peeling and look awful. I really want to paint them but i know little of primer and paint. Any suggestions on what... See more

Angela
Answered on Aug 01, 2018
I made countertops for my kitchen using hard wood flooring. What do I do to make them food safe? Edean
Answered on Feb 07, 2023
I HAVE EARLY 1970'S KITCHEN METAL CABNETS THAT I WANT TO REDO BUT NOT JUST PAINT TO MATCH MY 1950'S STYLE KITCHEN DESIGN.MY WIFE AND I WANT IT TO BE REAL ORIGINAL ANY... See more

Heidi Sue
Answered on Jan 05, 2023
My disabilities (both hips and knee replaced, bad back and neck and thus 295lbs) make my recliner the best bed for me. It seems like I tried everything I can think o... See more Kathy Wilson
Answered 3 days ago
We took the old popcorn ceiling off in our livingroom and thought we could just paint it. We fixed some hairline cracks where the joint in the sheetrock are, primed a... See more