Related Discussions

Terri Shearer
on Apr 18, 2018
We have lots of huge maple and ash trees around our house, which translates to lots of seed shedding in the spring, and leaves in the fall. Our gutters are constantl... See more Tom McMullen
on Jul 08, 2019
I have black mold, mildew, fungi or something covering painted woodwork on screened in porch area.Steam, vinegar, Wet n Forget & power washing has failed to remove. A... See more Lori
on Jul 01, 2018
Could expanding foam work? It's in an area not very visible.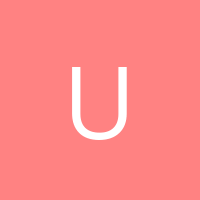 Usha
on Feb 28, 2018
I have in the midway of my driveway crack that is getting bigger every yearwas filled with the stuff that you by from home depo did not work
Betty Peralta
on Oct 28, 2017

Connie
on Jul 22, 2016
We have a 100 yr old home with a brick foundation. The mortar is receding and we have a few areas with cracks. What is the best way to preserve the foundation so it... See more

Nakeisha F
on Aug 23, 2013
My hubby was installing some granite with adhesive glue to cinder block and accidentally turned one of them on the wrong side. What's the best way to remove it?