How can I repurpose the old VHS stackable storage cabinets? Answered
The old VHS stackable storage cabinets are all over garage sales, thrift shops, etc these days. I saw one repurposed into something wonderful and can no longer find it. I am looking for ideas to repurpose these into something useful for today's world. Any ideas, suggestions, or projects you have done will be most appreciated.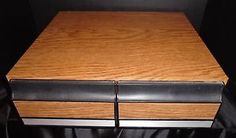 Libby Makely
Answered on Mar 13, 2021
Found at Goodwill for $1 (no pic.) has legs and handle; I hope to sand and paint but didn't want to use for original purpose. Any ideas for me? Thanks.

Jackie Brahan Davidson
Answered on Aug 12, 2023
I have an old ammunition box and would like to use it for something in the house. Any ideas?

Sarah Allen
Answered on Apr 03, 2021
Hello! We recently replaced our wood burning stove with a pellet stove. I would like some ideas on how to use the brick log storage corner for something as the pellet... See more Bren
Answered on Aug 30, 2017
I used the solar light portion of these to create hanging lights for my yard but these globes are too pretty to just throw away. I'm looking for ideas on how to rep... See more

Jane Hudson
Answered on Jul 18, 2020 Annie
Answered on Aug 11, 2023
I really like the way you recycle things and use stuff most of us have at home already. I was curious about how you would repurpose this old metal wine holder. It is ... See more Mztewj
Answered on May 04, 2021