Ideas to repurpose this decorative item



Answered
I have these two decorative items but the glass container is broken for one of them. Any ideas what I could use the other one for?
(Note: as I finish this post and was in the process of putting things away, I knocked the one with the glass container and it over and it broke. So now I have to decorative frames and need ideas for. Thank you!)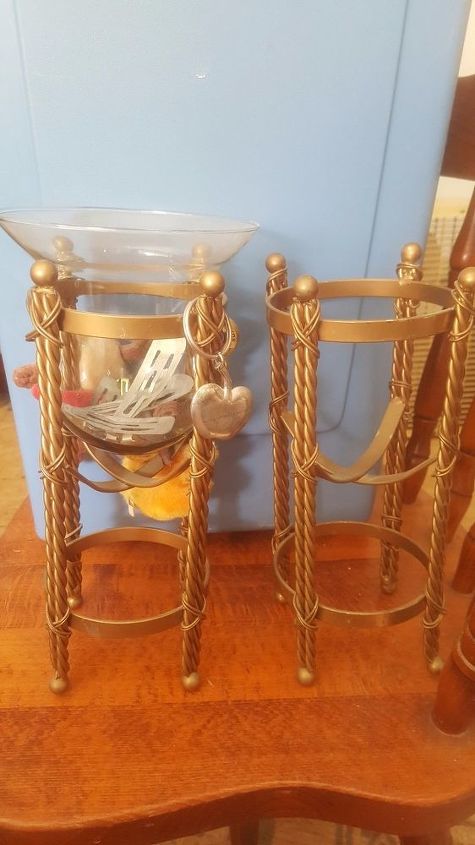 Related Discussions

Nicole Wilkinson
on Jan 06, 2016
I've got about 500 old fence boards, a heavy wood shutter door, all the wood pieces to an old roll-away hutch lid, 6 heavy earth-tone tiles and lots of sheer determin... See more Sharleen
on Jul 19, 2020
Bridget S Aunkst
on Aug 06, 2018
Looking to repurpose my vintage climax sewing machine. Any ideas? Bar cart, table, bathroom vanity? Pam
on Feb 19, 2016
Does anyone have any ideas on what to do with beautiful, old, candelabras? I'd hate to donate them or discard them. I have used single candle holders and attached bea... See more

Anne Custis
on Dec 18, 2016
Any one have any simple ideas as to how to re-purpose satelitte dishes left when we changed to cable?
Penny Hardes
on Jul 20, 2015
Just the iron base for flowers for patio. Nanc
on Aug 05, 2017
I have a lot of antique liscence plates from my dad, I would like to do something with them.