Looking for Ideas how to repurpose piano keys and hammers Answered
I repurposed a piano but have been left will all the keys and hammer section, and was hoping to repurpose them too. Just a bit stuck for ideas. Looks similar to this, Mine is under a layer of dust on my workshop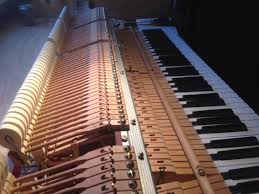 Related Discussions

Cindy
Answered on Apr 13, 2023
I picked this clock up at a garage sale and it did work for a while. It has only chimed once since I brought it home and now has decided to only run it once in a whi... See more Audry browne
Answered on Jun 10, 2015
I am looking for ideas on how to repurpose an old rubbermaid spice rack (lazy susan). This is the cheap small table top kind.

Laurie Brennan
Answered on Aug 18, 2023
I am looking for ideas for repurposing the hutch from my triple dresser. I recently refinished the dresser portion and currently use it in my bedroom. I have thought ... See more

Culpepper Carpets and Interiors, Inc.
Answered Yesterday
Just turn them upside down and open them, then insert a roll of paper towel and tada, you have yourself a brand new paper towel holder that is not only beautiful, but... See more

Casey Gragg
Answered on Feb 13, 2022
I have this local store that sells cigar boxes and I cannot help but buy all the wooden ones knowing there is 1000's of ideas and then the almight brain block hits an... See more

Confessions Of A Junkaholic
Answered on Dec 20, 2022
I'm a picker and came across lots and lots of these beauties. I took home several boxes of these purdies and are using for different projects. However, I want to find... See more

South Shore Shabby Shack
Answered Yesterday
Well, we make Lawn Art, totem poles... We're currently making mushrooms & flowers and totems on poles....