Help with DIY dish rack drying idea? Answered
I recently visited a friend who had the most brilliant idea for a dish rack: an over-the-sink design that maximized space and efficiency (see picture below).
It got me thinking, wouldn't it be fantastic to have one like that in my own kitchen? So, I'm turning to you all for help and inspiration in crafting my very own DIY dish rack drying solution.
If you've ever attempted a similar project or have clever ideas, I'd love to hear from you😁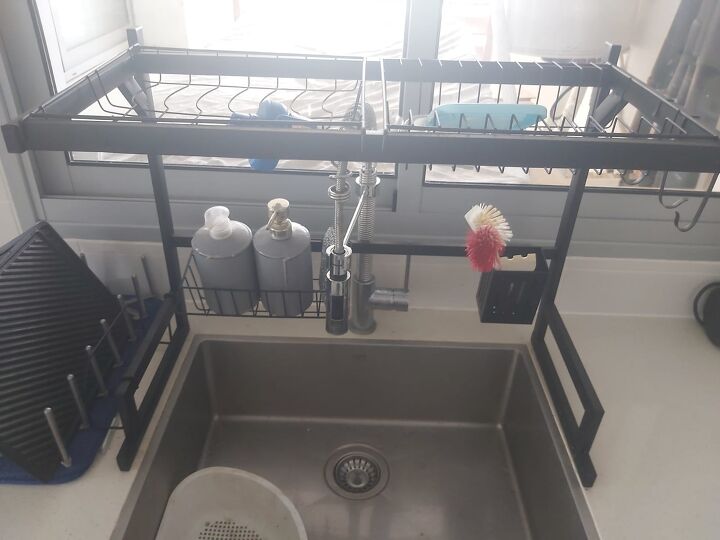 Related Discussions

Mindy DuFlunker
Answered on Jul 16, 2022
I am running chair rail around a bedroom. The marble sill is 40" from the floor the window is 39" high. Putting printable wallpaper on the bottom. Painting the botto... See more

Meredith Moen McConnell
Answered on Nov 11, 2022
I am very new to working with tools and am wondering what the best type of nail gun I should buy to work with pallets. I am interested in redoing a wall with pallets ... See more Barbara
Answered on Nov 11, 2022 Kim farrell
Answered on Feb 02, 2023
I have a few amazing pieces that are old and the paint is chipping. I love them just the way they are but hate the flakes that constantly come off! What to do so it'... See more Sarah
Answered on Jun 06, 2023
I recently visited a friend who had the most brilliant idea for a dish rack: an over-the-sink design that maximized space and efficiency (see picture below). It got m... See more Linda
Answered on Nov 11, 2022
Can anyone suggest the best way to cut a wooden spool in half length wise. Approx. 16 "tall, ends are wood and the center is thick. I have several different power saw... See more Gfe28073611
Answered on Nov 11, 2022