23K Views
Vacuum Sealing With HiCOZY: The Easy Way to Preserve Food
August 14th, 2023 3:31 PM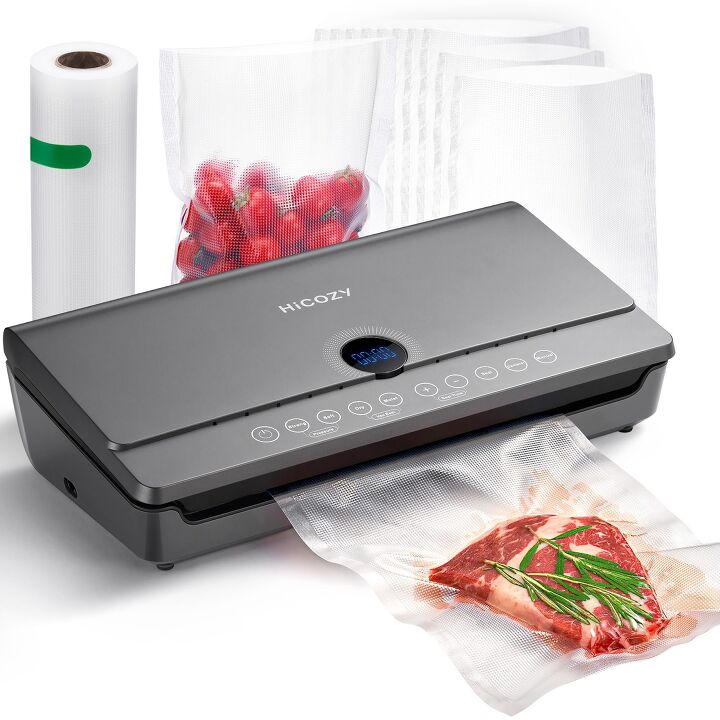 This post is sponsored by HiCOZY.
Feeding my family healthy and nutritious meals is one of my top priorities, but let's face it, life just gets in the way. I always think I have an easy day ahead of me, but then something comes up, and I find myself racing to feed the kids before the meltdowns ensue.
Tired of the same repeating pattern week after week, I decided it was finally time to get serious about meal-prepping at home. And now that I have the hang of it, I have to admit, I really love it!
Gone are the days when I scoured the refrigerator in a panic or found myself in a drive-through when all other options were gone. Now I simply go to the grocery store or farmer's market, pick up what I need, and prepare meals for the week ahead, saving me time, energy, and money that can all be better spent elsewhere.
The only issue I've come across since then is food storage. Glass and plastic food containers are big and bulky, standard storage bags tend to leak all over the place, and freezer burn is a very real thing. So I had a vacuum sealer shipped to my house recently and decided to give it a whirl. And boy am I glad that I did!
I tested out the HiCOZY Vacuum Sealer (SJ-2030), and I'm happy to share that it's been a great experience so far. I'm not usually one for fancy kitchen gadgets, but this one is totally worth it.
First, I researched the different features this particular vacuum sealer has and what makes it stand out against its competitors.
What I noticed right away is that the HiCOZY Vacuum Sealer (SJ-2030) is fully featured to meet all of the customer's demands. If you can think of something you need a vacuum sealer to do, this one has you covered. Some of my favorite features so far are its magnetic auto-sealing, customized sealing, integrated bag cutter and storage, and multiple modes.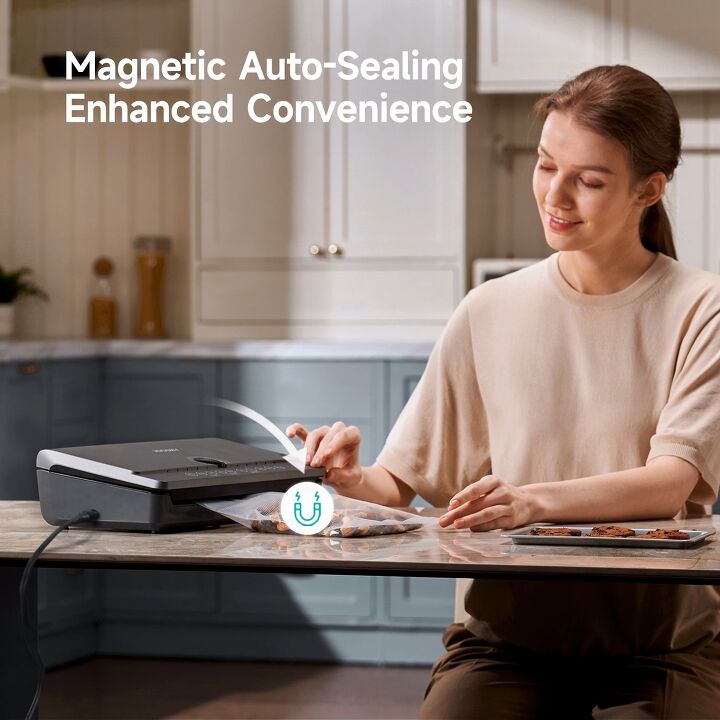 Having a magnetic auto-sealing feature means that you don't have to press down on the lid or push a series of buttons to get a good seal on your bag. All you have to do is line the bag up — with the help of the markers located inside the machine — close the lid, and start the auto-sealing process with the touch of a button.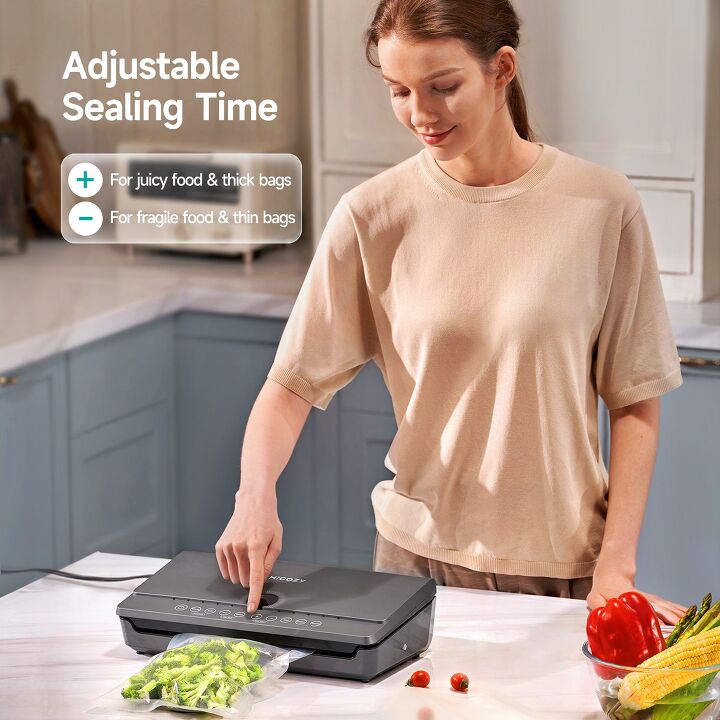 It's also designed with customized sealing features, meaning that you can create an air-tight bag with a variety of different items inside and make adjustments to it as needed. If you find that you want to shorten or lengthen the sealing time, just use the plus or minus signs as needed.
This certainly comes in handy when you use bags of varying thicknesses. Or, you can use the manual setting feature to seal bags according to your preferences.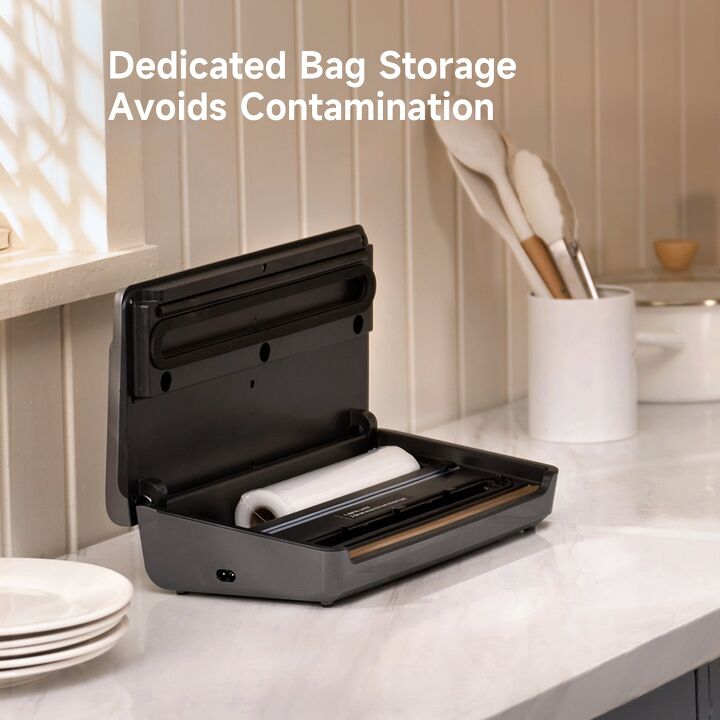 Plus, it has storage for bags built right inside the machine, reducing your risk of cross-contamination and eliminating the need for bag storage in your kitchen.
And, if you prefer using bag rolls over pre-made bags, the HiCOZY Vacuum Sealer (SJ-2030) has an integrated bag cutter that allows you to cut your roll into whatever size you need by simply sliding a lever across the cutter itself.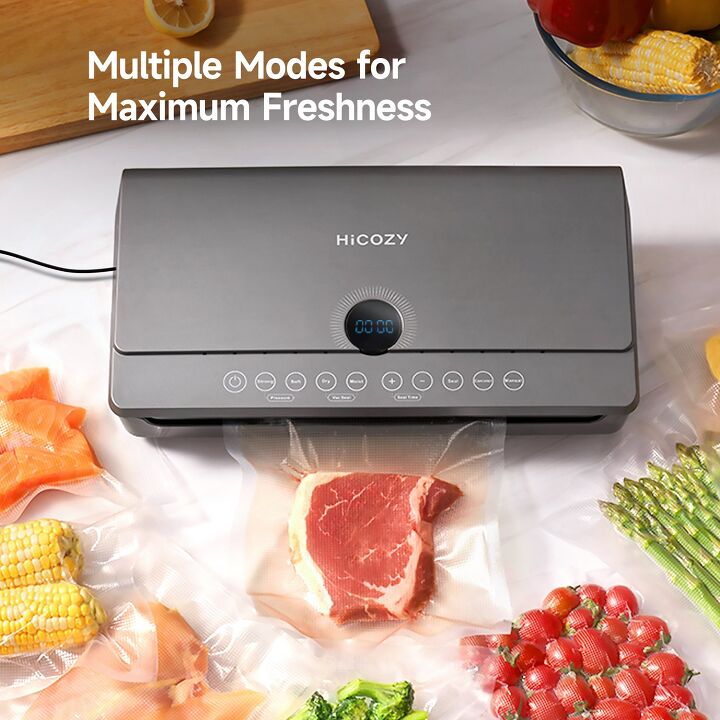 To make the entire process easier for you, the HiCOZY Vacuum Sealer (SJ-2030) also comes with several handy modes. For example, you could vacuum seal marinated pork chops with the moist mode, and coffee beans with the dry mode.
It even features strong and soft suction power to help you preserve different food items without damaging or breaking them and without drying them out.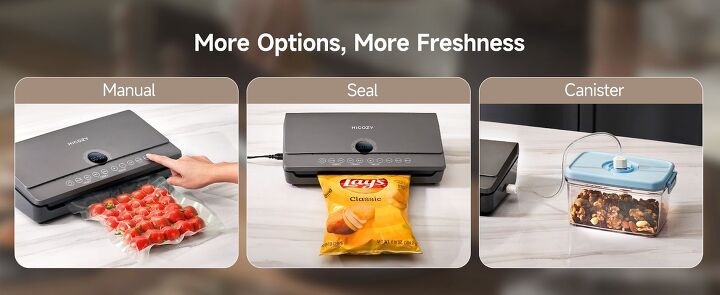 Another cool feature, which I'm really looking forward to trying out next, is the canister mode. By simply plugging in the vacuum hose, you can actually seal airtight jars and mason jars quickly and easily.
Naturally, vacuum-sealing moist foods does tend to get a bit messy no matter which vacuum sealer you use. As the machine sucks the air out of the bag, it also sucks a small amount of the juice out as well, which really can't be helped.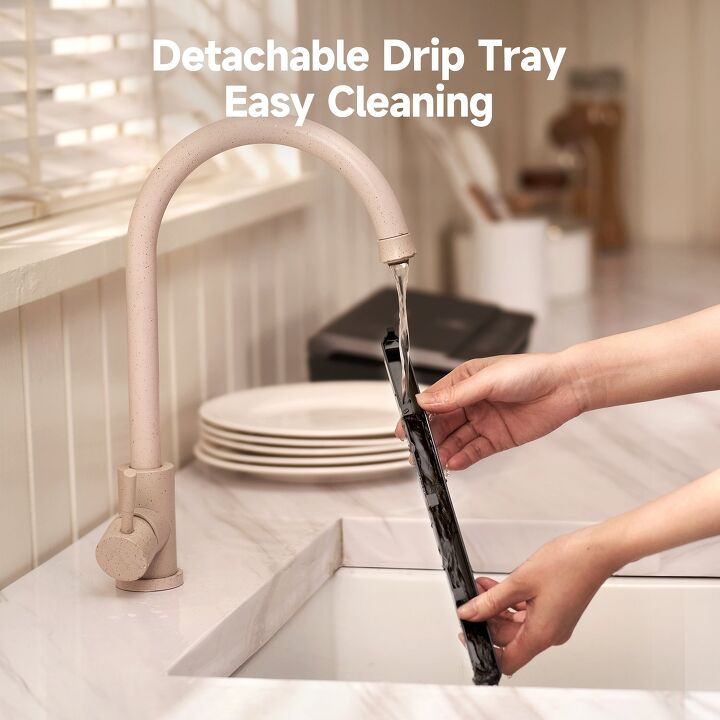 Fortunately, the inventors of the HiCOZY Vacuum Sealer (SJ-2030) thought ahead and installed a vacuum channel with a removable drip tray inside. That way, when a little bit of liquid does drip out of the bag during the sealing process, all you have to do is wipe the bag and machine off and clean the drip tray out. It's as easy as that!
So now that I've found the perfect way to preserve food while I meal prep every week, what exactly am I going to do with it all? Great question!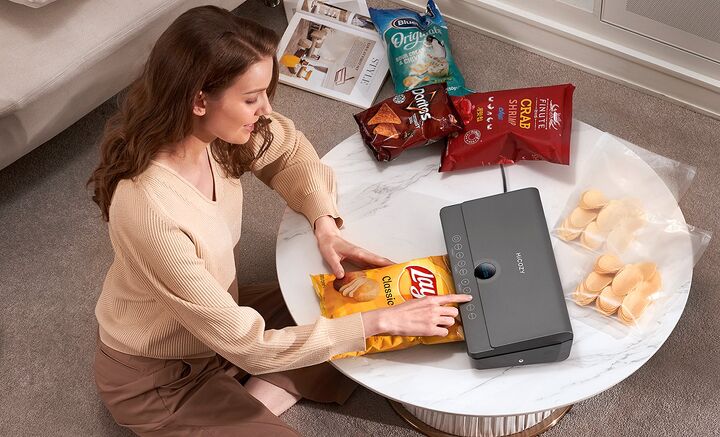 Food stored in vacuum-sealed bags lasts a whole lot longer than food not stored in vacuum-sealed bags. That means I can keep fruits, vegetables, and meats in the refrigerator without them going bad so quickly, stockpile dry goods in the pantry without worrying about rodents or other pests getting into them, and store prepared foods in the freezer longer without the risk of freezer burn.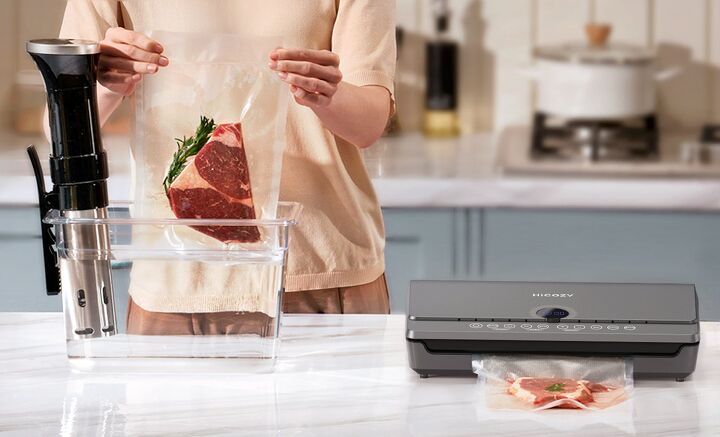 Then, when it's time to eat these items, I just cut the bag and remove the food right away, thaw the food out inside the bag, or use a sous vide to cook the food right in the bag itself.
It's really an easy process, and I can't wait to see what meals I can come up with next thanks to my new HiCOZY Vacuum Sealer (SJ-2030).
HiCOZY Vacuum Sealer (SJ-2030).
Enjoyed the project?
Published July 25th, 2023 3:30 AM
Popular Project Book
Popular DIY Questions