How can I repurpose a Playhouse/treehouse remodel? Answered
How can I repurpose this significantly sized playhouse on stilts for my use and to be more attractive in our yard? I can climb the vertical 7' ladder, but no one else can nor can I easily bring up items. It is 8' high inside, 8' x 6' on side (under roof) and 8' wide x 8' at peak by door. It is about 7'-15' off the ground (slope), by our pool. OR how do I take it down? Quotes are so high!! I love to garden. The inside just has studs, no drywall, but the roof has asphalt shingles. I wish that I could make it look like a Japenese zen tea house (not colonial nor "cute"). Thank you!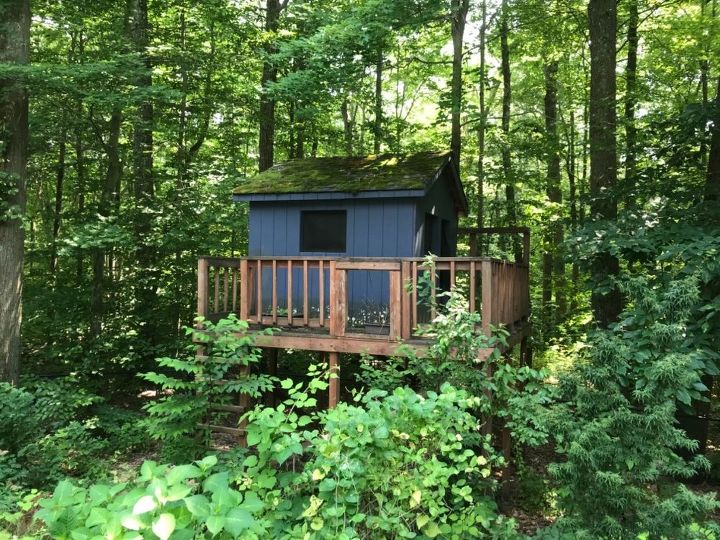 Related Discussions Beth
on Sep 09, 2019
I have my mother's 60 year old maple drop leaf table. It is nothing special as vintage or antique. No one in the family wants this table. I would like to use the wood... See more Sarah p cooper
on Sep 28, 2017 Michelle
on Mar 02, 2019
I don't want to get rid of this piece I would like to repurpose it? Any ideas please. Shortielong70
on Jan 05, 2020
It's one of those consoles, with the speakers on each side and covered with that velveteen! It's got a turntable and that 8 track! There's a shelf in the middle betwe... See more

Kathy
on Jun 12, 2017

Ally
on Feb 07, 2017
i have this old VHS storage shelf and I know I can repurpose it but can't seem to think of anything. Does anyone have any ideas?