What can I do to Update this faux fireplace? Answered
Has anyone ever found a use for an upcycle for a piece like this? I've advertised it for sale in vintage sections, but no bites so far. It's in excellent condition--the picture shows the doors open, but the front is solid mahogany-like finish (very glossy finish) when closed and there are shelves behind the speakers on the bottom-- so sort of sad to just junk it. Would love to hear your creative ideas!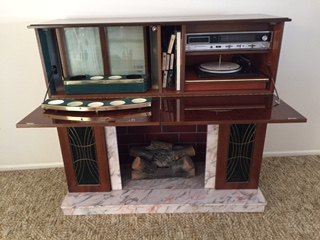 On the left is a swivel "bar". On the right is a turntable and an 8-track player--complete with 8-tracks!
Related Discussions

Rachel
on Sep 21, 2016
I bought a house and there is a really ugly phone that is attached to the hole in the entrance way.

Sandy T
on Dec 31, 2012
It is probably about 6 ft 2 in. high. It has about 4 drawers on the left side and the top left has an opening with a mirror. On the right is a door that opens to a ro... See more Robin
on May 09, 2016
I have a metal cabinet that I would love to redo for outdoor use. I have seen so many beautiful pieces that very talented people have posted. I don't have an artist... See more Delores
on Jan 13, 2019