What can you do with the promotional fabric totes we seem to collect? Answered
You know the ones. They give them away at festivals, grocery stores, schools, everywhere! Is there any use for them? We have collected quite a pile.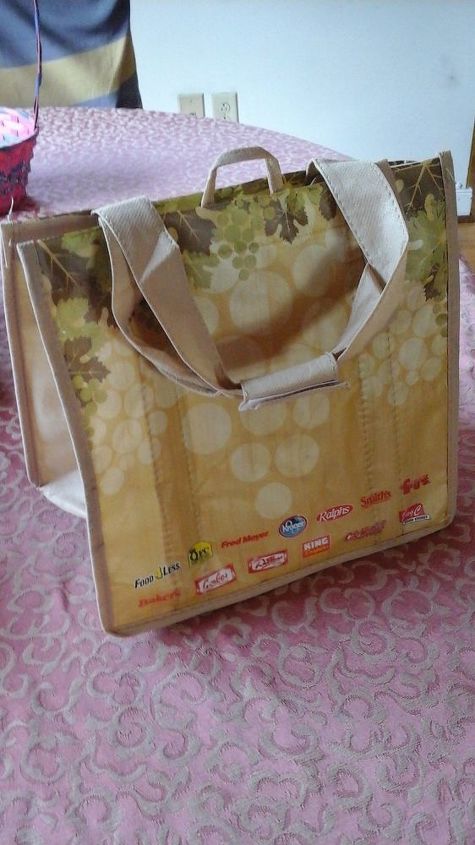 This one has six pockets and was intended as a wine carrier. Ideas?
Related Discussions

Carla Harris Bourg
on Jan 20, 2016
I do volunteer work for the Salvation Army and we get tons of earrings and so many do not have matches. Does anyone have any ideas on crafts that we could do to repur... See more

Jodi
on Mar 09, 2015
I have several that we use for pop cans to be crushed and tools I have hidden in a closet. What other uses can people come up with? I'm winding up with lots of these ... See more

Lynnette
on Jan 04, 2017
I've been hanging on to these huge 2 quart pickle jars FOREVER. They're taking up ALOT of real estate in my kitchen cabinet. Since my creativity has gone kapoot I nee... See more

Shari Veater
on Jun 05, 2014
I found these metal planters by a trash can...my first curb side find! I think they are planters to hang on a porch rail. I can't use them there because I already hav... See more

Christy Sudderth
on Nov 06, 2014
I saw these wood boxes at a local library sale and just couldn't pass them up. Any ideas what I could do with them? They are 3.5 x 20 inches. The metal divider is per... See more
Donna at Funky Junk Interiors
on May 31, 2013
My uncle emailed me the other day, asking if I was interested in taking in Grandma's old washing machine. This thing is BIG. And I don't have much room. Yet I'm dra... See more

Michele Vargo
on Feb 28, 2017
I have my mothers old wedding gown. I can't bring myself to get rid of it because it meant a lot to her. What can I do with it? Is there someone I could take it to... See more