Any ideas on how to repurpose single earrings?



Answered
I do volunteer work for the Salvation Army and we get tons of earrings and so many do not have matches. Does anyone have any ideas on crafts that we could do to repurpose the earrings? I am attaching a photo of a gallon ziplock bag and this is just the gold tone earrings.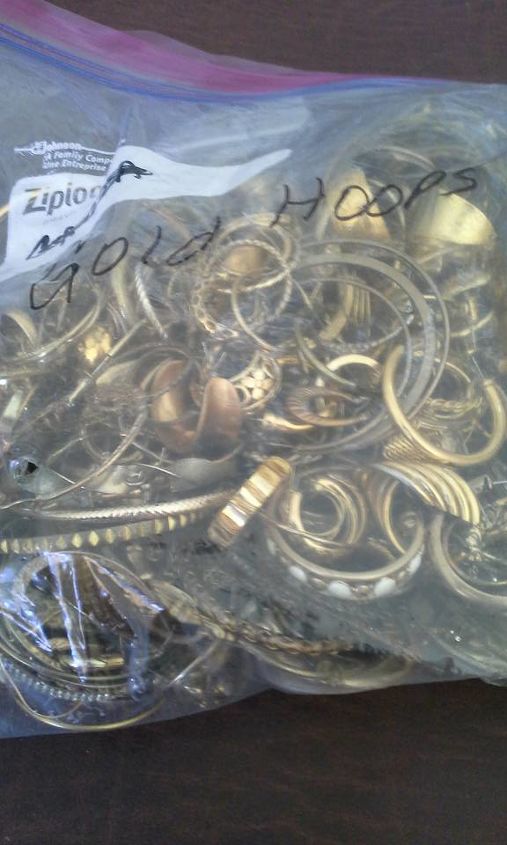 Related Discussions

Carol
on Aug 14, 2014
I see beautiful glass punch cups in yard sales and at thrift stores all the time for as little as a quarter each! I stack them, hang them, turn them every way I can t... See more Joyce
on Jan 14, 2018

Lisa Kliber-Rung
on Jul 04, 2017
My family goes through about 30 large Tim Horton's Ice tea cups each week. I hate all of this plastic and cannot think of a creative way to up-cycle them. Does anyone... See more Pamk
on Feb 16, 2016
My daughter bought her first home last June and we did some DIY renovations that included taking down the builders grade "nipple" light fixtures and replacing them. N... See more
Karen Byrer
on Jan 23, 2018

Brenda Perkins
on Jan 22, 2018
I love cotton candy. It comes in nice, tall plastic containers. What can I do/make to use this containers? They're too nice to throw away or recycle.

Marie guzon
on Jan 11, 2018
These (glass trophy, acrylic and glass plaques, metal plaques on wood and medals) are just stored in a box, ready for disposal. I would appreciate hearing your ideas ... See more