885 Views
6 DIY Halloween Broomstick Ideas to Sweep In Spooky Style
August 27th, 2023 10:12 AM
Step into the world of enchantment this Halloween with our collection of DIY Halloween Broomstick projects. From repurposed lamp creations to foraged branches turned bewitching decor, these projects add a touch of magic to your festivities.
Join us on a journey of creativity as we explore six unique ways to craft captivating broomsticks that will elevate your Halloween decor to a whole new level.
Table of contents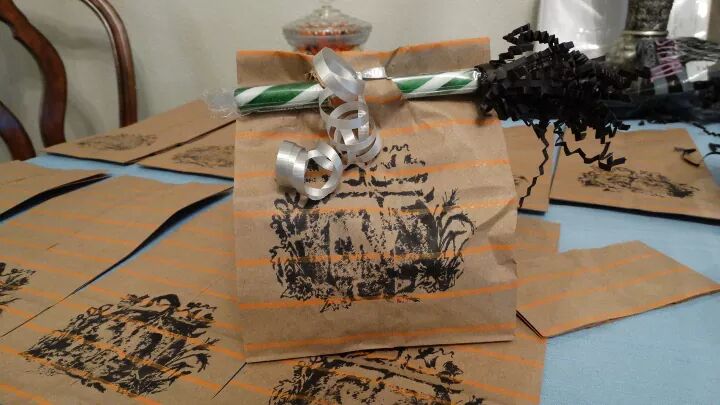 Photo: Vicki Rogers
1. Add Magical Witch Broom Party Favors
Vicki Rogers prepares for an enchanting witches tea party, by crafting these delightful party favors that add a touch of magic to Halloween decor.
Using simple materials like Halloween socks, candy sticks, and orange stripe lunch bags, Vicki ingeniously creates mini witch brooms that are both cute and edible. The step-by-step guide makes it easy for anyone to follow along.
These charming broom favors, adorned with pumpkin-stamped bags and cozy socks, are the perfect addition to your Halloween celebrations.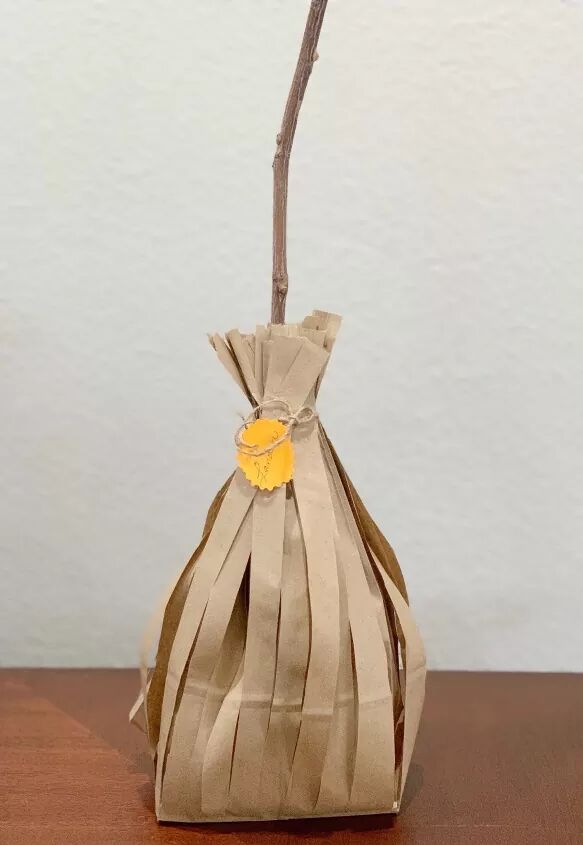 Photo: Irma | mycreativekneads
2. Craft Delightful DIY Halloween Treats
Conjure up these easy-to-make broom-shaped goodie bags by Irma for a fun Halloween treat.
Using simple supplies like brown paper bags, twine, and a twig, you can craft these charming candy holders in no time. Fill them with tasty treats, and watch the magic unfold.
Perfect for a unique Halloween decoration or as a thoughtful treat for your little guests.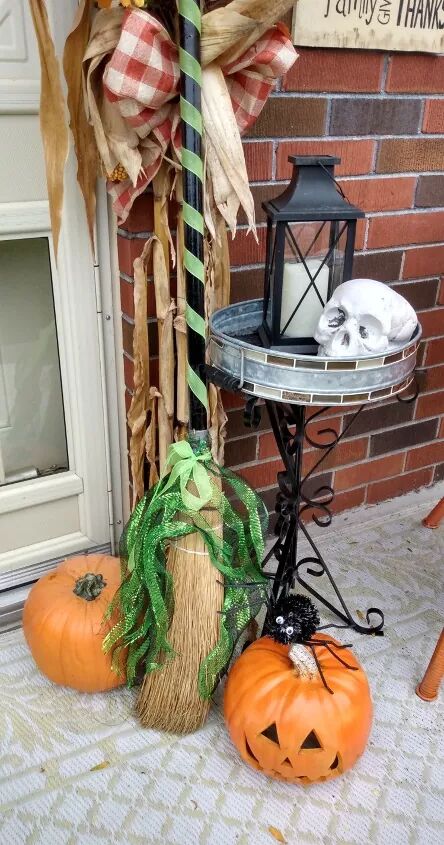 Photo: Melanie
3. Create a Charming DIY Witch's Broom
Inspired by a forgotten treasure from her grandfather's shed, Melanie transforms an old curling broom into an enchanting Halloween decoration.
By painting the handle black, adding Halloween tulle and green ribbon, she crafts a witch's broom that adds a mystical touch to your Halloween decor. This budget-friendly and simple project showcases the beauty of giving new life to old items.
Embrace the spirit of creativity and nostalgia by crafting your own unique Halloween accent that's sure to leave a spellbinding impression!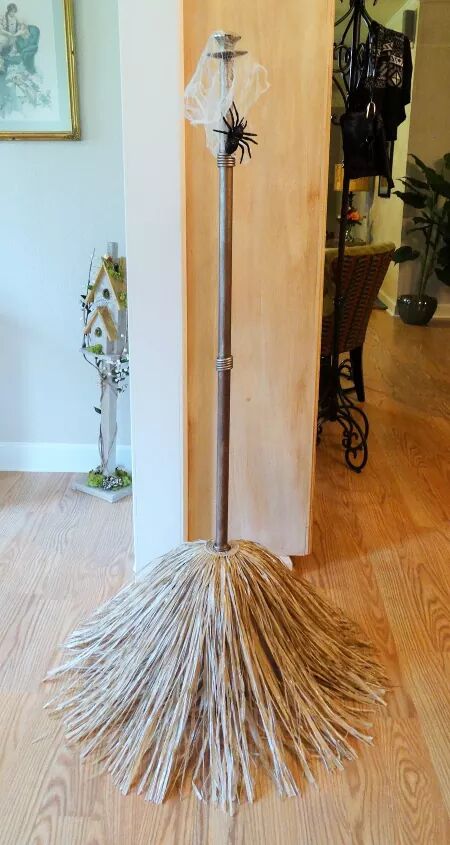 Photo: Vicki Rogers
4. Turn a Broken Lamp Into an Enchanted Broom
By repurposing a broken lamp, child-sized hula skirts, and a doorknob, Vicki Rogers ingeniously creates a spellbinding Halloween broom prop.
With spray paint, raffia, and creative touches, she transforms ordinary items into an extraordinary broom with a touch of enchantment.
Vicki's imaginative project adds a unique and charming flair to your Halloween decor.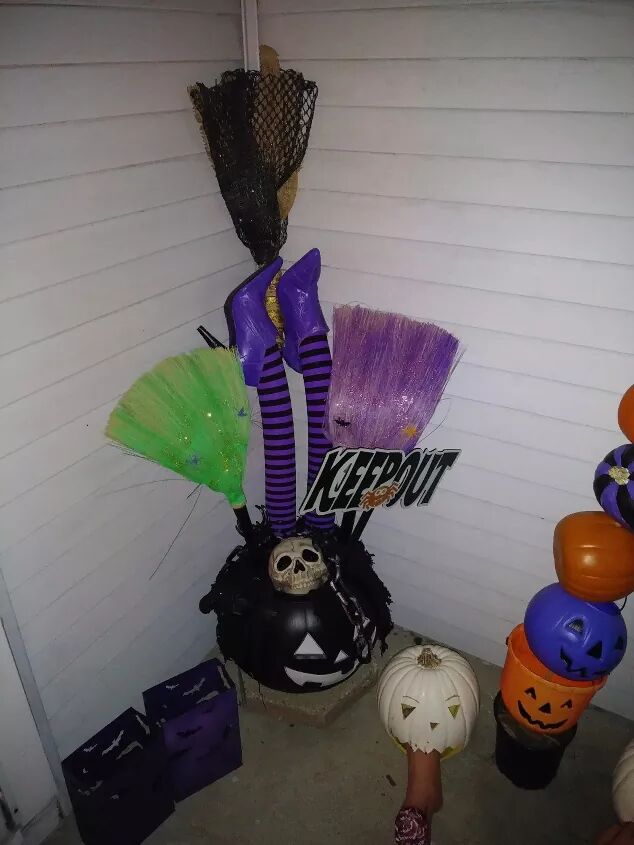 Photo: Missy Burch
5. Charm Thrifted Brooms into Halloween Decor
Starting with thrifted brooms, Missy Burch transforms them into charming display pieces.
With a splash of neon green, black, and purple paint, along with glitter and glow-in-the-dark spray, these brooms come to life. Adding plastic spiders, skulls, and bats creates a spooky effect.
Don't miss out on the chance to add a touch of enchantment to your Halloween setup – it's an easy and creative way to make your display stand out with unique character!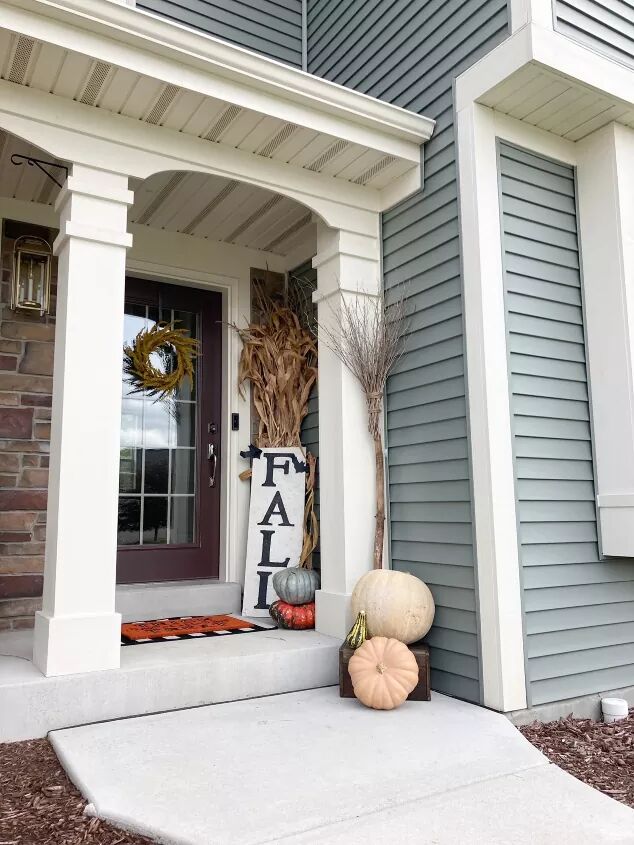 Photo: Paige
6. Transform Twigs and Branches into a Spooky Witch Broom
Elevate your Halloween spirit with Paige's DIY Witch Broom project! Instead of splurging on pricey decorations,
Paige shows us how to create your own enchanting witch broom using materials from your surroundings.
With a branch, twigs, twine, and a little creativity, you can craft a captivating broom to adorn your Halloween display. Paige's step-by-step guide makes it easy for anyone to assemble this charming DIY decor piece that adds a classical touch to your Halloween festivities.
Embrace the fun of crafting and enjoy showcasing your homemade broom for everyone to admire!
More Haunting Halloween Decorating Ideas!
Ready to turn your house into a spine-chilling sanctuary? From sinister mirrors to spellbinding chandeliers, our
How to Turn Your Home Into a Haunted House
guide will help you transform your space into a gothic haven.
DIY Halloween Broomstick Ideas
These DIY projects offer a unique way to infuse enchantment into your home. Whether you're aiming for a whimsical display or a spooky atmosphere, these broomsticks are sure to captivate your imagination and spark your creativity. Have you tried any of these projects? We'd love to hear about your experiences and see your creations. Share your thoughts and ideas in the comments below and let's conjure up some delightful discussions!
Enjoyed the project?
Published August 27th, 2023 8:03 AM
Popular Project Book
Popular DIY Questions