1K Views
6 DIY Christmas Candle Ideas to Add a Cozy Glow to Your Home
November 17th, 2023 10:23 AM
'Tis the season for festive decor and what better way to add warmth to your home than with some DIY Christmas candle ideas?
In this roundup, we've gathered a collection of creative candle projects that range from repurposing old furniture to crafting elegant deer antler candle holders. Whether you're into rustic chic or sleek modern designs, there's something here for every holiday enthusiast.
For even more ideas, see Hometalk's ultimate guide to DIY Christmas decor here.
Christmas candle ideas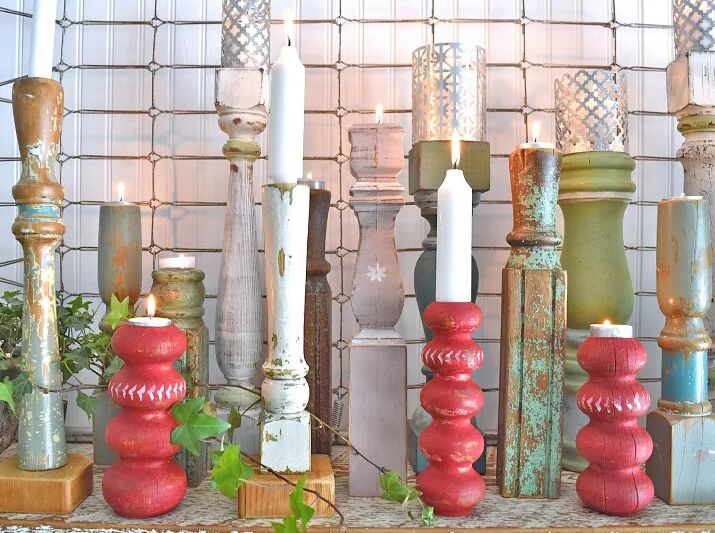 1. Furniture leg candlesticks
This DIY project by Lora Bloomquist repurposes old table and chair legs into stylish candlesticks with DIY sheet metal shades for added flair. Here's a simple guide:
Cut the legs and spindles to your preferred candlestick height, turning them in an interesting direction.
To ensure stability, add a chunky base, like a piece of leftover cedar.
Drill holes in the top ends of the legs for various candle sizes (votive cups, pillars, and tapers).
Create sheet metal shades by cutting decorative stamped sheet metal, bending it around a spray paint can, and fastening it with a pop rivet gun.
Finish the candlesticks with paint or poly, adding character or distressing for a vintage look.
This fun project gives a fresh purpose to old furniture parts, perfect for holiday decorating.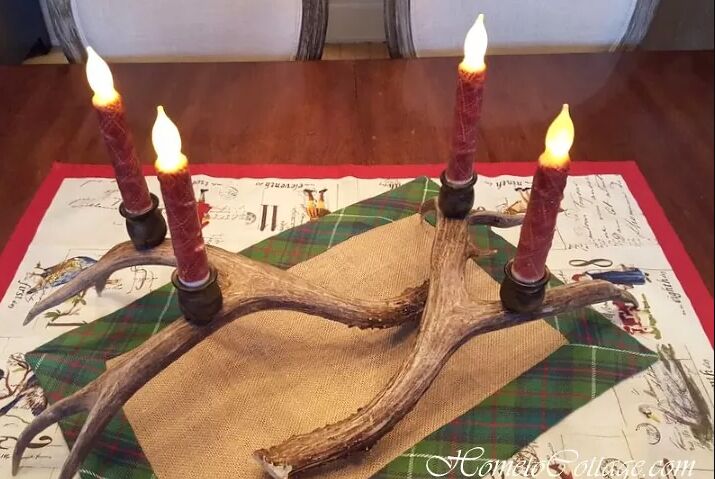 2. Deer antler candle centerpiece
Liz from Simple Decorating Tips shares a DIY project for creating rustic deer antler candle holders. She found loose antlers and transformed them into elegant candle holders.
Liz used a chop saw to cut off the excess bone, soaked the antlers in bleach water for sanitizing, and attached wooden candle cups with hot glue. The finished candle holders are complemented by fabric-wrapped electric candles.
They add a charming touch to her deer-themed winter wonderland decor on the dining room table.
3. Bedpost candle holders
Next up, Cari found discarded bedposts and turned them into festive Christmas candle holders. She trimmed the finials and adjusted their heights. After sanding, priming, and painting, she added new candles. In the end, Cari repurposed two bedposts into four unique candlesticks, creating a charming holiday display.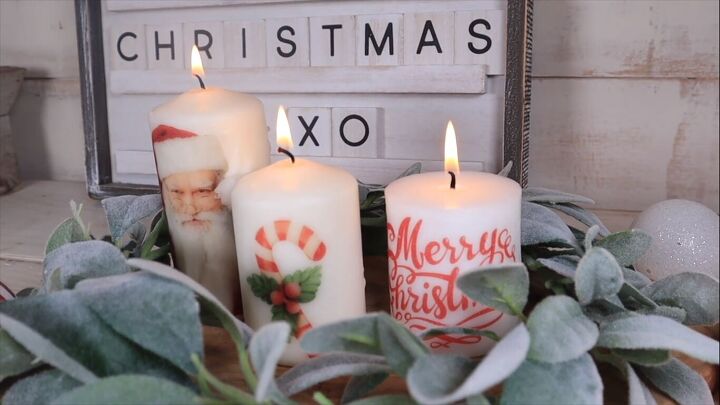 4. Tissue paper transfers
Learn to create stunning DIY Christmas candles using tissue paper and a printer, following this tutorial by Bella Branch DIY.
Start by taping tissue paper onto bond paper and printing your chosen Christmas images. Cut out the tissue paper, then place and heat it onto plain white candles. Use wax paper to transfer the image, or directly apply heat for a beautiful effect.
Peel off the paper to reveal your transformed candles. Experiment with various images, making this project perfect for gifts or holiday tables.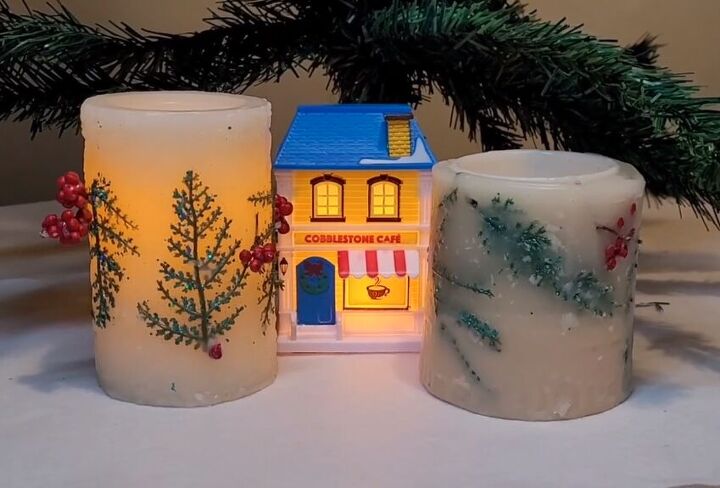 5. Decorated battery-operated candles
Learn how to turn battery-operated candles into holiday decorations with this DIY project by Theartge. There are two methods demonstrated: one for candles with a wax surface and another for plastic battery-operated candles.
For the first method, prep the candles, add ferns and berries, and enhance their appearance. The second method involves taping the bottom, placing the candle in a container, melting an old candle, and pouring the wax. After letting them set for 24 hours, clean up any excess wax and enjoy your beautifully decorated candles.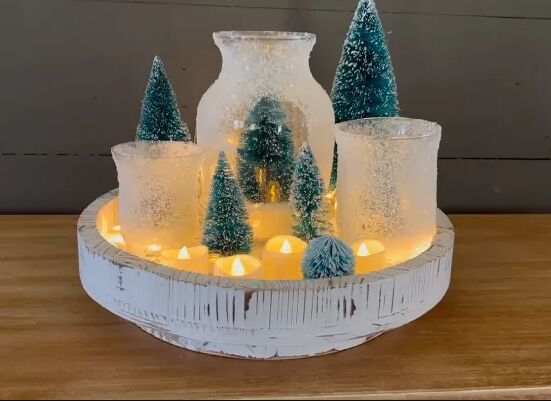 6. Frosted glass Christmas luminaries
Charity shows us how to create stunning DIY frosted glass Christmas luminaries using glass vases or jars, Epsom salt, glitter, Mod Podge, faux mini Christmas trees, battery-operated tea light candles, and string lights.
Mix Epsom salt and glitter for a snowy effect, apply Mod Podge to the glass, sprinkle the snow mixture, and add decorations. Illuminate them with tea lights and string lights for a cozy winter ambiance.
DIY Christmas potpourri
If you're looking for more of a Christmas scent than cozy candlelight, then check out this DIY Christmas potpourri recipe by Courtney |The Kitchen Garten.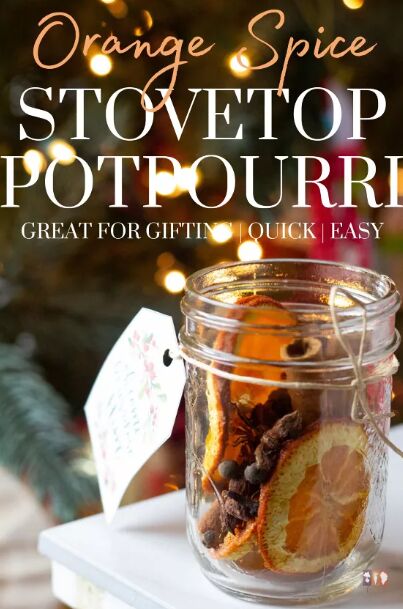 This DIY project shares how to create delightful stovetop potpourri using dried oranges, cinnamon, cloves, and other spices. It's a thoughtful gift idea for the holiday season, offering a natural and cost-effective alternative to artificial fragrances. When simmered on the stovetop, this potpourri releases aromatic scents, creating a cozy atmosphere in any home.
Christmas candle ideas
This holiday season, let your home glow with the warm, welcoming light of your handmade candles. Which of these projects would you try out? Let us know in the comments below.
Enjoyed the project?
Published October 4th, 2023 8:25 AM
Popular Project Book
Popular DIY Questions