Any ideas on how I could use leftover lattice? Inside decorating?



Answered
I have leftover lattice and would like to use it for some sort of indoor decorating project. Any ideas on a good use for it? It looks like this, just plain unfinished lattice although I'm not sure that my pieces are this large.
See more of my projects (painted couch, pallet shelf, desk redo, etc.) at
http://www.thewilsonfarm.blogspot.com/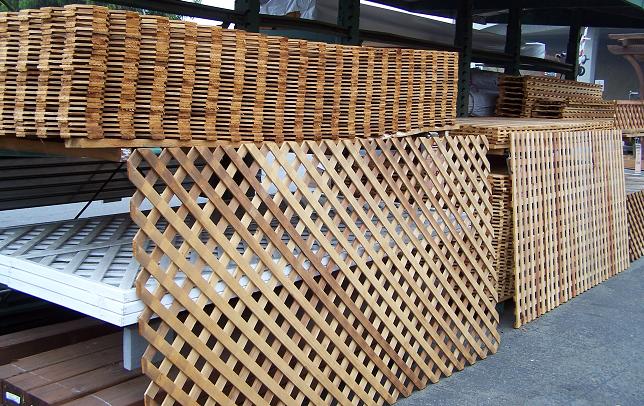 Related Discussions

To Work With My Hands
Answered 4 days ago
Occasionally I've had the problem of photos sticking to the glass inside frames. First, I'm not sure what's even causing it. I don't use any moisture when dusting the... See more

Kristy Williams Tillman
Answered on Dec 05, 2022
I have a hidden door though it doesn't look so hidden at the moment and I like the appeal of a hidden door. We do need to use the door, but not often. This is in a b... See more

Diamondvalleygirl
Answered on Dec 05, 2022
We live in a mobile and have an add-on room where a covered patio used to be. Now it's part of our living space and we would like to cover or camouflage the exposed a... See more Linda Valentine
Answered on Feb 19, 2023
First one fell off in the bathroom - okay, maybe moisture. In the kitchen - fridge, inside cabinets and on tile walls. All fall off. Everyone else seems to love t... See more

Nilsa Cintron
Answered on Jul 01, 2023
Entry way update. I bought a co-op and started renovating but am stumped as what to do with the entryway. The circuit breaker box is smack in the middle how the heck ... See more Mary
Answered on Apr 03, 2023
I received my canvas and now I think it is too small for the space. It is 35 x 23. The wall is about 95" and the table is 48" I temporarily propped it on the chair so... See more

Hillela G.
Answered 4 days ago
I LOVE these little life savers. I'm a renter so I always have to find that balance between making my space mine and making my landlady angry.That's why I'm crazy abo... See more