How To Makeover A Huge FirePlace? Answered
I have just purchase a house that was all decorated in a Tuscon style which was not to our liking. We were able to update things by lightening wall colors, removing dark heavy drapes etc. There is one very large fire place in a small "sitting room" that screams Tuscon and we would like to have it "remade", if that is possible to not look Tuscon. As little cost as possible would be my prayer as we are on a limited house improvement budget. We are in Arizona. The style we are looking for is casual with a touch of Southwest design. I have included a picture of existing fireplace and one that shows the type of look we would like. Just not sure if this is possible to do as a DIY project rather than an expensive professional job which is not possible at this juncture. Any suggestions would be greatly appreciated!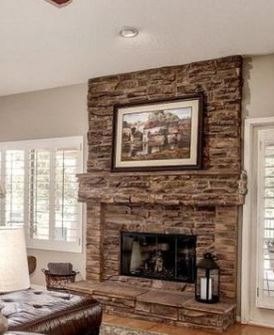 Typical stone used in our area.