Has anyone ever added open shelving ABOVE existing kitchen cabinets? Answered
Hello, all. Just curious if any has ever added open shelving above existing kitchen cabinets. We have a vaulted ceiling, and when our house was built, running cabinets up as far as you could was neither the fashion or in the budget. But now, every time I look at the area, I think: "wasted space." So, how about? Any ideas on if this can be done, and if so, how? Thanks in advance.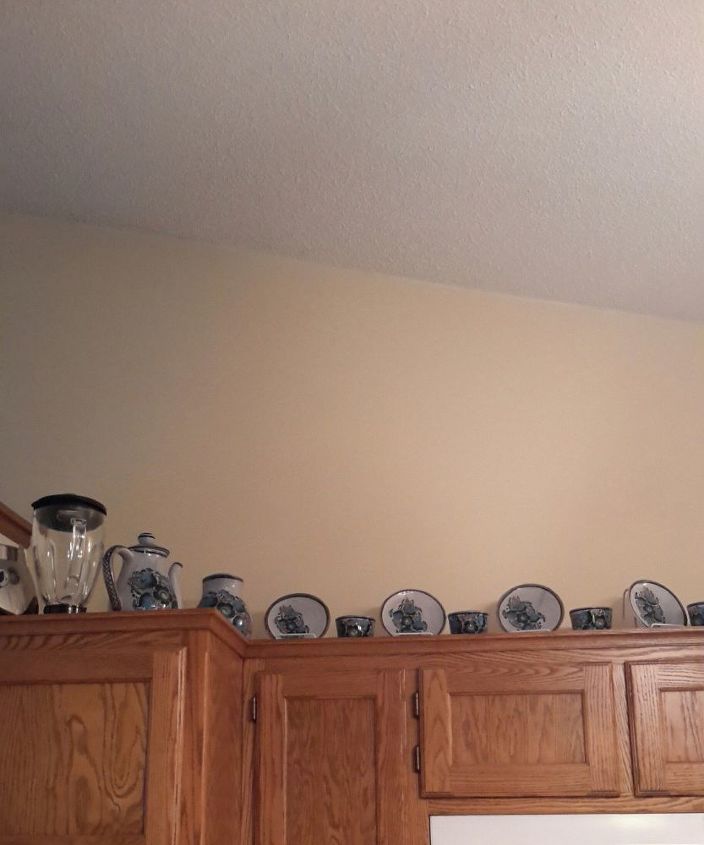 Example of what I am talking about.
Related Discussions Smi19247767
on Jun 21, 2018 Dede
on Jan 26, 2018
Can someone tell me how to fold a fitted sheet so that it fits nicely in my linen closet?

Serena R Morris
on Dec 30, 2016
I have an old house with old cabinets. The cabinet that holds my pots and pans is a disaster! It goes all the way to the back wall, so everything always falls back th... See more

Julie Moyna
on Jan 21, 2016
I have over 100 antique and vintage cookie cutters in various sizes and shapes. Some copper, some galvanized and some red plastic. They are kept in two of my apotheca... See more Sharon
on Dec 29, 2016
Does anyone have a means of storing Tupperware lids? I currently have the standing up against the cabinet wall and the back wall. Other non-essential dishes hold up t... See more

Sarit N.
on Jan 23, 2017
Hey Hometalkers! I need some advice. In my rental apartment I have a space between the cabinets. It's about 11 inches wide and 3 feet tall. Right now there are hooks ... See more

Gail
on Dec 31, 2015
Is that a fridge? I have a tiny pantry under my stairs with an opening about 6' high which graduates down to 2' and a depth of' 6' . A wire shelf on the left follows ... See more