Odd shaped small pantry organization ideas. Answered
My house has some angled walls and my very small pantry is on one of these walls.
It has 5 of those awful wired shelves and about 2 .5 feet of wasted wall space perpendicular to the shelves on one side and about 4 inches next to the shelves because of the angled wall.
I'm looking for cheap easy ways to maximize this space and wondering what would be the most practical thing I could use to lay over the wired shelves so everything doesn't tip over.
I'm not able to take photos of it to show you right now so I'm using my mad drawing skills to give you an idea of what I'm working with. Clearly it's not to scale. :)
The open end of the drawing is where the by-fold door is. Which of course, blocks the small portion of the blank wall.
Ideas anyone?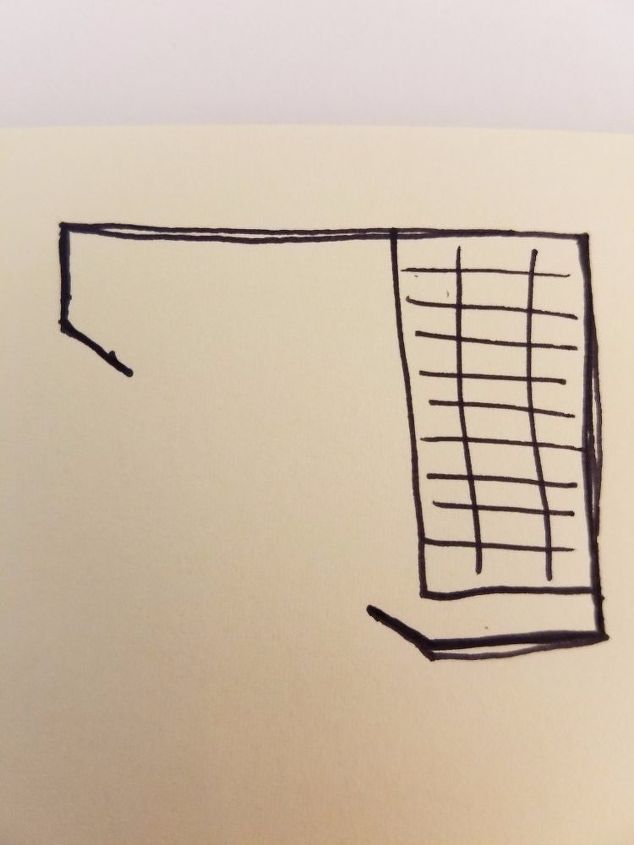 No laughing at my pathetic art skills
Related Discussions Smi19247767
on Jun 21, 2018 Dede
on Jan 26, 2018
Can someone tell me how to fold a fitted sheet so that it fits nicely in my linen closet?

Julie Moyna
on Jan 21, 2016
I have over 100 antique and vintage cookie cutters in various sizes and shapes. Some copper, some galvanized and some red plastic. They are kept in two of my apotheca... See more Sharon
on Dec 29, 2016
Does anyone have a means of storing Tupperware lids? I currently have the standing up against the cabinet wall and the back wall. Other non-essential dishes hold up t... See more

Alice
on Jan 19, 2016
I am tired of trying to get items out of this peninsula cabinet. I can't reach or see what's back in there. I would love to do something on the opposite side so that ... See more

White Oak Studio Designs
on Feb 16, 2014
My kitchen was remodeled by the formerowners and we just added an above the fridge cupboard for extra storage. (We are retired and willnot be able to totally redo thi... See more Kathleen k parker
on Jan 22, 2017
Live in an apartment where space is limited. Have a lot of bottles of vitamins and supplements, and they are all over the counter, overflowing from a container that u... See more