How do I calculate how much fabric I need for patio cushions? Answered
How do I calculate home much fabric I need for patio cushions? I want to reupholster my patio cushions. There are 4 total chairs each needs 2 cushions (back and bottom) Here are the measurements for each set- (4 Chairs)Part ~Pieces~Sizes (W X L X H)Chair seat~ 4 total~ 24"W X 26" LX 5"HChair back~4 total~ 24"W X 20 1/2"L X 4"HYou will see in the photo there is a button in the middle of each- I don't want to add it- I also plan on reusing the foam that is currently there. Any suggestions as to if this is a bad idea?The fabric I would like to use is:Content: 100% PolyesterWidth: 60" wideI look forward to hearing back from you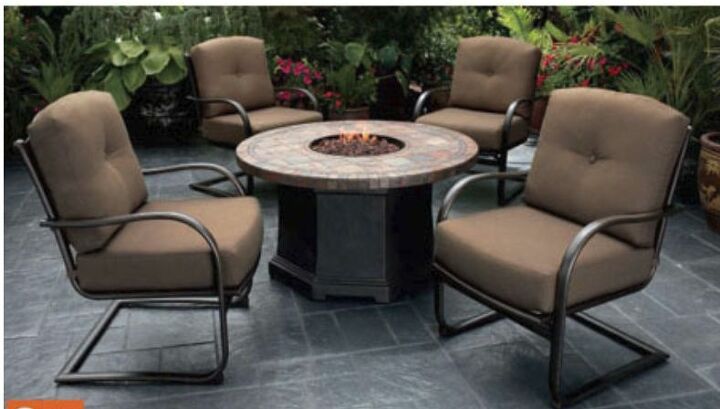 Related Discussions RBL1167984
on Jan 23, 2015
Breaking out slab and putting in new slab 12' x 22'. total cost of slab and patio roof is $7,000. Stephanie
on Apr 08, 2017
Hi everyone! I'm planning on making a 12" ribbon wreath with a metal frame. I'm wondering how many yards of 1.5" ribbon I will need. I'm planning to simply tie the pi... See more

Sheila Bush Carver
on Feb 29, 2020

Anne Zellner Pettijohn
on May 30, 2018
We live in N. Texas, the "concrete capital of the world" And we are building our house on raw land. I've tackled all of the weeds, brought in topsoil and we are... See more

Columbia GB
on Apr 17, 2019
I need to cut a privacy screen for a chain link fence similar to the photo. It's much too long. Has anyone ever done this? How did you finish the edge? Sew it? Glue i... See more EVERSOBLESSED65
on Mar 07, 2020
I have a small patio and think about painting my fence on the inside so I can put some colorful decor up. Is this a good idea?

D
on Sep 09, 2018
When the house was built, the stoop was poured for entering the front door. We are not going to replace it, just want make it more decorative. I thought of painting i... See more