Review: Hot Glue Gun VS E6000!! What Do You Prefer to Use? Answered
I love using glue guns and E6000 for my projects...so I set out to determine which should become my go to/ Here's what I found out:
Hot Glue Gun:
pros: quick drying, easy to manipulate and direct where the glue goes(you can write and make designs with it), works great on uneven surfaces
cons: very stringy, can burn fingers, dries too fast sometimes, not heat-resistant, has trouble adhering to surfaces that are too smooth
E6000:
pros: dries quick but not immediately (leaves time for alteration and placement), strong, heat-resistant,
cons: can dry a bit stringy (though not nearly as much as glue gun), dribbles out of tube-once squeezed, its hard not to waste some, takes a full 24 hours to set completely- if nudged before that in danger of disrupting the adhesive
Conclusion:
I'm not ready to
holster
my glue gun for good because it definitely is more versatile in its craft'ablity then
E6000
but when it comes down to my adhesive-needs, I'm going to
stick
with
E6000
( pun intended

) for now. Its stronger and more reliable in overall performance than hot glue.
Do you agree with my conclusions? Do you have a different adhesive that you prefer? I'd love to hear!!!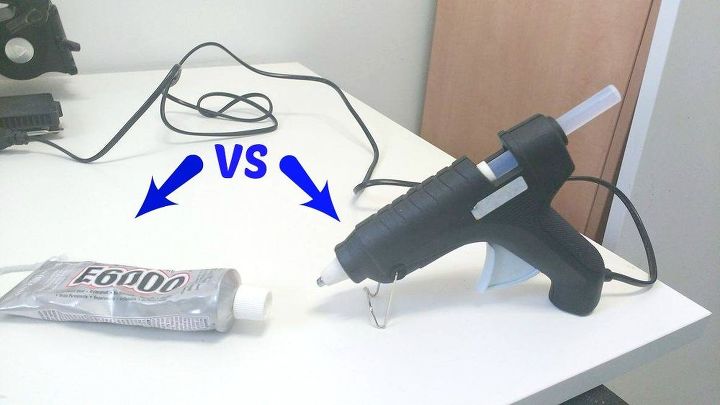 Hillela G.
Answered on Apr 13, 2023
I LOVE these little life savers. I'm a renter so I always have to find that balance between making my space mine and making my landlady angry.That's why I'm crazy abo... See more

Hibiscus House
Answered on Aug 10, 2023
My question as I watched these grandparents was always, "Why are you sweeping your yards, and why is there no grass around your house?" We have grass around ours.

Hillela G.
Answered on Mar 30, 2017
I looove using dryer to sheets to make my cloths smell great, and I know that they have a bunch of other surprising, helpful uses as well. What are some unexpected wa... See more

Lou
Answered on Aug 10, 2023
A TV stand is not available in the style of our end tables. It has been recommended to us that we look for a TV stand that is in contrast to the two tables (photos p... See more

Hillela G.
Answered on Aug 16, 2023
I'm getting a drill for as a birthday present I'm really excited, but I'm also concerned. I have a bit of a fear of power tools.What are your best safety tips for han... See more

Hillela G.
Answered on Jan 01, 2018
We challenge you to share your favorite Cleaning Tips with the Hometalk Community for the chance to win a a fun prize!!(Start a discussion with your entry- http://www... See more

Hillela G.
Answered on Feb 07, 2017
I love chalkboard everything! Who doesn't? Chalkboard is trending right now because its fun, vintage, and really handy when it comes to organizing and labeling.So I d... See more