How to repair leaking chimney made of porous stone? Answered
We had a roofer come to inspect a roof leak on a house we are buying. Here is what he said:
I went into the attic after seeing the stain on the ceiling on the 3rd floor. I found the spot on the attic floor above. I don't think this is a flashing issue. I believe the rocks used on the chimneys are porous. I examined the bricks on the chimneys. There's excessive efflorescence on the upper courses of brick. This indicates water is consistently getting into the masonry and leaching out chlorides. The brick was measured with a moisture meter to be actively wet. I believe the drywall ceiling showed the leak because the water is dripping off the bricks as they are tiered outwards rather than straight down. It also appears that the bricks were replaced at one point at the tops of the chimneys (beneath the roofline) indicating a long term problem.
You can see from the ground that the stones used from the chimney are quite attractive but also unusual. With binoculars you can see that some of them look to be somewhat 'hollow' in a way. Once I was on the roof, I verified this. The rocks look very porous. I took some pics that i'll send over. I've never seen a chimney built with these types of rocks. They look like what I'd call lava rocks, but I'm neither a mason or geologist. So what I believe to be happening is the rock is weeping water that completely bypasses the flashing and soaks the brick foundation in the attic.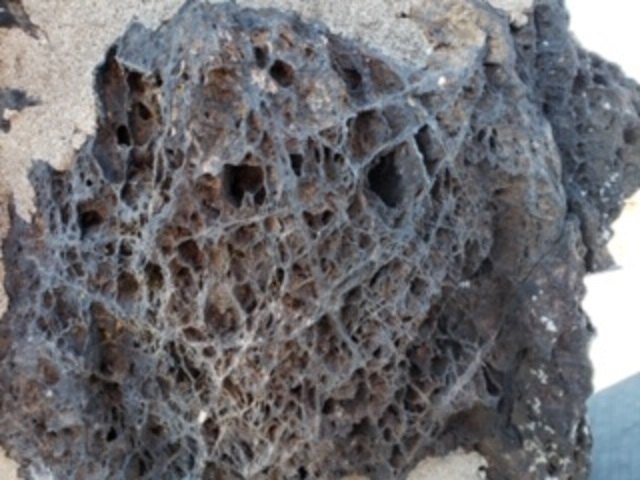 Close up of chimney exterior