How can I update this awful window? Answered
We have this hideous window in our dining room (exterior anterior wall) and have been racking our brains with what to do with it. It's a double pain window and the graphics are on the inside of the interior pane. Also, it appears as though the pains are connected together with a strip of metal around the perimeter. We don't mind the shape, but the graphics 😱. Removing it isn't an option right now because it's wintertime in northern Michigan. We've talked about white wooden shutters installed inside and/ or attempting to frost over from the inside. Any thoughts?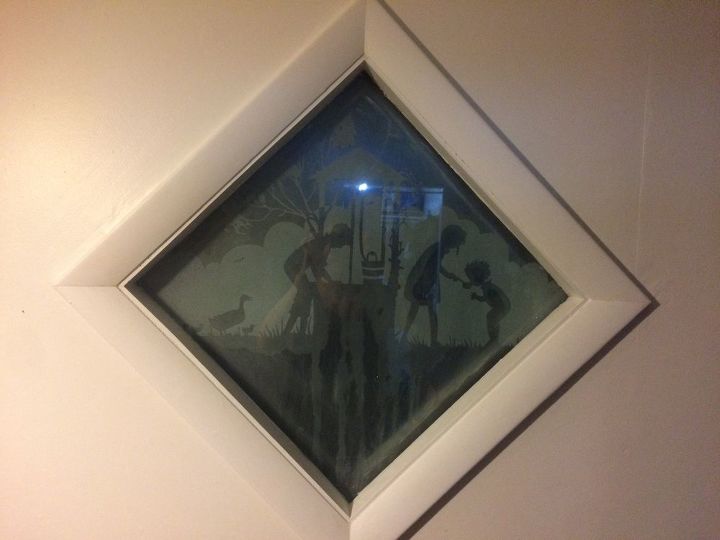 Related Discussions
Kim Nyitrai
on Nov 12, 2019
How can I refurbish cellular shades using fabric? Georgia
on Feb 14, 2020 Tasha
on Aug 22, 2019
I have a bay window that my children LOVE to sit in. The window is wood and the wood trim is not a "pretty" color. I have been updating the trim in our home, but pain... See more

Michaela Casey
on Aug 06, 2018
Hello everyone I have these ugly brownish side glass windows next to my entrance door. I want to make them look nice without investing a lot of money They are wavy ..... See more Melanie
on Aug 13, 2016
Have a home with a window in the shower. What's the easiest way to repair the wood around the window? The sill was tiled but it's coming off. I don't have AC so clo... See more Pam
on Nov 19, 2019
We just bought a house with lightweight hollow core closet doors - the kind that slide across or behind the other when you open one side. Any ideas? Carol
on Jun 17, 2017
This back door is in an old mobile home that is now between the home and the lanai. Can't replace door as it is custom size.