971 Views
9 DIY Halloween Bats to Spook Up Your Home Decor
August 19th, 2023 5:05 AM
Get ready to add a touch of spookiness to your fall festivities with these creative and budget-friendly DIY Halloween bats. Whether you're looking to adorn your front door, create charming ornaments, or craft playful bat-themed accents, these Halloween bat decor ideas have got you covered.
Let's dive into the world of Halloween bat decorations and DIY crafts, and transform your home into a blood-sucking Halloween cavern!
DIY Halloween bats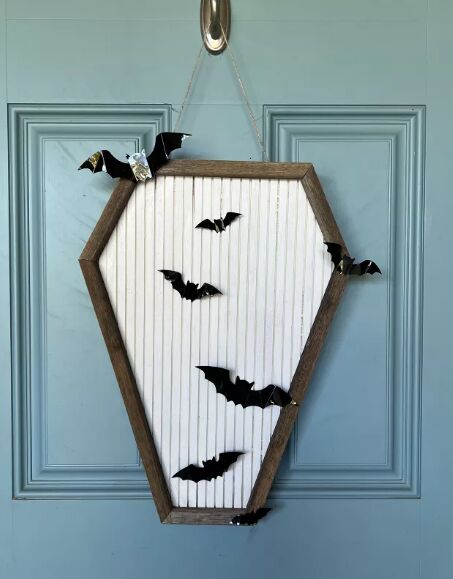 1. DIY coffins hanger with bats
First up, Erinn from apersoncould shows us how to create DIY coffin decorations with bats, designed to seamlessly complement any existing Halloween decor. Crafted from plywood, these coffins can be sized to your preference.
Begin by adding fluted details to the backing using a saw blade, followed by sanding and finishing with staining or painting. Cut out the coffin shape using a miter saw and assemble the frame using precise mitered cuts. Paint or stain the frame, then attach it to the backing with wood glue and occasional brad nails.
Complete the look by attaching DIY bats and twine for a door hanger option. Your Halloween ambiance is about to get a stylish upgrade!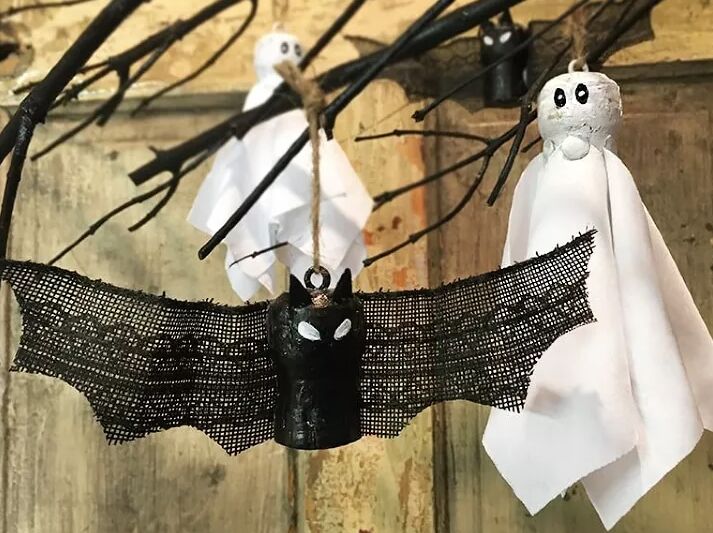 2. DIY bat & ghost ornaments
Next, Drawn Stewart from Craftidly shares how to craft Halloween bat and ghost ornaments using champagne corks and Dollar Tree supplies. Crafted with ease, these ornaments are perfect for adults and teens alike.
For the bat ornament, cut bat wings from burlap ribbon, spray-paint them black, then attach to a painted cork with a screw eye. Add eyes and ears using paint and black felt. For the ghost ornament, paint a cork white, attach fabric squares with thumbtacks, and paint on eyes.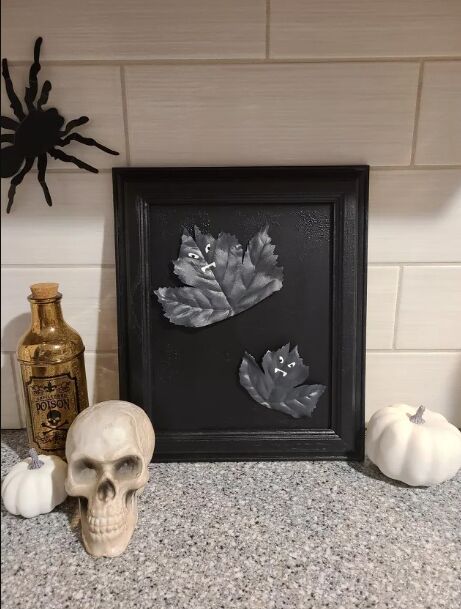 3. DIY leaf bats
Embrace the Halloween spirit without breaking the bank with this DIY leaf bat project. Transform an old frame into charming Halloween decor using matte black spray paint. Paint fake leaves in a dark gray shade resembling bats, then cut and shape them to create bat ears.
Paint on white eyes, mouths, and fangs, as well as black pupils, using small brushes and toothpicks. Attach the bats to the frame for a delightful and budget-friendly addition to your October decorations. Enjoy crafting these vampire bat accents to add a spooky touch to your home!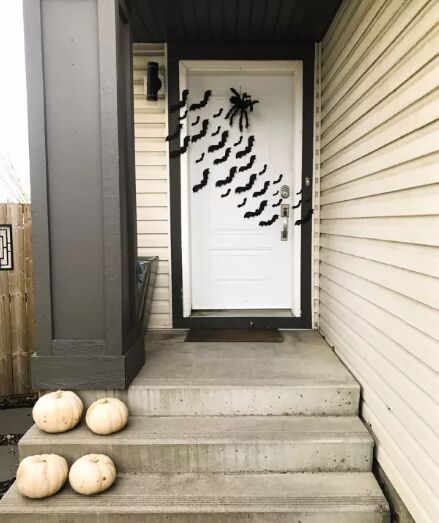 4. DIY front door bats
These DIY front door bats by Minh @ In Pursuit of Chic are such a quick and easy decor idea. Start by adding black paper bats to your surroundings for instant Halloween spirit. With a cutting machine, craft black cardstock bats for a cost-efficient and trendy touch.
Simply fold and curl the bat wings for dimension, then use tacky putty to attach them to surfaces. If you lack a cutting machine, consider the time and effort required for hand-cutting. Elevate your Halloween ambiance with these simple yet effective decorations, perfect for busy holiday enthusiasts.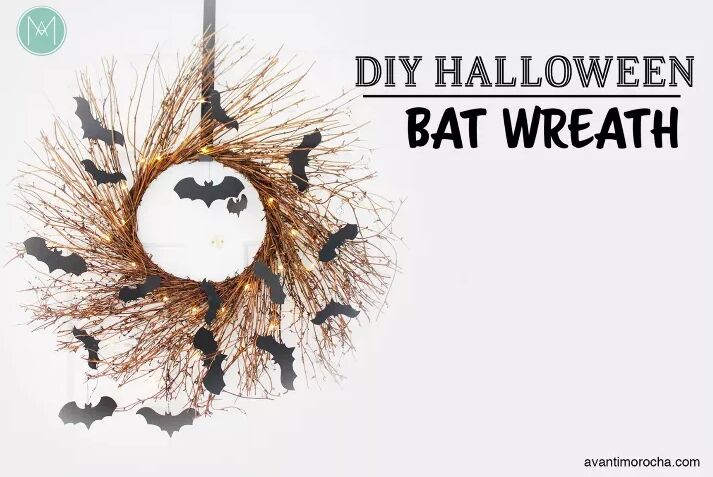 5. DIY bat wreath
Get ready for Halloween by creating a spooky yet not-so-scary DIY bat wreath for your front door. Inspired by a Pottery Barn design, this DIY wreath by AvantiMorocha features bats made from durable poly-portfolios. You can cut the bats using a cutting machine or scissors, and arrange them on the wreath as desired.
Attach the bats with thread and glue, and optionally add fairy lights for an extra touch. Follow the step-by-step guide on the blog or watch the video tutorial to recreate this charming Halloween decoration.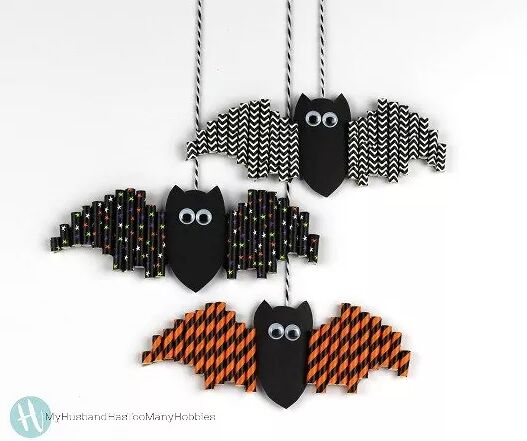 6. Paper straw bats
Get crafty this Halloween by making adorable paper straw bats with the kids. Following the instructions by My Husband Has Too Many Hobbies, grab Halloween-themed paper straws from Dollar Tree and cut out bat shapes from corrugated cardboard using a template. Glue black cardstock bat bodies onto the cardboard and cover with cut straws, attaching them with glue.
Add wiggly eyes and optionally paint a smile with fangs. These quick and fun bats can be personalized and hung up for spooky decorations. Consider trying this technique for other shapes like pumpkins or insects too. Get creative and have a blast crafting!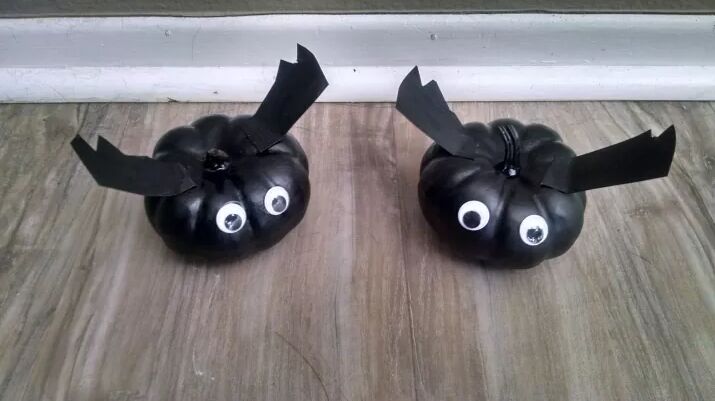 7. DIY bat pumpkins
Elevate your Halloween decor with this quick and inexpensive DIY bat pumpkin craft project. Paint the pumpkins black, cut out bat wings from poster board, and attach eyes and wings to the pumpkins. You can use either stick-on googly eyes or paint the eyes.
These charming pumpkin bats can be displayed alongside other fall decor items or nestled in fake cobwebs on a mantle for a festive touch. The project is budget-friendly and can be completed in about an hour, making it a fun and easy addition to your seasonal home decor.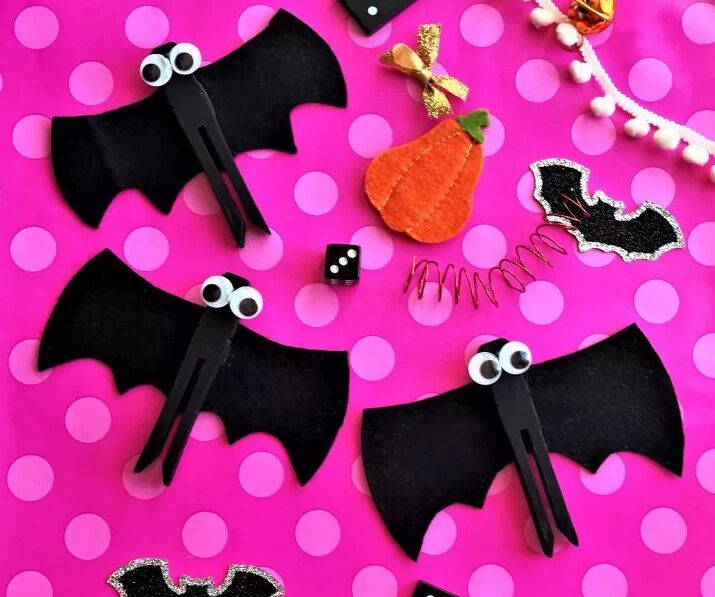 8. Clothespin bat magnets
Holly Lengner - Lost Mom show us how to create adorable and easy clothespin bat magnets for Halloween decor and gifting. Paint clothespins black, attach felt bat wings and googly eyes, then glue magnets to the back. These charming bat magnets are perfect for holding up Halloween decorations and make great gifts for friends, family, or classmates.
They can also be used as Halloween classroom crafts or given out on Halloween as a candy alternative. This simple and fun craft adds a festive touch to your home and can be personalized with various creative ideas.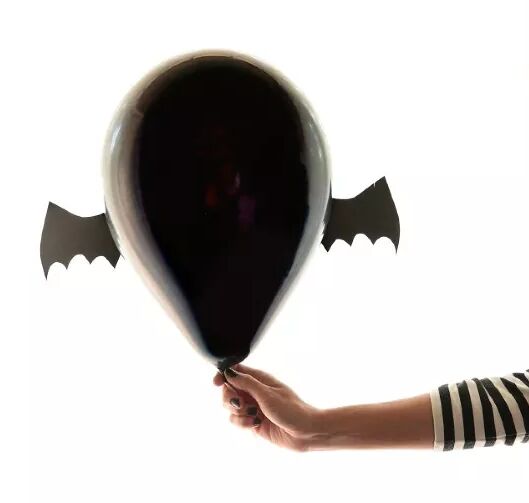 9. Halloween bat balloons
You can easily create adorable bat-themed balloons for Halloween using black balloons, cardstock, and tape - as demonstrated by Haeley Giambalvo from Design Improvised. Cut out bat wings from cardstock, attach them to the balloon with double-sided tape, and create a charming bat effect.
These balloons are great for Halloween parties, whether helium-filled or air-filled with balloon sticks. Explore more DIY Halloween balloon ideas, such as spiders and mummies, to add creative and festive decorations to your celebrations.
More Haunting Halloween Decorating Ideas!
Ready to turn your house into a spine-chilling sanctuary? From sinister mirrors to spellbinding chandeliers, our
How to Turn Your Home Into a Haunted House
guide will help you transform your space into a gothic haven.
DIY Halloween bat decorations
Which of these DIY bat decorations was your favorite? Get ready to impress your guests, elevate your decor, and enjoy the enchanting spirit of Halloween. Happy crafting and have a spooktacular holiday season!
Enjoyed the project?
Published August 18th, 2023 10:22 AM
Popular Project Book
Popular DIY Questions