693 Views
Setting the Halloween Stage: 3 DIY Tablescapes to Inspire Your Feast
August 28th, 2023 4:03 AM
Get ready to spook up your dining space with the enchanting world of Halloween tablescapes! From charming DIY creations to budget-friendly marvels, we've gathered three captivating projects that will transform your table into a Halloween wonderland.
Whether you're aiming for vintage mystique, a fusion of cuteness and creepiness, or a touch of DIY magic, these Halloween tablescapes will inspire your creativity and set the stage for memorable feasting.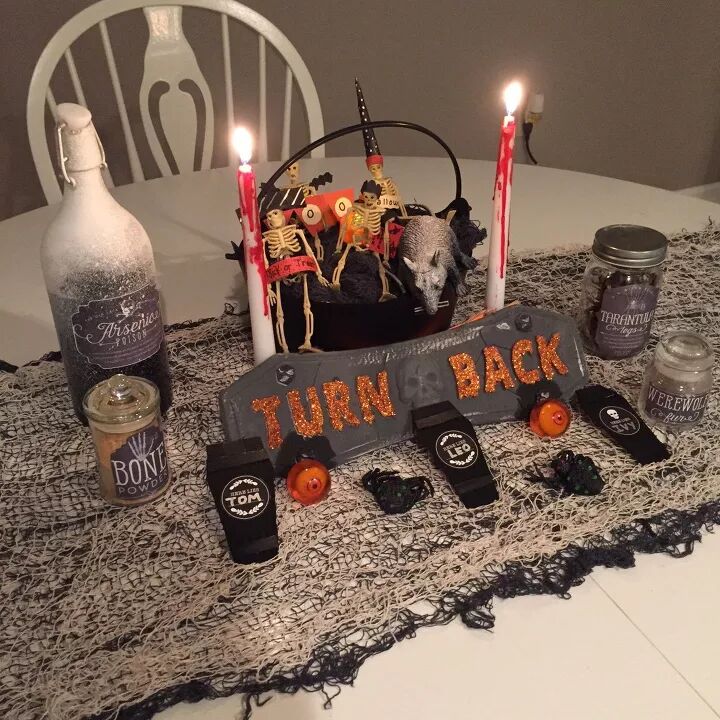 Photo: Candy Walsh


1. Set-Up This Chilling Halloween Tablescape
With a dash of DIY magic, Candy brings spooky delight to your table. Using materials from Dollar General and a touch of creativity, she conjures up a captivating scene.
A cauldron brimming with eerie decor, including dressed-up skeletons, a big rat, and orange LED lights, takes center stage. Mini faux coffins with black graphics, potion-filled jars, and creepy embellishments complete the ensemble. Taper candles adorned with dripping red wax resembling blood add an extra shiver, while a "Turn Back" sign surrounded by orange eyeballs and spiders sets the eerie tone.
Embrace the fun and spooky essence of Halloween while dining.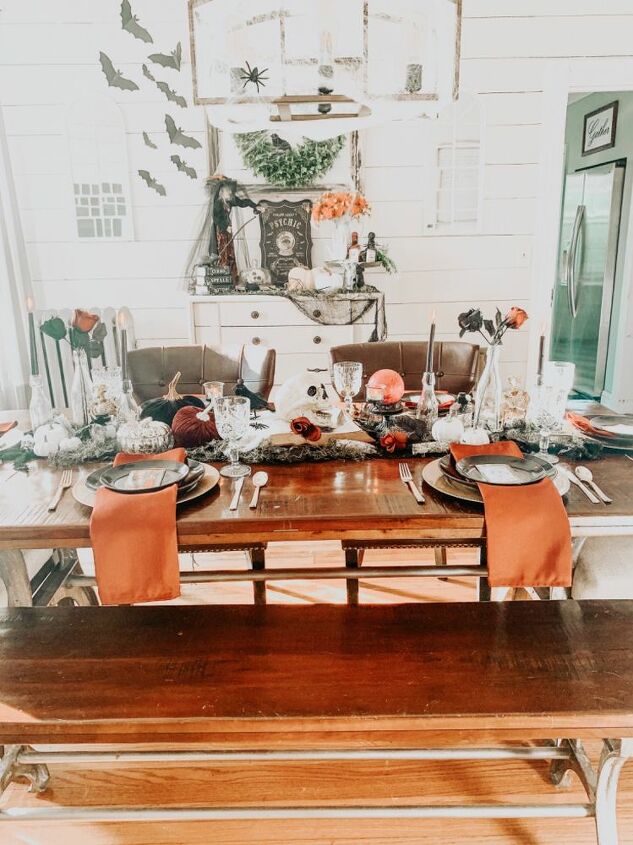 Photo: Eliscia


2. Create a Vintage Witchy Wonderland
Embrace the allure of witches, magic, and old-world charm as Eliscia brings her 119-year-old home to life with vintage mystique. Using affordable materials like candles, cloths, potion bottles, and eerie decorations, she weaves a spellbinding ambiance perfect for Halloween dining.
Let her simple guide lead you to craft an enchanting setting that embodies the spirit of the season, creating a bewitching atmosphere for your own memorable gatherings.
Dive into a realm of creativity and nostalgia, turning your table into a captivating stage for a spellbinding feast.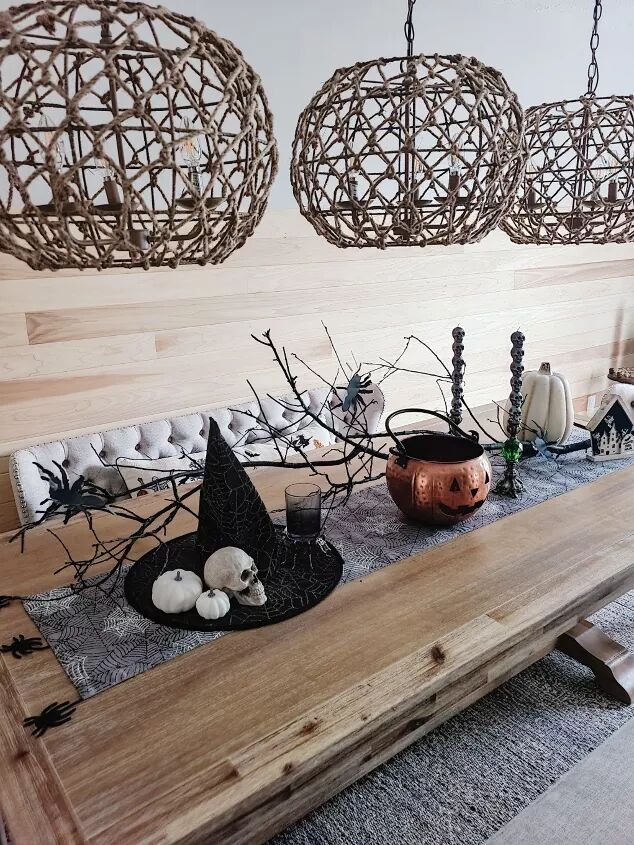 Photo: Taylor | Casually Coastal Designs
3. Design a Budget-Friendly Halloween Table Setting
Transform your table into a Halloween wonderland with Taylor's adorable and affordable DIY Tablescape.
Using just a branch, spray paint, and decorations on hand, she creates a spooky centerpiece full of charm. From cute pumpkin cauldrons to eerie skulls, every detail fits the theme perfectly. With Taylor's clever ideas, you can make your Halloween dining extra special without spending a fortune.
Let your creativity flow and get ready to impress your guests with a table setting that's both fun and spooky.
More Haunting Halloween Decorating Ideas!
Ready to turn your house into a spine-chilling sanctuary? From sinister mirrors to spellbinding chandeliers, our
How to Turn Your Home Into a Haunted House
guide will help you transform your space into a gothic haven.
Halloween Tablescape Ideas
Which of these projects resonates with your style? Have a spooky table idea of your own? Share your thoughts in the comments below and let the Halloween creativity flow!
Enjoyed the project?
Published August 28th, 2023 4:00 AM