804 Views
7 Harry Potter DIY Decor Ideas to Add Magic to Your Home
August 27th, 2023 10:02 AM
Step into the enchanting realm of Harry Potter with this collection of creative Harry Potter DIY decor projects that bring the wizarding world to life in your own home.
From Quidditch hoops that hold your treasures to floating candles that cast an eerie glow, these crafts will transport you to Hogwarts and beyond. Whether you're a die-hard fan or simply captivated by the magic, these DIY ideas will transform your living space into a realm of spells, potions, and wizardry.
Join us on this journey through 7 hands-on and imaginative projects (the most magical of numbers) that will delight both muggles and wizards alike.
Harry Potter DIY Decor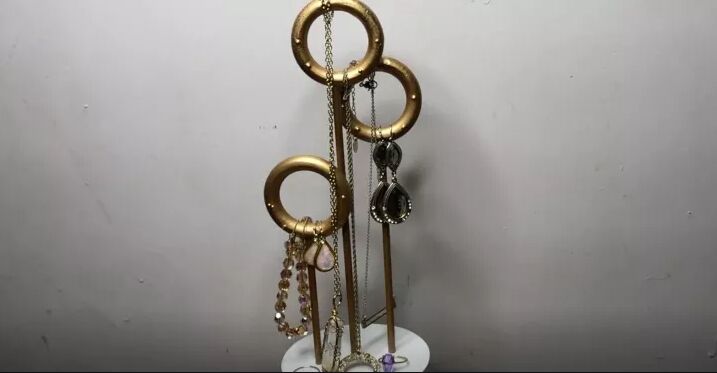 1. Quidditch hoop jewelry holder
Embrace the magical world of Harry Potter with this DIY Quidditch hoop jewelry holder guided by none other than Bellatrix Lestrange herself, or at least, Lizzi! No wizardry skills required—muggle-friendly materials and an hour of your time will suffice.
Craft wooden Quidditch hoops using dowels and rings, then enhance their charm with eyeglass screws and a touch of gold paint. Elevate the base with white enamel spray paint and insert a piece of floral foam for stability.
Your personalized Hogwarts-inspired jewelry holder is ready to grace your room and showcase your treasures, adding a touch of wizardry to your everyday life.
2. Deathly Hallows display shelf
Celebrate the enchanting world of Harry Potter with a DIY display shelf inspired by the Deathly Hallows, made by Patty Anderson! Crafted with Funko Pops in mind, this shelving unit features the iconic equilateral triangle symbolizing the cloak of invisibility.
Discover the journey of cutting angles and arranging wood pieces to create the perfect framework. The "stone" (for bringing the dead back to life) takes shape within the triangle, while an Elder Wand, turned on a lathe, emerges as a centerpiece.
Painted, burned, and stained, this stunning creation captures the essence of the magical tale, showcasing your beloved characters in an immersive display of wizardry.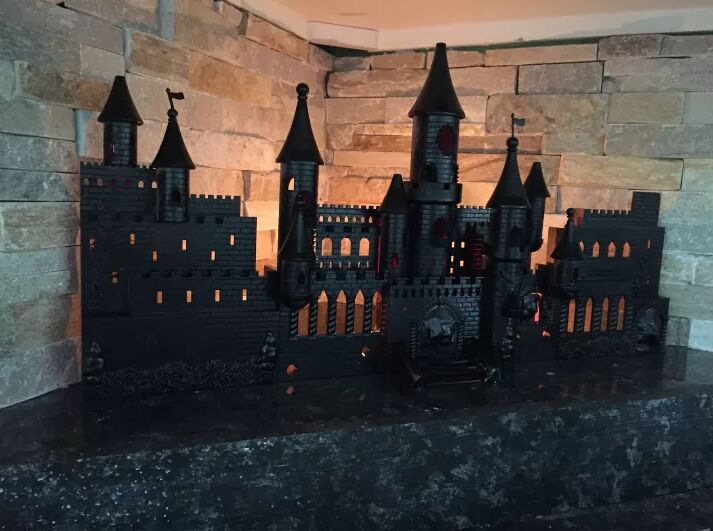 3. DIY Hogwarts castle
Embrace the magical fusion of Harry Potter and Halloween with this DIY Hogwarts castle by Tracy W! Starting with a pink princess castle, a can of black spray paint works its magic, turning it into a spooky and sinister haunted castle. With a candle placed behind, the eerie glow through the windows brings the creation to life. This enchanting project, costing under $5.00, captures the essence of both worlds and adds a touch of wizardry to your Halloween decor.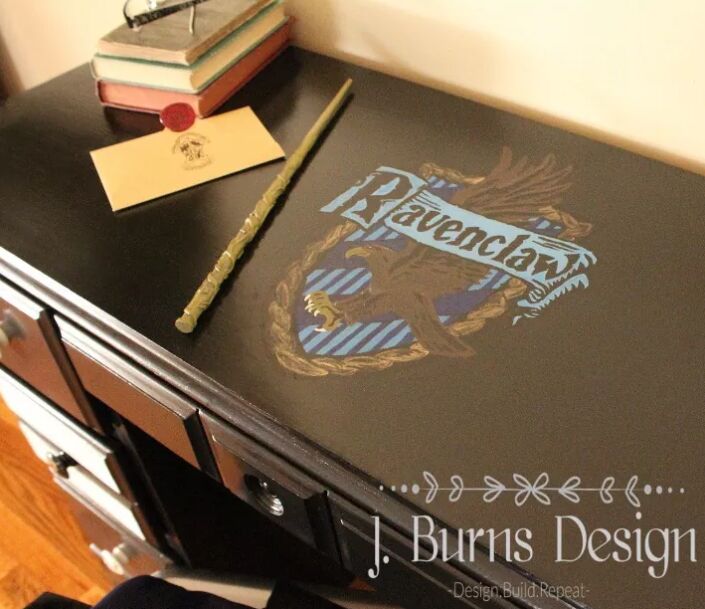 4. Ravenclaw desk
Next, Jen Burns shares how she transformed a simple desk into a magical Harry Potter-inspired Ravenclaw desk for her daughter's room.
After prepping the desk and applying a base coat, draw out the designs with a white colored pencil for easy visibility. Hand-paint the drawers with a variety of Unicorn SPiT colored gel stains, sealing each one with polyurethane. The desk's top is adorned with a vivid Ravenclaw crest from the series, accented with gold metallic touches.
Complete the enchanting look with specially crafted knobs and seal the entire piece with polyurethane for durability. The result is a captivating desk that brings the wizarding world to life in a practical and creative way.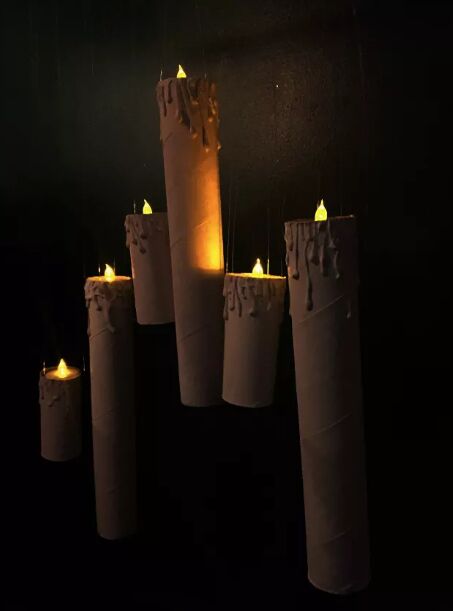 5. DIY floating candles
Elevate your Halloween decor with enchanting DIY floating candles inspired by the world of Harry Potter.
Crafted from old paper towel and toilet paper rolls, these faux candles are brought to life with hot glue drips and a coat of cream-colored craft paint. A cupcake liner adds a finishing touch to the base, creating the illusion of a closed candle.
Hang them using fishing wire and clear pushpins, and simply drop in flameless tea lights for an eerie glow. This budget-friendly project is a quick and enjoyable addition to your Halloween festivities or home decor, bringing a touch of wizarding magic to any setting.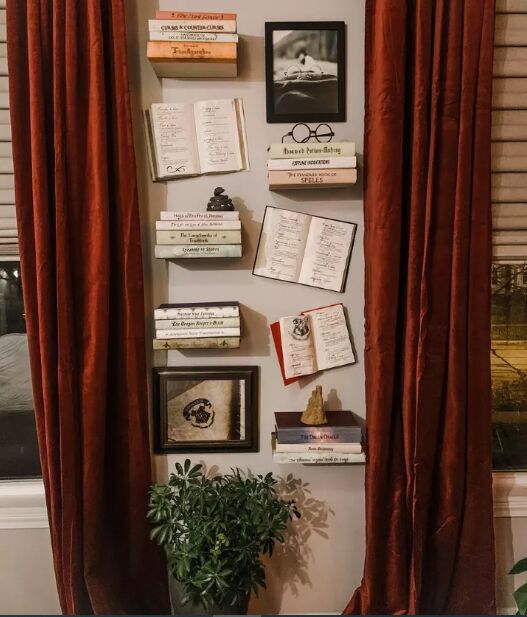 6. Floating book wall
Juliette Dellavia shows us how to add a magical touch to a room by creating a floating book wall, perfect for a Harry Potter-inspired space. Using floating shelves, books, and open "flying" books, you can bring a theme to life with this creative display.
Carefully plan the layout and installation, considering spacing and arrangement, and take care when hanging open books by drilling holes and using wall anchors. Finish off the display with themed decorations and artwork. This project is a unique way to showcase books and add a whimsical atmosphere to any room.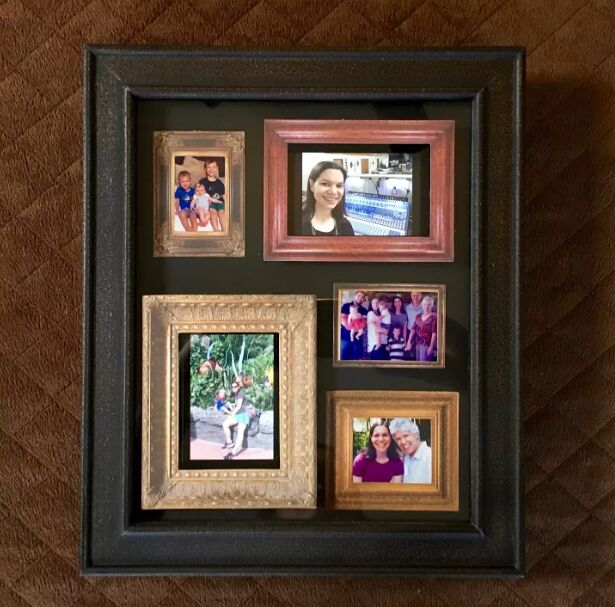 7. Moving picture frames
Combine your love for Harry Potter with repurposing old tech devices in this creative project. Using iPod Touch devices, foam board, and a shadow box, Steph from Mother Daughter Projects crafted a Harry Potter-inspired picture frame that resembles the moving pictures from the Wizarding World.
By arranging and attaching the iPods to the foam board, adding printed pictures, and creating a clever pull-tab mechanism, she achieved a unique wall decor piece that captures the essence of the magical world. This project offers a delightful way to showcase your fandom.
More Haunting Halloween Decorating Ideas!
Ready to turn your house into a spine-chilling sanctuary? From sinister mirrors to spellbinding chandeliers, our
How to Turn Your Home Into a Haunted House
guide will help you transform your space into a gothic haven.
Harry Potter DIY decor
Which of these Harry Potter DIY decor ideas impressed you the most? Do you have your own Harry-Potter-inspired project to share? Let us know your thoughts in the comments below.
Enjoyed the project?
Published August 25th, 2023 8:28 AM