Why is my paint roller sliding at times? Answered
I hope I can explain this correctly! I'm in the process of painting my kitchen cabinets. All is going well so far except for this annoying issue with my paint roller. At times, it will not roll smoothly, and instead it will start sliding and sometimes skidding. It's incredibly frustrating! It seems to happen mostly when I am doing the frame of the cabinet or a smaller surface. I have tried holding the roller at different angles, less paint on the roller, changing speed of rolling, and it keeps happening. I also noticed it's more on the side of the roller not near the handle. I have attached a picture of the rollers I am currently using. I love the finish they are giving so far but this sliding thing is driving me nuts. I have tried a different roller frame and brand new paint roller but it is still happening. I also tried just a cheaper high density foam roller and that one isn't doing the sliding thing, but I really hate the way it is applying the paint so I don't want to keep using it. I should mention I'm using BM advance and used BIN primer and it has done this with both paints. Please help! It's taking this project way longer than it already is dealing with the sliding issue.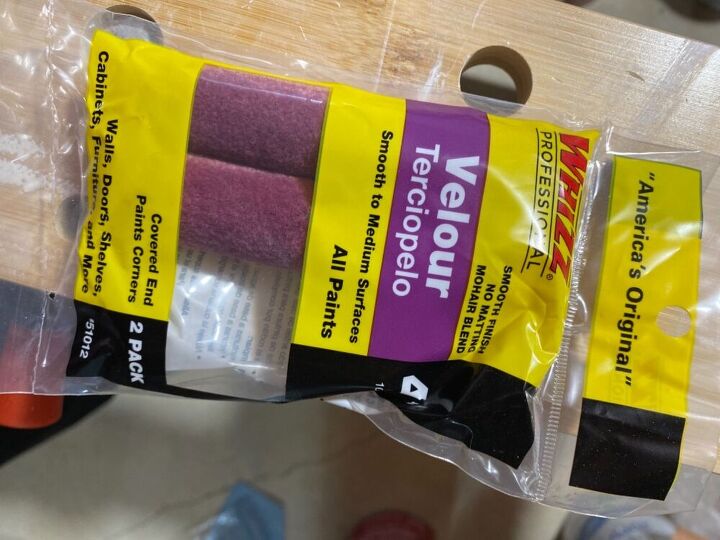 Related Discussions

Tim Gavagan
on Mar 27, 2017
Can someone tell me how to match paint for a ceiling touch up job?I cut a small patch of dry wall paper out of the ceiling and had paint made at Home Depot TWICE! Sti... See more

Betty Shafer
on Jun 30, 2018
Tips to stain my wood deck?

Louise
on Mar 06, 2020
It's been lying on a table in my project room for over a year and now I'm finally going to paint it. I'm using Zinzzer Bullseye 1-2-3 Primer which I had tinted gray. ... See more

Wendy
on Jul 09, 2018
Hi Hometalk! I am in middle of a really fun project, but I am stumped and need your help! I used mod podge to cover the cutest little elephant figurine. The elephant ... See more Kristin
on Mar 04, 2021
I hope I can explain this correctly! I'm in the process of painting my kitchen cabinets. All is going well so far except for this annoying issue with my paint roller.... See more

Amy Poulton
on Feb 03, 2023
I find my painting projects last me days and I really do not want the mission of having to wash and dry the roller daily, it really makes the project a lot harder and... See more

Hometalk Reviews
on May 24, 2020