692 Views
6 Poinsettia Christmas Decorations For the Holiday Season
November 17th, 2023 10:29 AM
Get ready to make your Christmas decorations extra special with poinsettias! In this roundup, we'll show you simple and fun ways to use these special Christmas plants in your holiday decor.
From wreaths to ornaments, we'll explore easy projects that will make your home feel even more festive. Let's start making beautiful poinsettia Christmas decorations!
For even more ideas, see Hometalk's ultimate guide to DIY Christmas decor here.
Poinsettia Christmas decoration ideas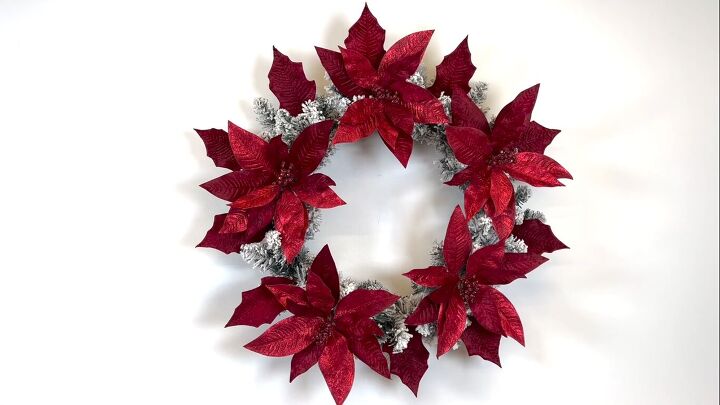 1. Poinsettia wreath
This project by Nick Kreticos guides you through creating a festive DIY poinsettia wreath for the holidays.
Using a basic wreath from Walmart, the steps involve fluffing the wreath and poinsettias, cutting wire ends, attaching poinsettias with a glue skillet, adding leaves, and optionally including berries. The result is a beautiful wreath that doesn't require many materials or expenses.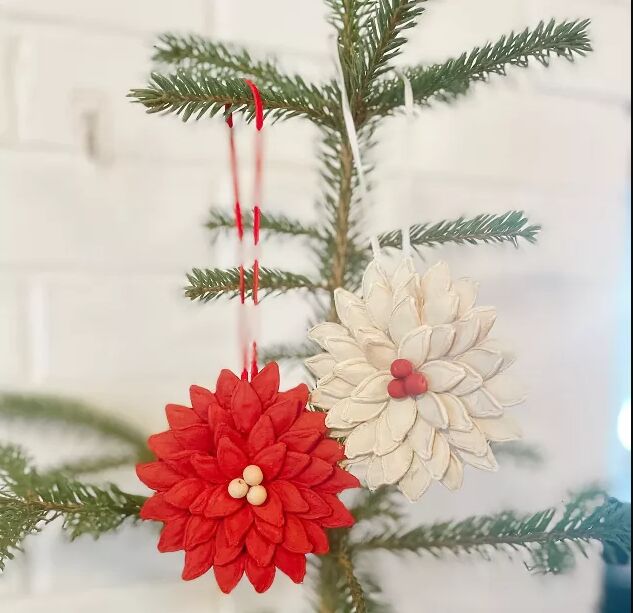 2. Pumpkin seed poinsettia ornaments
This project by Sew Bright Creations | Jackie repurposes Halloween pumpkin seeds to create poinsettia Christmas tree ornaments.
The process involves cutting felt circles, gluing craft cord for hanging, attaching dried pumpkin seeds in a circular pattern, and painting wooden beads for the center. The tutorial provides options for both natural and red-colored seed ornaments.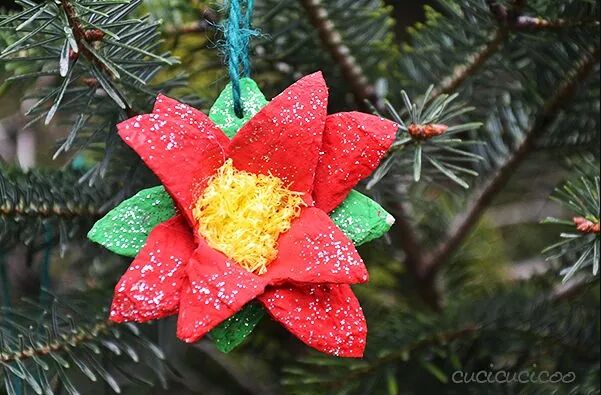 3. Egg carton poinsettia ornaments
This project from Cucicucicoo: Eco Sewing & Crafting involves creating cute poinsettia ornaments using recycled materials like cardboard egg cartons and fruit netting.
By cutting and painting the cartons, you can assemble them into poinsettia flowers, adding glitter for a festive touch. These ornaments can be hung on a tree with a loop of cord or ribbon, making them a fun and eco-friendly craft for children.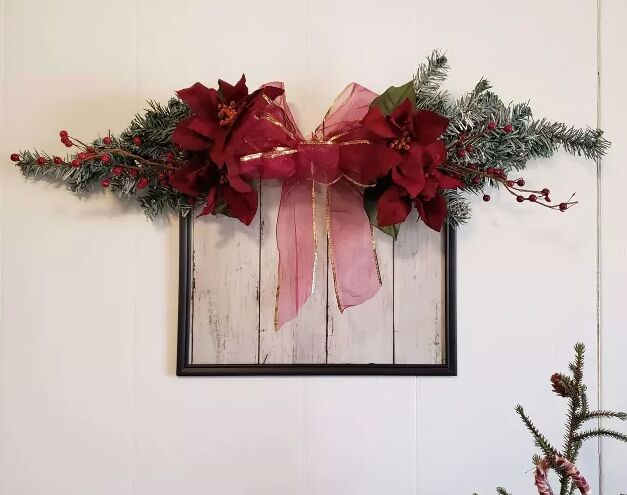 4. Poinsettia swag
This project by Michelle creates a Christmas swag using two mini trees from Dollar Tree. After lightly spray-painting the branches for a snowy effect, the trees are attached together with a cable tie.
Additional decorations like pip berries and poinsettias are added with more cable ties. A ribbon bow is then placed at the center to conceal the ties.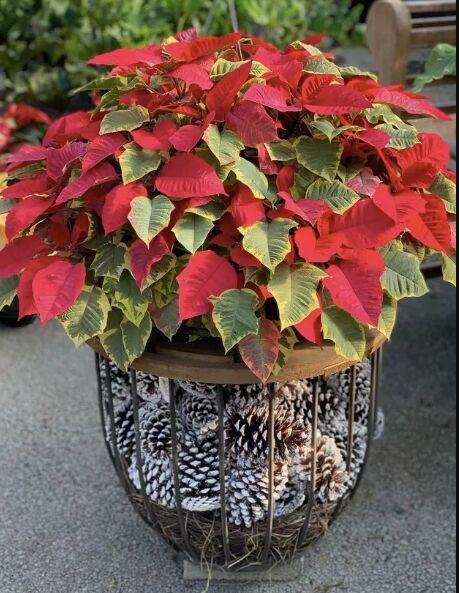 5. How to care for poinsettias
If you're planning on keeping real poinsettias over the holiday period, this guide by Stacy Ling | Bricks 'n Blooms offers tips for caring on how to care for poinsettias.
It advises on how to transport and unwrap the plant, recommends ideal room temperatures and lighting conditions, and provides guidelines for watering. Additionally, it includes suggestions for those interested in encouraging the plant to re-bloom.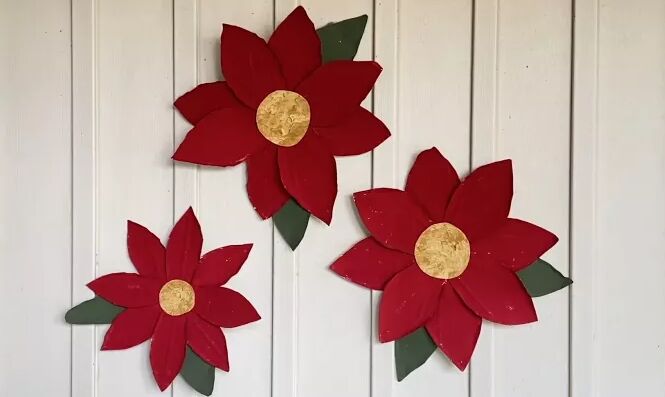 6. Foil tray poinsettias
Lisa from Recreated Designs shows us how to transform foil trays into DIY poinsettias for your holiday porch decor!
Begin by creating petal patterns and cutting out eight petals from the foil trays. Craft the flower's center using a round foil piece glued to cardboard. Attach the petals in layers using a hot glue gun, adding dimension by bending the edges.
Paint the flowers red, craft green leaves, and create textured centers with mustard and cream paint mixed with salt. Finish by attaching the leaves and centers using hot glue for a festive and colorful display!
Poinsettia Christmas decorations
Whether it's a wreath on your front door or ornaments on your tree, these bright red plants add a special touch. We hope you enjoyed trying out these creative ideas. Wishing you a warm and joyful holiday season filled with the beauty of poinsettias!
Enjoyed the project?
Published October 25th, 2023 10:53 AM
Popular Project Book
Popular DIY Questions