How can I raise the height of my 30" island?



Answered
We just moved into a new house and for some unknown reason, it has an island that is only 30" high!? It is the weirdest thing and I need to raise it to 36". Aside from the height, the size is good for what we need and the cabinets are good quality so I would like to avoid tearing them out if possible. Has anyone out there ever run into this before? Would it be possible to modify the existing cabinets or will we have to just put in new ones? I was wondering if it would be possible to raise the countertop and put an open shelf/storage underneath it, on top of the existing cabinets? Any suggestions?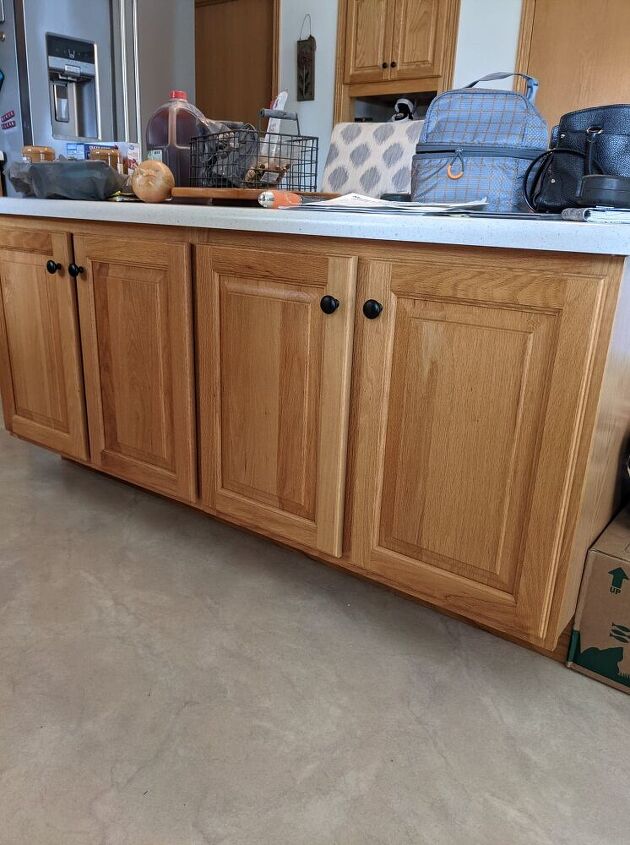 Related Discussions

Christine Anne
on May 14, 2015
I bought this lovely antique piece, but it's too short for an average adult. Can I safely add castors to the bottom of the feet or might they split? Any other ideas t... See more

Sandy Lamfers
on Nov 14, 2016
I am making a kitchen island out of repurposed cabinets. Looking for casters to put on it and what kind should I use on a hardwood floor. Austin
on Nov 26, 2021
Yesterday, after 6 months of searching, I finally found the Art Deco-style dresser I've been looking for, and for a great price. I'm so excited! The finish is in ... See more Carolyne
on Sep 15, 2019
even if I have to cut the legs off and attach it to a brown metal base I am good with that. The company doesn't make a bar height stool/chair and I want to match th... See more Kathy Wilson
on Jan 30, 2014
We took the old popcorn ceiling off in our livingroom and thought we could just paint it. We fixed some hairline cracks where the joint in the sheetrock are, primed a... See more Ddu14198807
on Nov 04, 2016
I am planning on doing a mobile wood bench using 2x4. I have these wheels but have no clue to put them on Tina R.
on Feb 11, 2014
Does anyone know what type of hinges are attached to the top of this folding table? The legs fold in toward the back then the top folds down flat against the legs.