841 Views
7 DIY Nightmare Before Christmas Decorations For Halloween
August 27th, 2023 10:01 AM
This is Halloween! This is Halloween! Get ready to immerse yourself in the whimsical mind of Tim Burton with these fantastic DIY The Nightmare Before Christmas decorations inspired by Jack Skellington and company.
From charming Halloween trees to glow-in-the-dark coasters and creative ornaments, these crafts bring the beloved characters to life. Whether you're a die-hard fan or just starting to appreciate the spooky charm, these tutorials will guide you through making your own Jack and Sally-themed decorations that the Pumpkin King himself would approve of.
So, let's dive into the magical and eerie atmosphere of Halloween with these fun and easy DIY projects that are sure to delight both kids and adults alike!
DIY The Nightmare Before Christmas decorations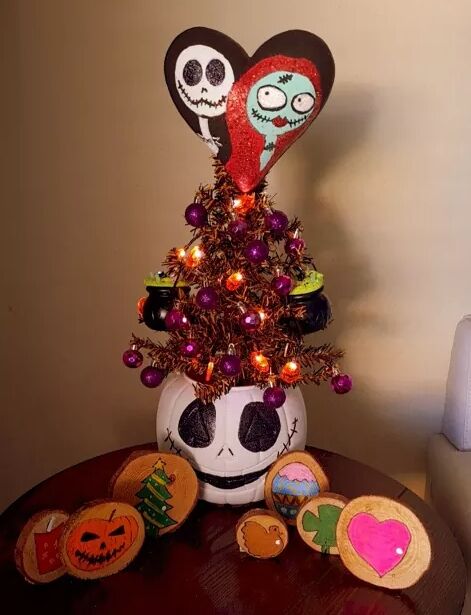 1. Jack and Sally Halloween tree
Check out this cute Halloween tree made from a plastic pumpkin by Victoria_Lady Dollar! Inspired by The Nightmare Before Christmas, this easy project involves painting the pumpkin, adding eyes, and using Mod Podge and glitter for definition.
The final result is an adorable Halloween decoration topped with Dollar Tree trees and ornaments. A Jack and Sally foam heart and painted wood pieces create a spooky forest scene. This creative DIY project brings Halloween fun to your home!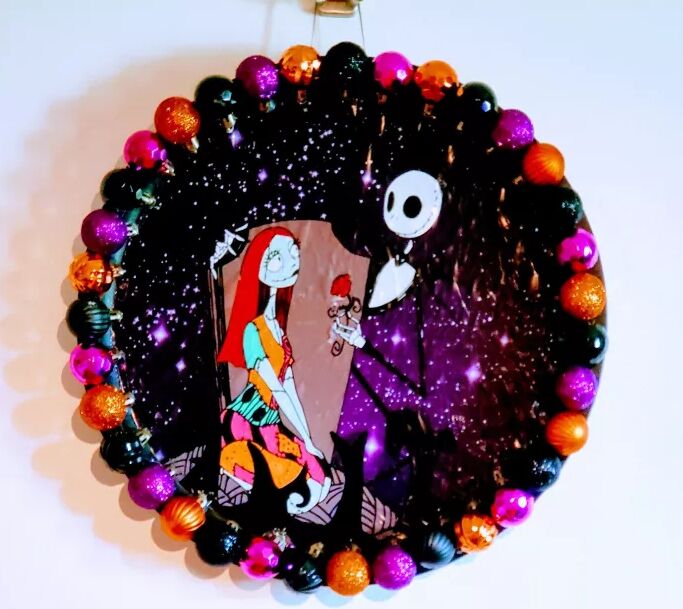 2. Nightmare Before Christmas wreath
Vivian Siu made a DIY Nightmare Before Christmas pizza pan wreath featuring Jack and Sally. She painted the outer border black, traced the pizza pan label on a tablecloth for the background, and glued it onto the pan.
She added alternating black, purple, and orange mini ornaments around the edge, then attached a black hanging cord to the back and glued a cardboard piece over it. Now your Halloween-themed wreath is complete and ready to display!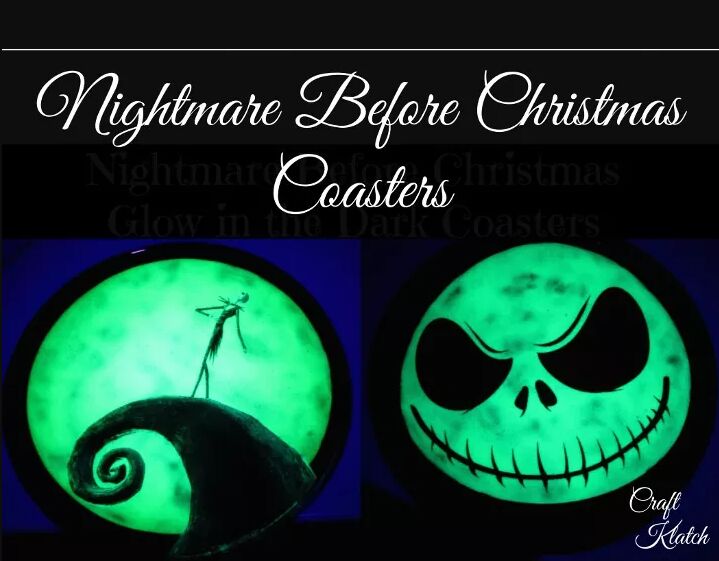 3. Glow-in-the-dark coasters
Learn how to create glow-in-the-dark Nightmare Before Christmas coasters for your holiday decor. Even if you haven't seen the movie yet, these fun and creepy character-themed coasters will add a spooky touch to your space.
Mix resin with black pigment to create a solid-colored base, pour it into a mold, and let it cure. Print the movie images on transparency film, paint the glow-in-the-dark paint on the shiny side, then embed them in more resin.
Once cured, these coasters will glow after being exposed to light. Follow the simple steps to craft these unique and eerie coasters.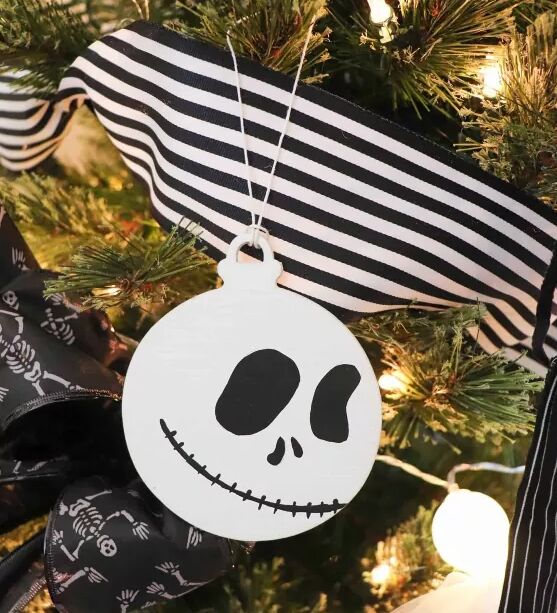 4. Jack Skellington ornaments
Heather Painchaud shares how to make DIY Jack Skellington ornaments for Halloween with this simple wood slice craft. This Nightmare Before Christmas-inspired ornament is perfect for fans of the movie.
Follow these steps: sketch Jack's face onto a wooden round ornament using a pencil, paint the face details black using a fine-tipped brush, optionally seal with Mod Podge, and tie twine for hanging. These adorable ornaments can add a spooky touch to your Halloween decor or even be used as unique gift tags.
The tutorial provides an easy and fun way to craft these Jack Skellington ornaments, plus Heather has a load of other Nightmare Before Christmas DIYs to share.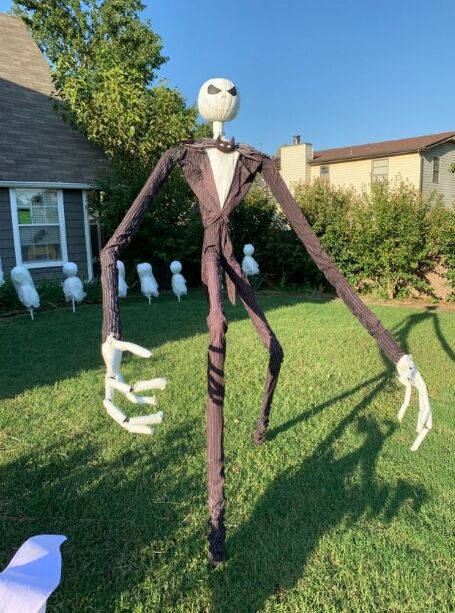 5. Giant Jack Skellington
Next, Amanda shares how to create your own budget-friendly 8ft yard monster for Halloween using PVC pipes and simple supplies! This DIY project involves cutting and connecting PVC pipes with connector pieces to form the skeleton structure.
Customize the monster with outdoor decorations of your choice. For the head, use a plastic pumpkin pail or craft your own, and dress it up creatively. Once the skeleton is assembled, secure it in the ground using T-posts.
Decorate according to your theme – last year, it was transformed into Jack Skellington from Nightmare Before Christmas. Get creative and have fun making your own spooky yard monster!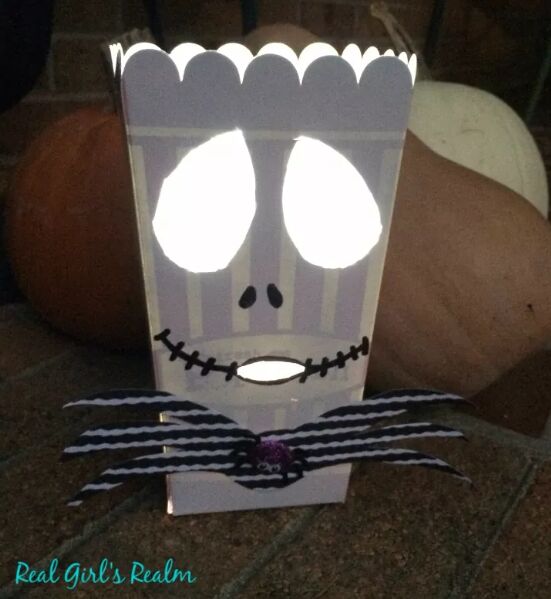 6. Popcorn box Jack Skellington luminary
Joining a Popcorn Box Challenge, Mary from Real Girl's Realm transformed a popcorn box into a Jack Skellington luminary for Halloween.
Using supplies like a World Market popcorn box, decorative papers, and a spider brad, she painted the box white, cut out the eyes and mouth, and attached a bow tie design. Adding a spider brad and tealight candle, you have a spooky porch decoration to welcome Trick-or-Treaters.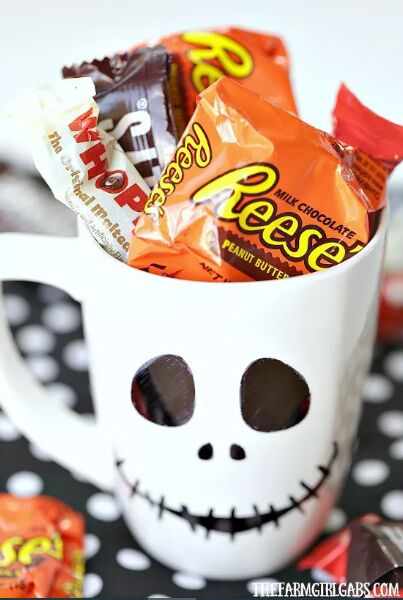 7. Jack Skellington Sharpie mug
Melissa Russo shows us how to create your own DIY Jack Skellington Sharpie mug for Halloween with this easy craft. All you need is a white mug, a black Sharpie marker, and a Jack Skellington stencil. Print the stencil on your Silhouette machine or draw freehand, then bake to set the ink. Use it as a party favor or gift filled with candy or your favorite beverage.
DIY Nightmare Before Christmas Halloween Costumes
More Haunting Halloween Decorating Ideas!
Ready to turn your house into a spine-chilling sanctuary? From sinister mirrors to spellbinding chandeliers, our
How to Turn Your Home Into a Haunted House
guide will help you transform your space into a gothic haven.
DIY The Nightmare Before Christmas decorations
Have you watched The Nightmare Before Christmas yet this season? Let us know in the comments below. And Happy Halloween!
Enjoyed the project?
Published August 25th, 2023 6:44 AM
Popular Project Book
Popular DIY Questions