967 Views
12 Gorgeous Thanksgiving Pumpkin Decor Ideas to Try Today
October 12th, 2023 4:37 AM
Join us as we dive into 12 Thanksgiving Pumpkin Decor ideas that are simple, affordable, and absolutely gorgeous!
From crafting adorable DIY centerpieces to making chic pumpkin trays, these ideas will enchant your Thanksgiving decorations.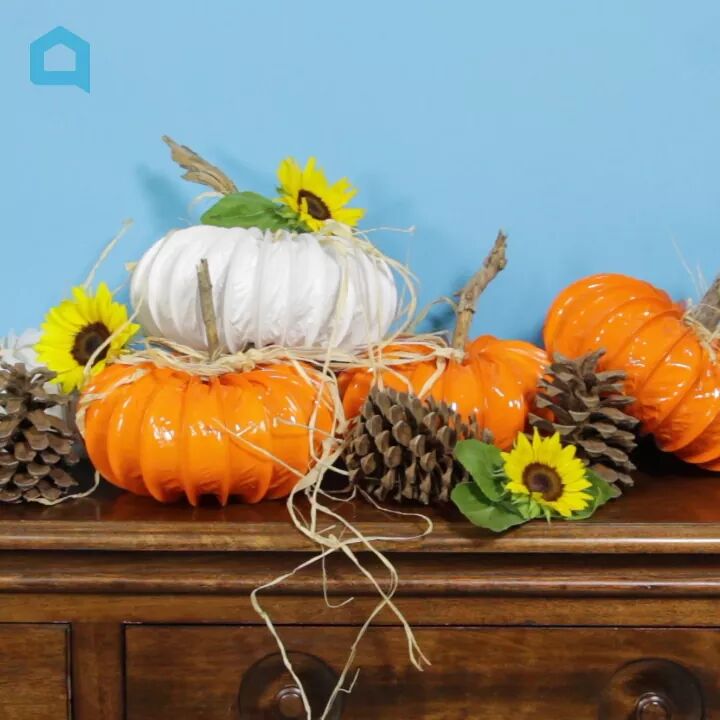 1. Upcycle Dryer Vents into Adorable Pumpkins
Create gorgeous Dryer Vent Pumpkins with Shawna Bailey's easy and budget-friendly project. As fall approaches, embrace the season's spirit with this delightful DIY decor. You only need five materials and 45 minutes of your time.
Use hot glue to assemble the vent to form the pumpkin's body. You can paint the pumpkin with orange spray paint, but white looks equally fantastic. Simply add a stick and tie raffia around it for that perfect finishing touch.
Imagine the charm of your entrance adorned with these lovely DIY pumpkins!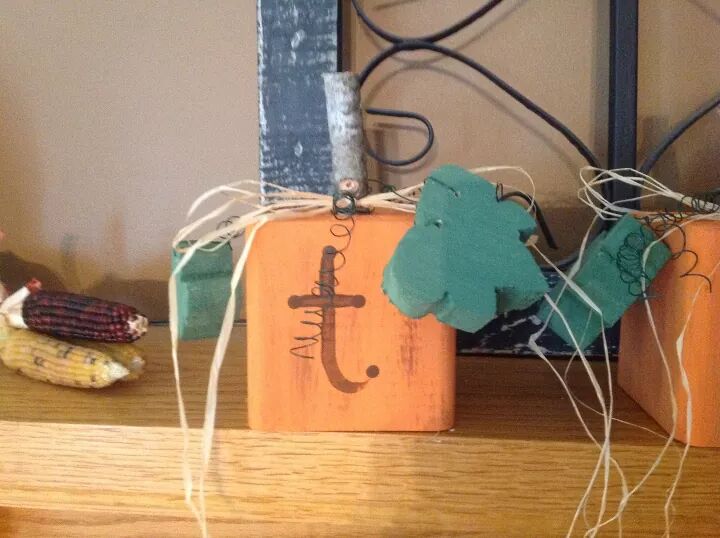 2. Give Thanks in Style with These Wood Block Pumpkins
Inject some Thanksgiving style into your décor with these easy Wood Block Thanksgiving Pumpkins. With only 8 materials, this project is a breeze!
Craft wooden blocks from 4x4 posts, then coat them in vibrant orange paint with a touch of brown for the perfect pumpkin look. Add a personal touch by spelling out "thanks" across the blocks. Enhance your pumpkins with a stem, greenery, and raffia bows. For an extra flourish, craft Shamrock green leaves and pop them on the stems.
Your handmade Thanksgiving pumpkins are ready to grace your mantle.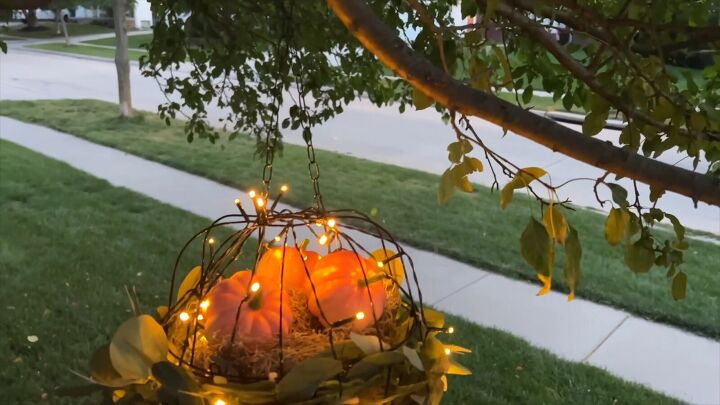 3. Create a Magical Hanging Pumpkin Basket
Get ready for Fall with Sonata Home Design's Pumpkin Hanging Basket tutorial. It's a creative way to embrace the season.
You'll need small white pumpkins, hanging baskets, and some simple tools. First, connect the baskets and add a eucalyptus garland, along with battery-operated fairy lights for a warm glow. Fill the globe with Spanish Moss and paint your pumpkins with a coat of coral before laying them on the bed of moss.
Hang your creation on your porch or from a tree branch for a cozy, inviting atmosphere on beautiful autumn evenings.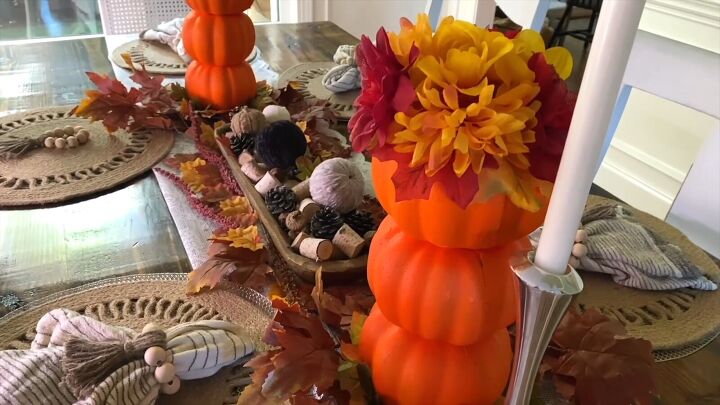 4. Build Gorgeous and Affordable Pumpkin Towers
Get ready to bring the warmth of fall into your home with Meredith's delightful DIY Pumpkin Tower.
First, prepare your foam pumpkins by making strategic cuts to allow a paper towel holder to pass through. Then, assemble your pumpkin tower, securing the pumpkins in place. As the next step, add a variety of fake leaves and fall flowers and secure these with a hot glue gun. The final touch is to top it off with more leaves and flowers.
This charming autumn centerpiece won't break the bank but will certainly add a touch of seasonal magic to your decor.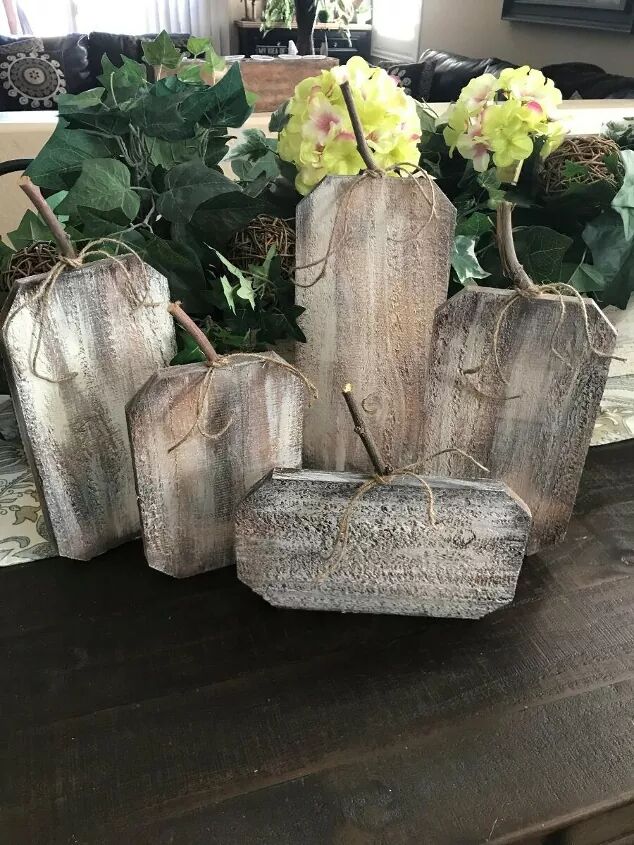 5. Craft a Shabby Chic Pumpkin Patch
Shelly L. Nemeth introduces a creative twist on fall decor with her Shabby Chic Pumpkins. These aren't your typical orange gourds; they're rustic and elegant, perfect for matching a farmhouse-style decor.
For this project, you'll need a few materials, including wood boards, paint, and a branch from your tree. Shelly provides clear step-by-step instructions on creating these unique pumpkins, ensuring your fall decor stands out. It's a simple process involving cutting and painting the wood, dry brushing with white paint for depth, and adding a wooden block for stability. Complete the look by attaching a branch and some twine for that shabby chic touch.
With October already here, you can craft these charming pumpkins in no time, and they'll grace your home right through Thanksgiving.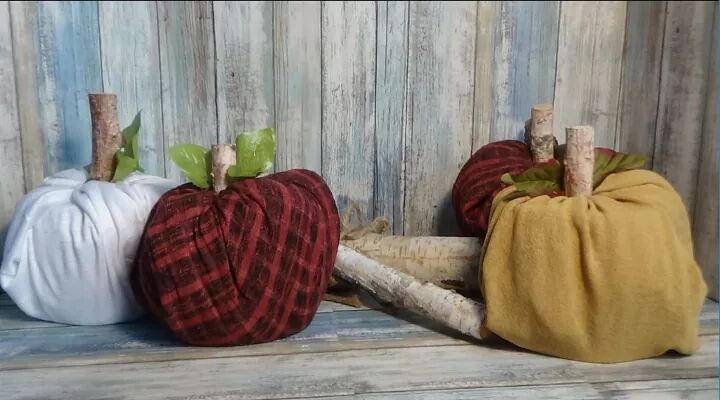 6. Make Fabric Wrapped Toilet Paper Pumpkins
DesertRose offers a creative and cost-effective solution for your Thanksgiving and fall decor with these Toilet Paper Pumpkins.
She ingeniously crafts cloth pumpkins using toilet paper, fabric scraps, branches, and borrowed leaves. The step-by-step process involves shaping toilet paper rolls and forming the pumpkins with cloth remnants. The stems, made from branch sections, add authenticity.
This project celebrates the beauty of the "fall harvest" season and offers inspiration for adding a touch of Thanksgiving flair to your home.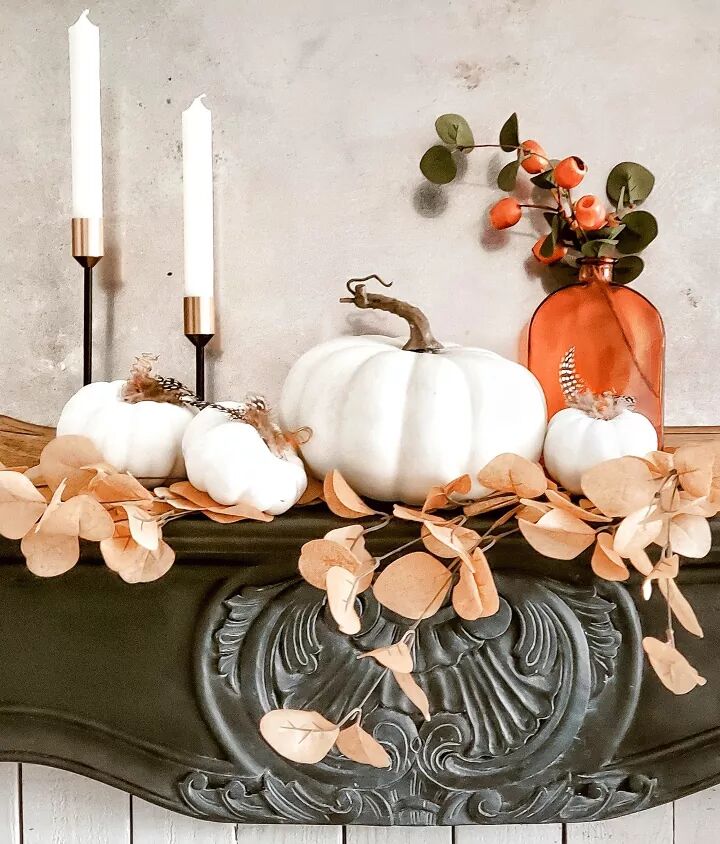 7. Personalize Dollar Store Foam Pumpkins
Georgia N shares a delightful and budget-friendly Thanksgiving decor idea with her Craft Pumpkin Makeover. She transforms inexpensive foam pumpkins, into perfect additions to her neutral decor palette.
The project starts with removing the pumpkin stems, followed by applying chalk paint for a muted, rustic look. Once the pumpkins are painted and dried, Georgia crafts unique coil stems using metal wiring, wrapped around the base of a pen. To complete the Thanksgiving theme, she adds craft feathers as leaves, using hot glue for attachment.
The result is a set of beautifully transformed pumpkins, each unique and fitting for the season.
8. Stack Pumpkins for a Unique Address Plaque
Create an adorable Pumpkin Address Hanger with Rob & Courtney M. Using eight materials costing around $30, you can transform half pumpkins into a stylish door hanger.
Start by attaching the pumpkins together, leaving the top pumpkin with a stem. After they've adhered, spray paint them white for a classy look. Add metal numbers or paint them on. Gussy up your pumpkins with ribbons, raffia, and barley.
Hang your creation on the front door for an inviting fall atmosphere.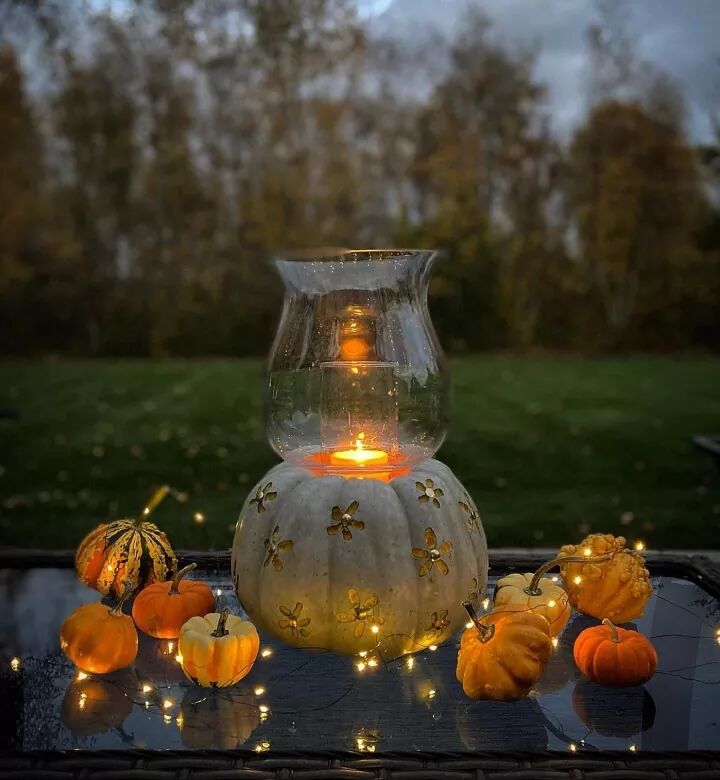 9. Illuminate Your Yard With Pumpkin Hurricane Lights
This unique DIY project by Jackie Barrell lights up your outdoor space with cozy fall charm. Transforming heirloom pumpkins into hurricane lights, she blends creativity and elegance in this engaging 45-minute craft.
By repurposing glass hurricane toppers from a yard sale, you can create your own stunning lighting. With a potato peeler and gold thumbtacks, you'll craft intricate flower designs on the pumpkin's surface.
The result is a captivating outdoor illumination, perfect for enjoying the crisp, autumn evenings in your patio sanctuary.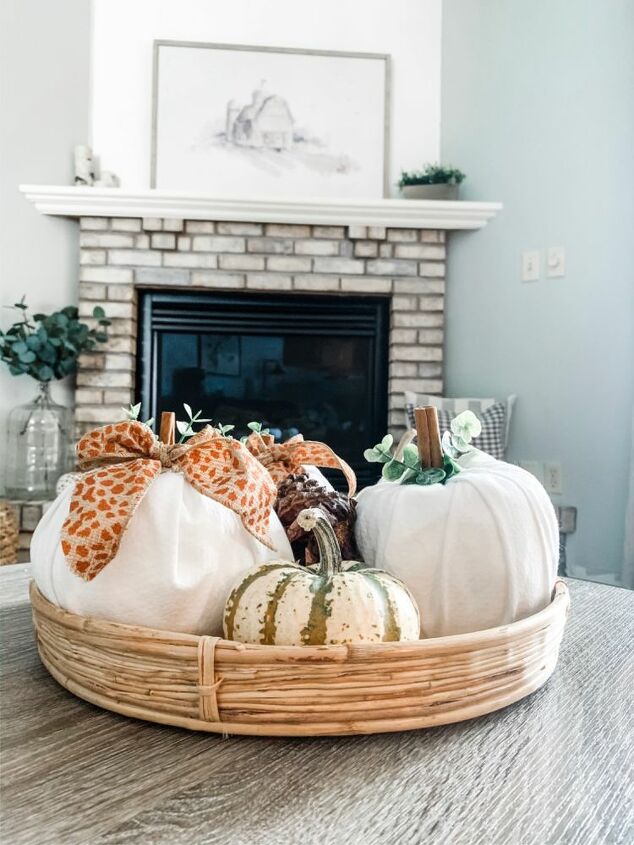 10. Whip Up a Quick Pumpkin Centerpiece
Here is another stunning DIY toilet paper pumpkin tutorial, this time by the talented Amanda from The Flourishing Farmhouse.
It's extremely easy. Unravel and roll up the toilet paper, then tuck it securely. Add a napkin, an aromatic cinnamon stick 'stem,' and ribbon. Finish it off with greenery and you're done!
It's a fun project even kids can enjoy, and you won't believe there's toilet paper underneath.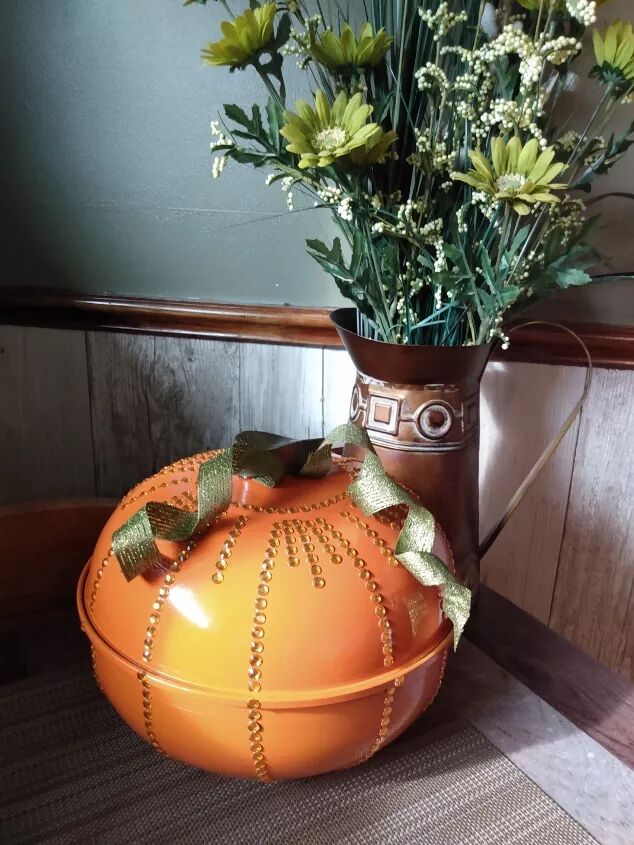 11. Transform a Thrifted Pot into Stunning Pumpkin Decor
In this project, Melanie turns her thrifty discovery, a $2.99 pot, into a pumpkin-themed masterpiece.
After removing the handles and giving it a vibrant orange spray paint, she decorated it with orange gems from Dollar Tree, creating a beautiful pattern resembling pumpkin lines. The handle was spray-painted antique brass for a lovely contrast. Next, a green wire ribbon was added and the handles were reattached, giving her pot a distinctive look.
This simple, four-hour project results in a stunning pumpkin pot – creativity at its best.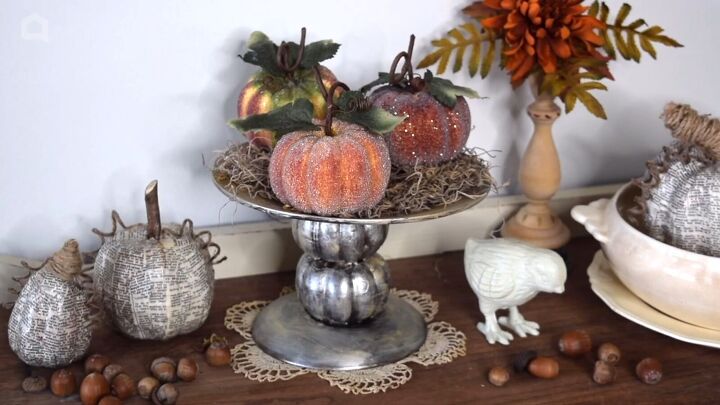 12. Turn Foam Pumpkins into a Beautiful Tray
Embrace the fall spirit with a chic DIY Pumpkin Tray project by Recreated Designs.
Begin by preparing foam pumpkins, removing stems, and leveling their tops. Next, attach each pumpkin to thrift store plates and then to each other using epoxy adhesive. Once assembled, add a bronze metallic finish, followed by gold highlights for an elegant touch.
This stylish cake stand adds rustic charm to your home and provides a beautiful canvas for your fall decor.
Find inspiration for your Thanksgiving celebration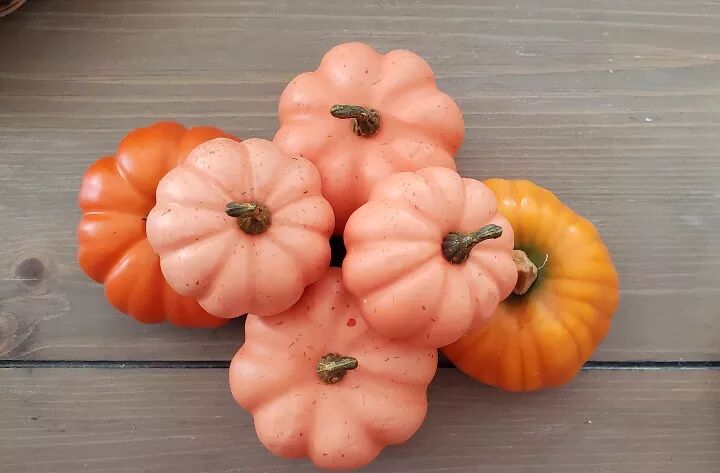 Thanksgiving Pumpkin Decor Ideas
We hope you enjoyed our collection of Thanksgiving decorations with pumpkins. Now, it's your turn. Which project inspired you the most, and how will you incorporate it into your Thanksgiving decor?
Share your thoughts in the comments, and let's celebrate the season together!
Enjoyed the project?
Published October 12th, 2023 4:35 AM