159 Views
6 Heavenly DIY Angel Ornaments to Hang on Your Christmas Tree
August 31st, 2023 2:39 AM
Looking to add a touch of angelic charm to your Christmas tree this year? Check out these delightful DIY angel ornaments that offer a variety of creative and simple ways to craft your own celestial decorations.
Whether you're preserving family traditions, working with tulle, coffee filters, handkerchiefs, or glass bulbs, each project brings its own unique flair to your festive decor.
From sentimental ribbon angels to elegant tulle ornaments, sparkling coffee filter wings, vintage-inspired handkerchief angels, and charming feather crafts, these DIY Christmas ornaments are sure to make your tree shine with heavenly beauty.
DIY angel ornaments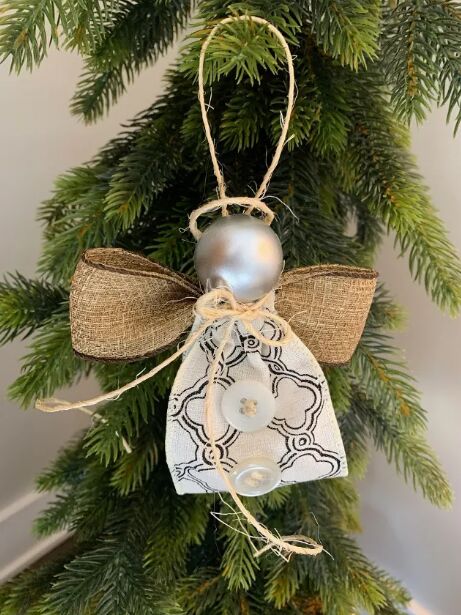 1. Ribbon angel ornaments
Preserving her mom's crafting legacy, Niky from The House on Silverado discovered her notes and supplies for making ribbon angel ornaments.
Cutting and looping wired ribbon forms the body, while folded ribbon creates elegant wings. Attaching the wings and head completes the form, and a bow and halo, made from twine, give these angels character. Niky added her own touch with a halo.
Customization options abound – buttons for detail, varying ribbon patterns for style – making these angels a sentimental addition to your festive decor.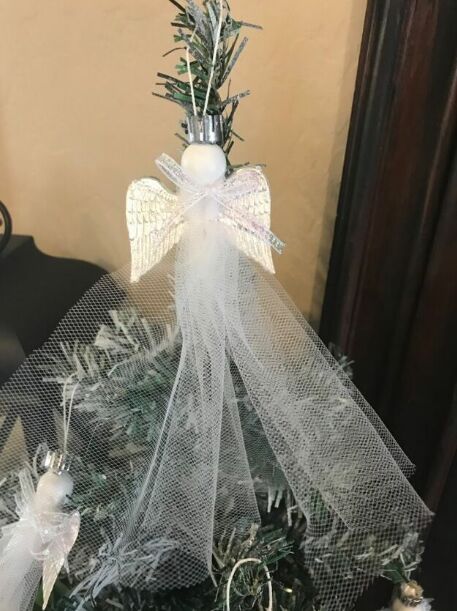 2. Tulle angel ornaments
Craft a simple and stunning tulle angel ornament perfect for your Christmas tree with this easy DIY project by Shelly L Nemeth.
Begin by folding the tulle into an accordion shape, securing it with a string, and trimming the edges. Attach a cap to a wooden bead, creating the base, and then glue a white bead atop the angel's head. Add wings and a dainty bow, loop a string through the cap, and voilà—an effortlessly beautiful ornament for your tree.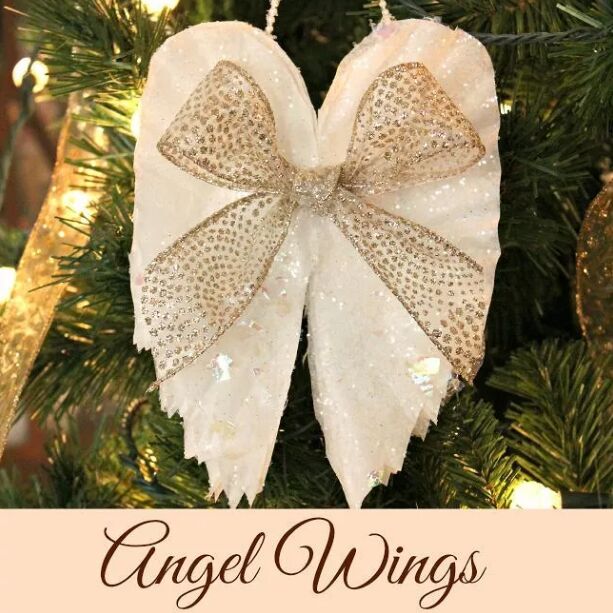 3. Coffee filter angel wings ornament
Next, Linda B shows us how to make coffee filter angel wings ornaments for your Christmas tree with just 5 white coffee filters.
Fold them over and use a pattern to cut out the wings. Once unfolded, embellish with sparkles, glitter, and a bow to complete this special ornament. These delicate angel wings, when hung on your tree, are sure to stand out.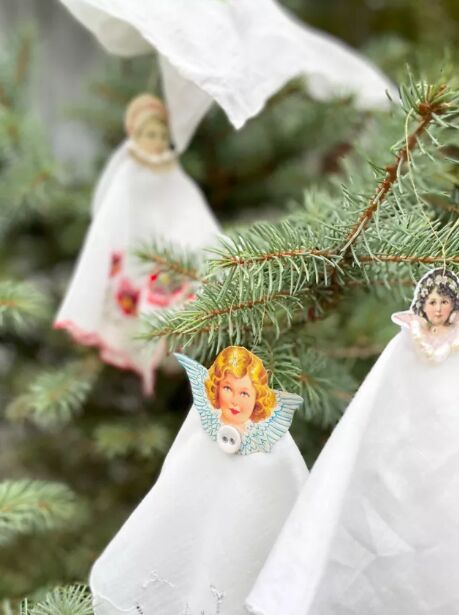 4. Handkerchief angel ornaments
Silvia Acevedo Eldredge Gloor of Los MiMis Armoire demonstrates how to create handkerchief angels for your Christmas tree using antique handkerchiefs, wire, angel faces, and decorations.
Add hot glue to the center of the handkerchief to create a closed shape, then glue the angel face to the front. Make a hole using a needle and thread wire through it. Decorate with charms, buttons, pearls, or other ornaments, giving the angel a personalized touch.
These vintage-inspired angels add a nostalgic and unique element to your holiday decor. Check out the tutorial for step-by-step instructions.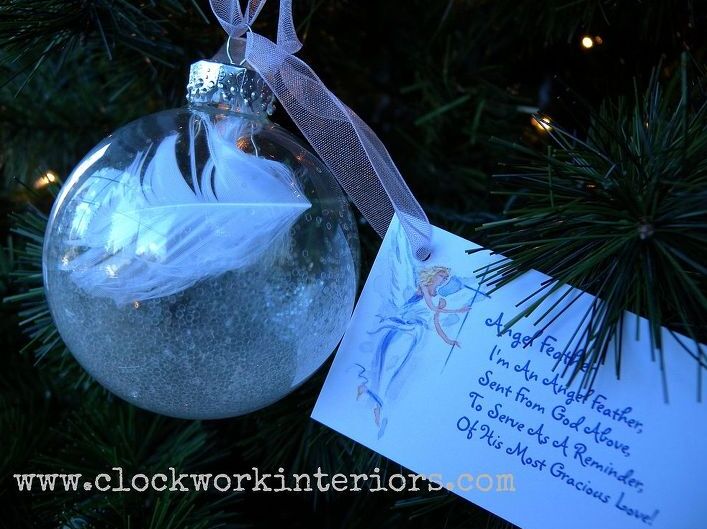 5. Angel feather ornaments
Moving along, Cynthia of Clockworkinteriors shares how to create "angel feather" ornaments with glass bulbs, white feathers, glitter, spray adhesive, ribbon or metallic string, and a hole punch.
Spray adhesive inside the glass bulb, add glitter, shake or twirl to distribute, and pour out excess glitter. After drying, insert a white feather into the bulb. Punch a hole in a printed verse or message and attach it to the bulb with ribbon or string.
These easy-to-make ornaments are not only simple and beautiful but also make wonderful gifts. Add an angelic touch to your Christmas tree with these lovely creations!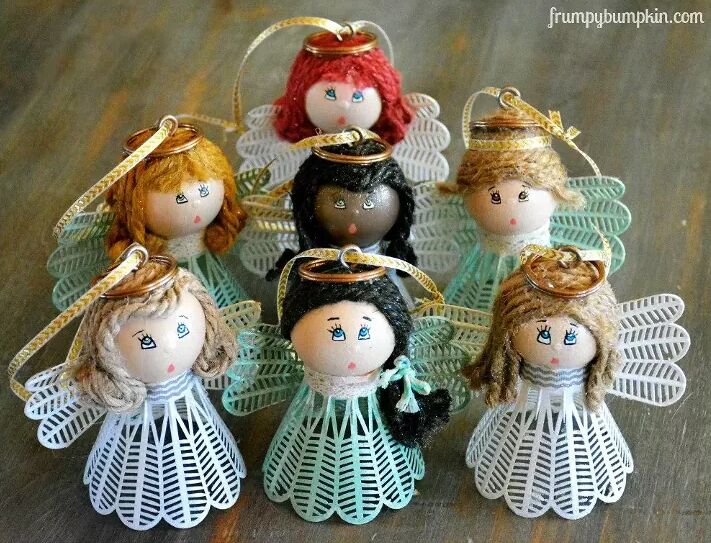 6. Angel birdie ornaments
This project by Stefanie creates adorable angel birdie ornaments using ping pong balls and plastic bird figures from Dollar Tree. The process involves painting the birdies, attaching ping pong balls as heads, and adding wings.
Hair is made from jute cord, and ribbons are used for necklines and hanging loops. The ornaments are personalized with painted faces and can be embellished with glitter spray. It's a budget-friendly and enjoyable craft, perfect for gifting.
DIY angel ornaments
Which of these DIY angel ornaments will you be hanging on your Christmas tree this year? Let us know in the comments below. Happy crafting and happy holidays!
Enjoyed the project?
Published August 30th, 2023 12:45 PM
Popular Project Book
Popular DIY Questions