504 Views
7 Festive Wood Ornament Ideas For Your Holiday Crafting
September 7th, 2023 10:27 AM
The holiday season is the perfect time to unleash your creativity and add a personalized touch to your decorations. In this roundup, we'll share four wood ornament ideas that are fun and easy to craft, and also look impressive.
Whether you're looking to adorn your tree with handcrafted DIY Christmas ornaments or seeking unique gifts for loved ones, these wood ornament projects are bound to inspire. Let's get crafting!
Wood ornament ideas
100PCS DIY Wooden Christmas Ornaments for Crafts
Material:
Wood
Brand:
Max Fun
Shape:
Christmas Trees, Bells, Angels, Reindeer, Socks, Snowmen, Hearts, Stars, Snowflakes and Blank Wood Circles
Number of Pieces:
100
Hometalk may receive affiliate income from purchases made via Amazon links in this article.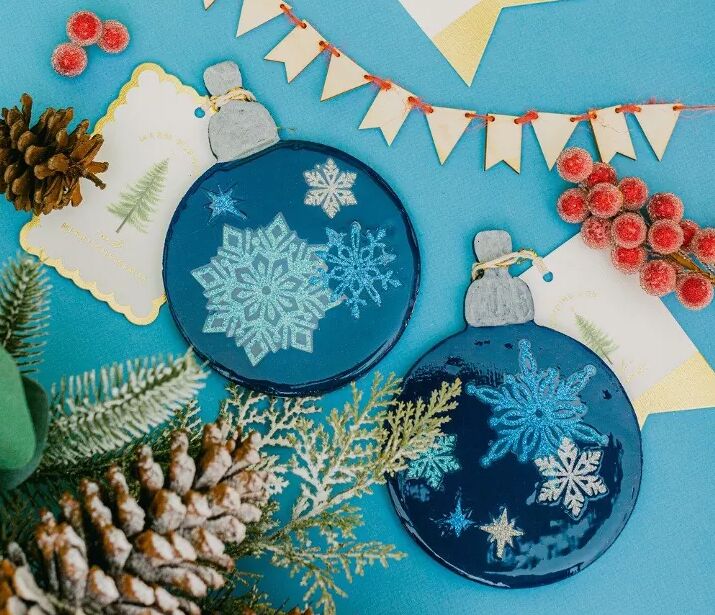 1. Glass-effect ornaments
This DIY project by Woodpeckers Crafts involves creating glass-like ornaments from wooden cutouts using Modge Podge's Dimensional Magic. The process includes painting the cutouts, adding snowflake stickers for dimension, and applying Dimensional Magic for a glossy, rounded appearance.
You can further enhance the ornament's dimension by adding more stickers and layers of Dimensional Magic. This craft allows for creative decorating options like glitter or gold/silver flakes. It's a durable alternative to traditional glass ornaments, making it a great addition to holiday decorations.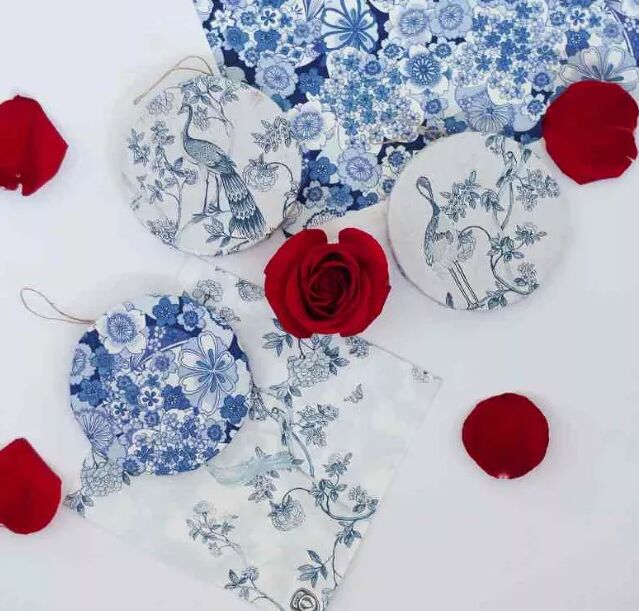 2. Chinoiserie-style decoupage ornaments
Next, This Dear Casa shows us how to make decorative wooden ornaments using decoupage techniques.
This project includes painting wooden ornaments white, adding crushed glass for dimension, decoupaging 2-ply napkin designs onto the ornaments, distressing the edges for a vintage look, and finishing with glitter and ribbon. The ornaments are a charming addition to holiday decorations or can be used as favors for a cookie exchange.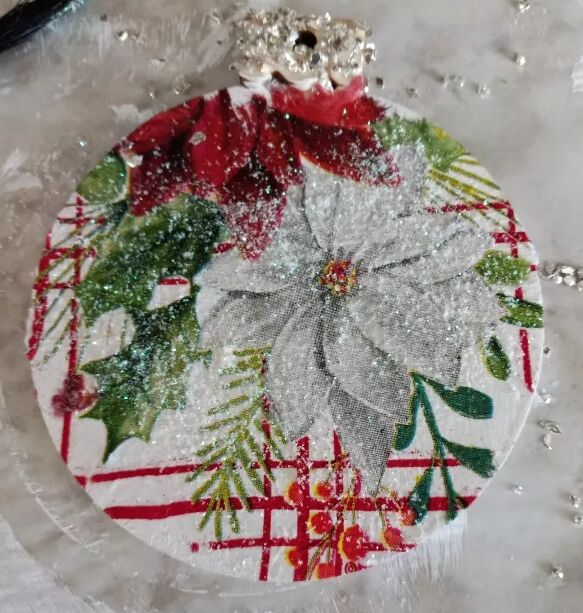 3. Glitter decoupage ornaments
Corine Mapes- Junk to Gems also has a great decoupage idea for decorating wooden ornaments. The project involves painting wooden ornaments white, adding crushed glass for a vintage look, decoupaging 2-ply napkin designs onto them, distressing the edges, and finishing with glitter and ribbon.
These handmade ornaments can be used for decoration or as favors for special occasions like a cookie exchange.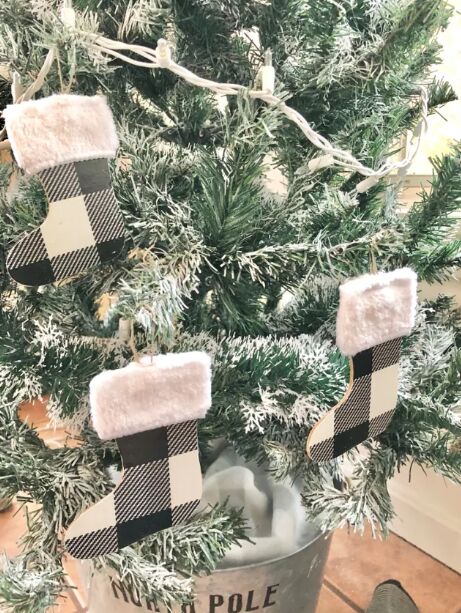 4. Check stocking ornaments
Last but not least, Delphine - C bête comme chou shares how to make festive stocking ornaments for Christmas.
Using wood stockings from Dollar Tree, wrapping paper, and fluffy white fabric, you cut and attach the paper to the wood using Mod Podge, sand for a smooth finish, insert twine for hanging, glue on the fluffy fabric, and you have a simple yet charming ornament for your Christmas tree.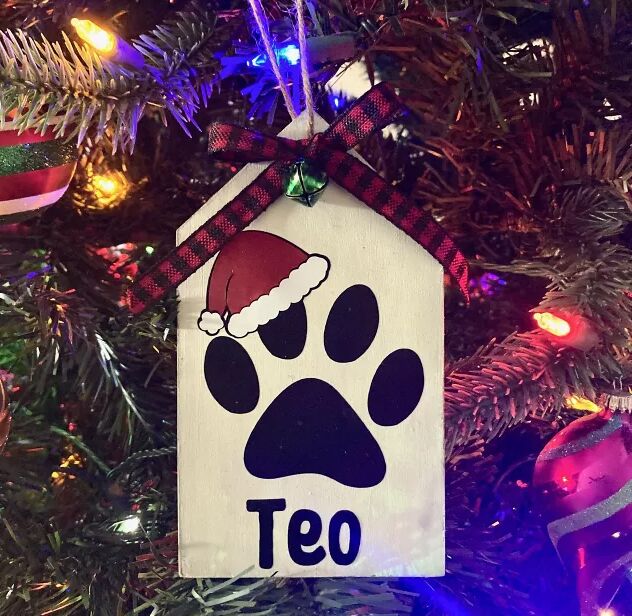 5. Dog tag ornaments
In this creative project by The Crafty Pumpkins, a special dog-themed Christmas ornament is fashioned from leftover wood parts. You'll need materials like MDF, stain, white paint, jute string, Christmas ribbon, hot glue, a jingle bell, vinyl sheets in black, white, and red, a Cricut machine, a jigsaw, and a drill.
First, shape the MDF into a tag and make a hole for hanging. After giving the tag a white coat and a light stain for a rustic touch, print your preferred dog design and delicately apply it to the wooden surface. It's the perfect gift for the dog parent in your life!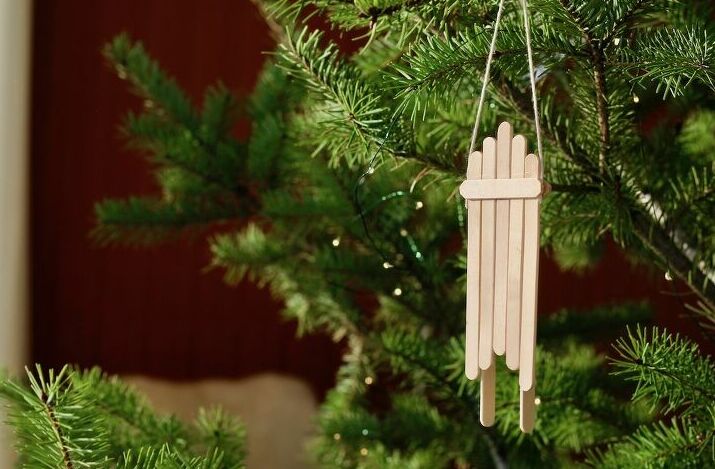 6. Popsicle sled ornaments
In this fun project from Home for the Harvest | Mary Jane Duford, you'll be crafting adorable sled-shaped ornaments using popsicle sticks from the dollar store.
Here's what you'll do: align the popsicle sticks to create the sled deck, then add cross-braces and attach the rails using glue. Allow the glue to set. For added stability, incorporate another cross-piece. Lastly, attach a string loop for hanging.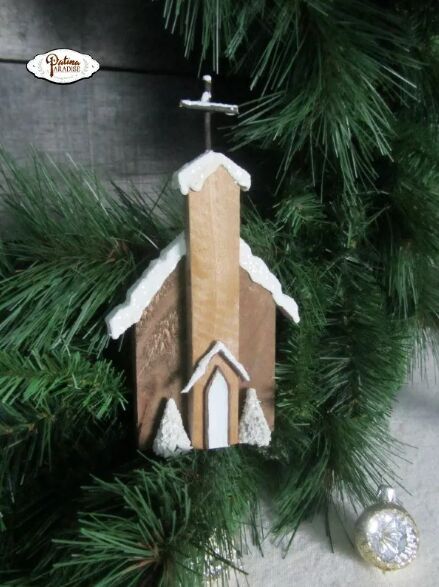 7. Wooden pallet church ornaments
Drawing inspiration from quaint country churches, Patina Paradise crafts rustic church ornaments using reclaimed pallet wood. The key materials include pallet wood, clothespins, and slender twigs, along with readily available household items and a template provided by the creator.
The finished ornaments boast charming touches such as clothespin steeples, wooden doors adorned with twig awnings, and miniature pines dusted with a touch of snow.
Wood ornament ideas
We hope these ideas have sparked your imagination and added a touch of warmth and tradition to your holiday décor.
Do you have any other wood ornament ideas to suggest? Share your ideas and photos of your creations in the comments below.
Enjoyed the project?
Published September 1st, 2023 9:44 AM
Popular Project Book
Popular DIY Questions